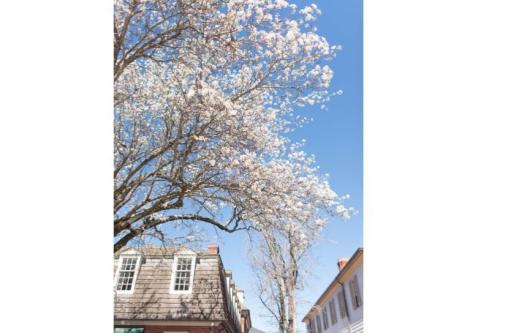 One of the aspects of Williamsburg that drew me in so closely when moving here from Baltimore was the overwhelming feeling that it would be the perfect city to grow our family. Although it's a partially college-focused town, Williamsburg has always felt very inclusive of families and children of all ages. 
I have had the pleasure of experiencing Williamsburg as a married couple without kids, and now, as a new mom to our baby boy, London, who is just short of one year old and has already transformed our lives for the better. I love experiencing each season through his eyes for the very first time, and this spring will be no different. 
Between the vibrant crape myrtle trees, sunbathing sheep, and luscious, blooming gardens just opposite some 300-year-old buildings, Williamsburg holds a special place in my heart, especially during the spring. Delighting in a mouthwatering meal, discovering hidden treasures inside the locally owned boutiques, and making lifelong memories while watching tiny feet run back and forth, I feel confident that once you visit, you'll feel the same way. 
In the past few months, I've rediscovered the area keeping in mind the best places to bring a baby along (out of respect for others and for the smoothest experience possible). Today, I'm taking a deep dive into 11 kid-friendly spots that I personally love and recommend in Williamsburg.
A Virginia staple, Baker's Crust Artisan Kitchen has been serving up devilishly delicious food for over 20 years. Every time we've visited, I've tasted something different on their menu because it truly has limitless options for decadent and innovative dishes. 
While I thoroughly enjoyed the Blueberry & Lemon Curd Flapjacks this time around (as did London), I couldn't help but peek at the table beside us and notice that the eggs benedict looked tempting as well. I will definitely be giving the Swanky Benedict − with buttermilk fried chicken, smoked bacon, arugula, and lemon oil − a shot next time we visit. 
Since London is at the age of exploring a variety of foods and textures, he eats bits and pieces of whatever we order. If you have an older child, Baker's Crust has a kid's menu that looks just as flavorful.
ORDER THIS: Blueberry & Lemon Curd Flapjacks, Swanky Benedict
​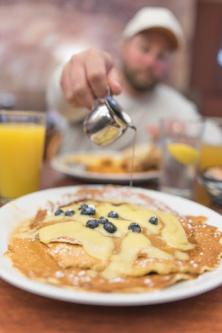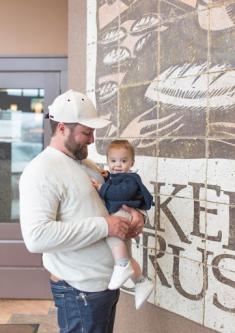 Once you've had your fill of hot coffee, flapjacks, and house-made biscuits, it's time for a scenic ride to the historic Jamestown Settlement.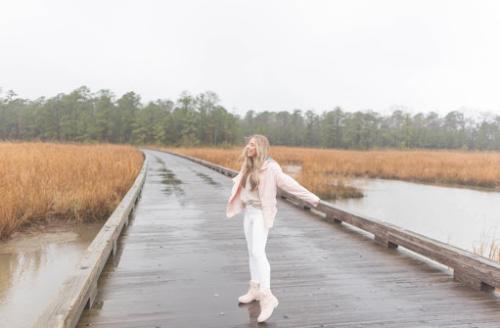 This drive, even on a rainy day, is nothing short of breathtaking. While exploring the outdoor re-creations from the comfort of our car, we stopped and snapped a few photos with the expansive James River in the background.
Since the day was a bit chilly during the rainstorm, we decided that the indoor exhibits at Jamestown Settlement would be more suitable for London. Immediately upon arrival, I was taken aback by how grand and aesthetically pleasing the gallery exhibits were. With interactive learning experiences and films telling the story of the Powhatan Indians, English, and West Central Africans who crossed paths in 17th century Virginia, there is more than enough to remain entertained during a damp afternoon.
Before heading out the door, make sure to check out the two gift shops located at either end of the museum. The honeybee shop is filled with local honey, mead, and a wide selection of cute, bee-inspired trinkets to fill your home. Additionally, the main gift shop is a treasure chest for kids of all ages; they have everything from wooden swords to stuffed animals, t-shirts, and more.
After working up quite the appetite while brushing up on our local history, we made our way to one of our favorite restaurants in the area, Craft 31.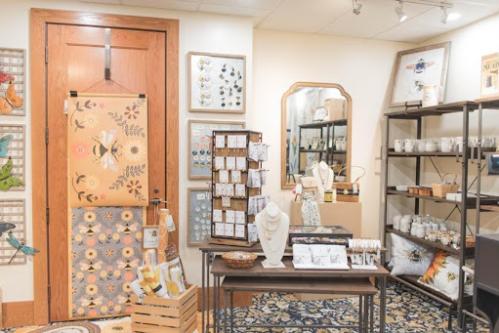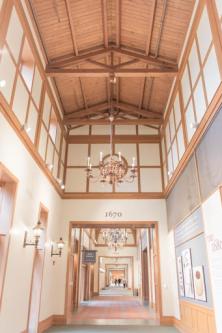 We have been to Craft 31 countless times, and I can tell you from experience that it never disappoints. Although they are famous for their Bottoms Up Pizza complete with signature white and marinara sauce, as well as their gourmet burgers, it would be a disservice to go without ordering their out-of-this-world truffle fries. Confession: when I was visiting while pregnant last year, I ended up devouring three (yes, THREE) orders of their truffle fries on my own. 
This time around, we started with their regional oysters which tasted light and pristine; they were the best we've had in the area thus far. We then went on to share their tuna poke, truffle fries, and Virginia burger, all of which were polished off immediately by the three of us. We ended the meal with their most popular dessert, the deep-fried Oreos with vanilla ice cream and chocolate sauce, which were quite literally finger-licking good.
Craft 31's interior design is stunning, but the ideal spot for bringing along little ones is their outdoor patio (enclosed with see-through garage doors and a cozy fireplace). Once we finished our meal, London and I practiced his walking skills around all the tables outside.
ORDER THIS: Virginia Oysters, Truffle Fries, Deep Fried Oreos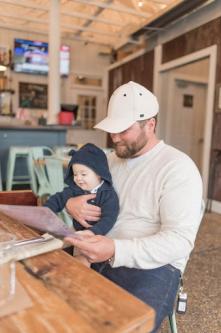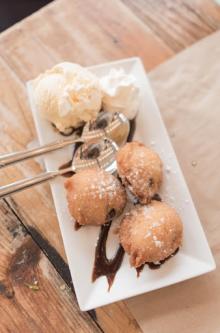 After lunch, I was excited to check out some consignment shops in the area. With London growing out of his clothes so quickly, consignment shops are the perfect solution, where you can buy items at a fraction of their retail price and sell used items that no longer fit.
Two Trolls Consignment has tons of options for everyone from newborns to pregnant moms, toddlers, adults, and every age in between. With eccentric decor and pops of bright color everywhere, your kids are sure to enjoy their visit. I picked up two sets of pajamas, stylish jeans, and a pair of rain boots for London for less than $25 total. 
Only about 9 minutes down the road was another consignment boutique I was excited to check out next.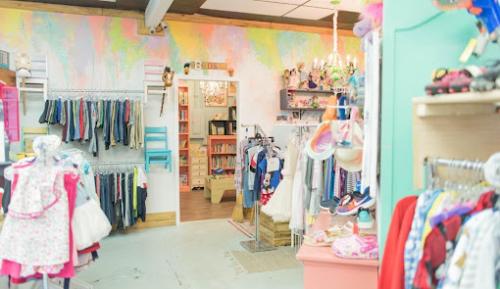 Sugar & Spice Consignment Boutique
Sugar & Spice Consignment has been serving its community for over 28 years and the shop has a wide range of affordable items from baby gifts to toys, books, and dance attire. I picked up a sweater vest, three pairs of pants, and a romper for London, in addition to a summer visor for myself for less than $35.
Since we were clearly on a winning streak with shopping, we decided to head over to the Williamsburg Premium Outlets afterwards to check out a few of their kid-friendly shops.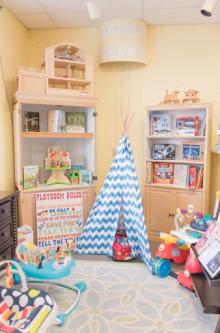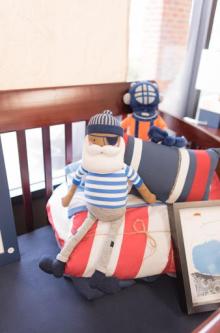 Needless to say, the outlets have an excellent selection of stores for me to shop, but this time around we were more focused on scoring some cute spring clothes for London. The stores that we visited and that I recommend for babies and kids (whether that's for your own or as a birthday/baby shower gift) are: Janie and Jack, Carter's, Build-A-Bear Workshop, Gap, and The Children's Place.
I grabbed the most adorable nautical collar cardigan for $25 at Janie and Jack − it will be excellent for breezy days on the water this spring. 
After a couple hours of shopping, we were ready to head home for the evening so we could rest up to resume our adventure on Sunday.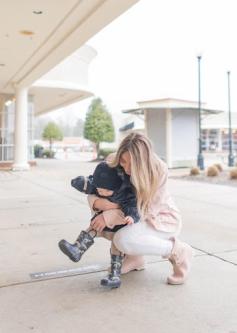 It was only right that we started our morning at Carrot Tree Kitchens on Sunday after such a lovely and memorable visit last year while writing my article, "5 Healthy Cafes in Williamsburg, Plus What to Order at Each".
Although last time I visited the Williamsburg location, the food at the Yorktown location was just as satisfying. This charming location is positioned in the heart of Riverwalk Landing and has a more casual ambiance than that of the Williamsburg restaurant, making it ideal for bringing kids along. Nevertheless, you can be assured that their famous carrot cake and ham biscuits are just as delectable. 
As always, London tried a bit of everything, but his favorite was notably the ham biscuits. I could hardly get a bite in once he had his first taste. I highly recommend ordering an extra serving if you're going to share your plate.
ORDER THIS: Ham Biscuits, Carrot Cake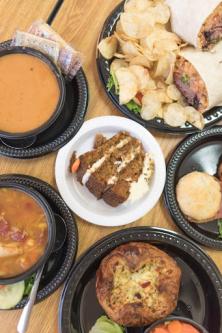 After our appetites were satisfied, we took a romantic stroll along the water. A couple of chai lattes from Mobjack Bay Coffee Roasters later and we were on our way to the American Revolution Museum just up the road.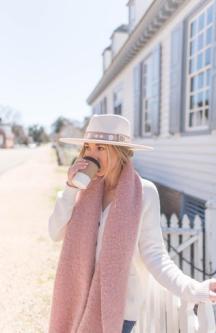 American Revolution Museum at Yorktown
Once again, immediately upon entering the museum, I was utterly taken aback by the sheer beauty of the interior. Since the weather was still chilly on Sunday, we decided that it would be the perfect opportunity to explore the indoor exhibits and find out more about America's struggle for independence. 
We found ourselves watching several of the films and I was impressed by the quality of the pictures, sounds, and acting. It almost felt as if we were experiencing mini movies in between the gallery exhibits. 
There is so much to see and learn about at the American Revolution Museum that we could have easily spent the entire day there with London. Nevertheless, we headed off in the afternoon to complete our spring shopping spree in Merchants Square.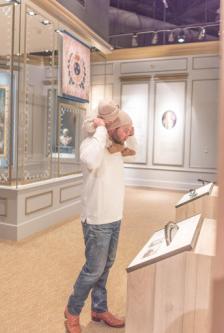 Carousel Boutique
In the heart of Williamsburg, Carousel Boutique carries an assortment of boys and girls clothes, shoes, and accessories from newborn to tween. Every item is handpicked from over 300 different product lines and embodies the quintessential East Coast aesthetic. 
I had my eye on quite a few dressy options for Easter celebrations and London's 1st birthday. If you are searching for special occasion pieces, this is going to be your best bet in the area. 
Only about 500 feet away is the newest addition to Merchants Square: Fat Face.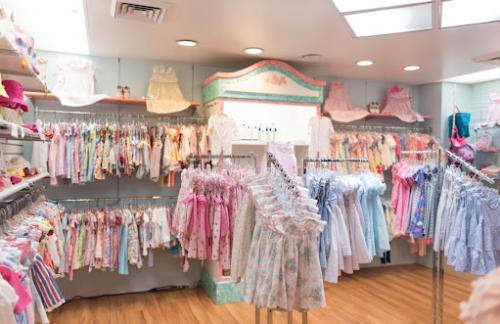 Inspired by British style and a refreshing change of pace, FatFace has all the makings of elevated, yet casual clothing that inspires adventure. It seemed that they had more clothing options for women, men, and older kids as opposed to baby items, but I'm hoping they will be able to expand further in the near future. 
It's difficult to choose my favorite item they had in the store because selfishly there were so many pieces that I adored for my own spring wardrobe. But, if I had to choose, I could not stop eyeing the matching mom and "mini" bee-printed pullovers. They looked like something you would want to wear year-round but were entirely on theme for springtime. 
They also had the cutest Williamsburg themed socks that I couldn't help but snag for us to sport our local pride around town. 
By the time we wrapped up at FatFace, we were famished once again. Old-fashioned BBQ was sounding better by the minute, so we beelined to Route 60 BBQ Market to grab dinner and finish out our day.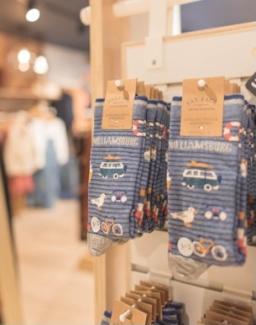 With award-winning St. Louis-cut hickory smoked ribs, tender pulled pork, beef brisket that melted in my mouth, and a nostalgic, old-school aesthetic for a unique dining experience, Route 60 BBQ Market is a spot to remember. 
The sweet staff sat us right away and had high chairs and booster seats readily available for our little one. London loved this casual restaurant so much that he didn't stop giggling for the first 30 minutes that we were there. I'm not sure if it was the fun decor, crayons at the table, the creamy macaroni and cheese, or the sweet staff that he adored, but I can tell you that it was the best dining experience we've had with London in the 11 months he has been alive. 
ORDER THIS: Rack of Ribs (Wet), Beef Brisket Smoked Tacos, Seasonal Fruit Cobbler with Vanilla Ice Cream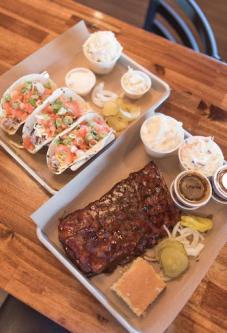 While this guide has come to an end, I cannot help but look forward to our next weekend in Williamsburg. Whether you are a Virginia local or booking your next getaway, hopefully this post can serve as a first-hand guide to kid-friendly places to check out this spring.