I lived in Richmond, Virginia years ago, moved out of state, and then moved back in late 2019. Surprisingly enough, I had never been to Williamsburg, VA until just recently! It is the perfect day trip from Richmond and most places in Virginia or a quick flight from anywhere on the East Coast. My husband Tristan and I had the best time exploring this quaint and charming historic town. The area has so much to offer, from delicious restaurants to countless museums, as well as plenty of opportunities to get outdoors and enjoy the natural beauty. I'm excited to share 7 of my favorite date ideas in Williamsburg with you below!
---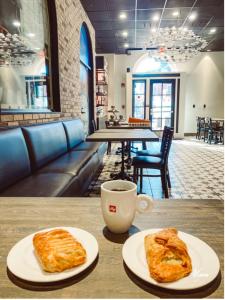 1. Breakfast at illy Caffè
Upon entering illy Caffè, located in the lovely Merchants Square, you feel as though you've been instantly transported to Europe. The decor is vibrant and distinctive, with coffee cup chandeliers and bright artwork filling the walls. They have an excellent selection of authentic Italian coffee, including lattes, cappuccino, and espresso. Pair that with one of their delicious pastries, such as an almond croissant, or a cheese or apple Danish. They also serve mimosas, cocktails, wine, and local craft beers. You can enjoy breakfast at one of their indoor tables, or if the weather is nice, outside, at a table overlooking Merchant's Square. After breakfast, stroll around and check out the unique shops nearby, or grab a ticket to explore Colonial Williamsburg's Historic Area.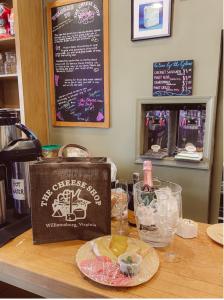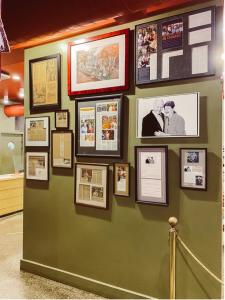 2. Create your own picnic basket at The Cheese Shop
Located in the heart of Merchants Square, The Cheese Shop is the perfect spot for a daytime date. The shop itself is filled with unique items, including various chocolates, Italian pasta, Black Truffle potato chips (my new favorite!), and many local Virginia products. Place an order for one of their legendary sandwiches at the deli (or order online ahead of time!), then head to the cheese counter and build your own platter from their selection of over 200 cheeses. Complete your picnic basket with fresh baked French bread and ask for the best wine pairing from their cellar downstairs. They have disposable plates and cutlery, so you can head straight to a nearby spot and enjoy! Best places for a picnic in the area? Find a spot on the beautiful grounds at Bassett Hall (home to John D. Rockefeller Jr. and his wife, Abby Aldrich Rockefeller, during the restoration of Colonial Williamsburg). Another option is to head towards Yorktown on the scenic Colonial Parkway and pull off at one of the many spots along the way to enjoy your picnic with gorgeous views of the York River.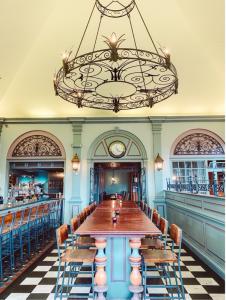 .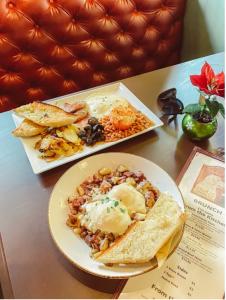 3. Brunch at DoG Street Pub
DoG Street Pub, in the heart of Colonial Williamsburg, is located in what was once an 80-year-old bank. Chef David Everett transformed the building into a gastropub in 2012, serving simple, yet outstanding food. Entering through the front door, I was immediately in awe of the impressively beautiful space. Many of the original features of the bank were preserved during the renovation, including the marble floors and cupola skylight. We sat at a comfortable booth in the back and ordered from their brunch menu. Our favorite dish was the Pub Fry Up, a traditional English breakfast plate with over-easy eggs, a seared pork banger, grilled ham, baked beans, hash browns, and buttery toast. Complete your brunch with a mimosa, Irish coffee, or Bloody Mary (made with their spicy house mix).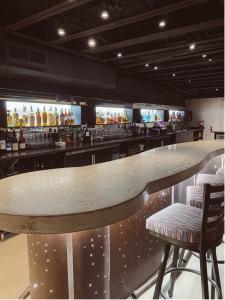 4. Dinner & drinks 'Downstairs at Fat Canary'
The owners of Fat Canary, well-known for its upscale dining experience, recently expanded their business with the opening of 'Downstairs at Fat Canary.' This casual concept is now open for dinner Thursday through Sunday, from 5-9 p.m. The newly opened area has an industrial feel like you're in an urban loft, with beautiful unfinished beams, original flooring, intimate booths in the back, and a long, curved bar. Low lighting gives the space a warm ambiance, ideal for a casual date night. The menu includes small plates that are excellent for sharing, such as shrimp dumplings, crispy Rappahannock oysters, and hoisin barbecued pork ribs. They have an extensive selection of wines from their wine cellar to complete the meal.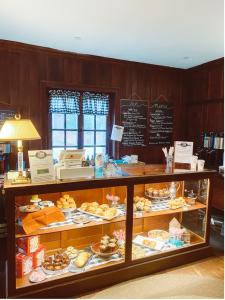 .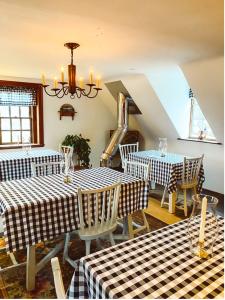 5. Coffee & treats from Mobjack Bay Coffee Roasters
Located in the Historic Cole Digges House in Yorktown, both the exterior and interior of Mobjack Bay Coffee Roasters are delightful. They roast their coffee on-site, and it smells amazing from the moment you enter the building. To the left of the front door is a cozy room housing their coffee bar, bakery case full of treats, and a wood-burning fireplace. Their assortment of sweets includes macaroons, scones, apple turnovers, and freshly baked cookies. Grab coffee and treats at the counter and if it's a nice day, sit outside at one of their many picnic tables. Or take them to go and walk down to Yorktown Beach, .3 miles away, and enjoy the water view. If it's a cold or rainy day, get a table in the upstairs dining room at Mobjack Bay instead.
.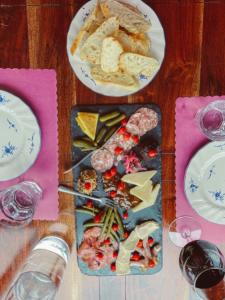 6. Wine tasting & charcuterie at Gabriel Archer Tavern
Gabriel Archer Tavern at The Williamsburg Winery is the quintessential setting for a romantic date, with its covered terrace overlooking the vineyard and farm-to-table menu. Enjoy their local Virginia cheese and charcuterie board, served with bread and assorted pickles and jams, along with a glass of wine or a flight (2 oz pours of 4 different wines). If you're looking to extend the date or learn more about their wine-making process, make a reservation for the 'Introduction to Wine Tour and Tasting.' The tour takes you on a stroll through the vineyard and cellar, followed by a tasting of 7 wines.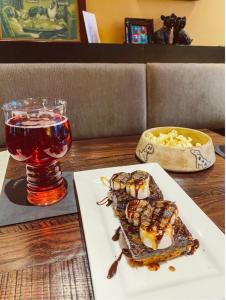 .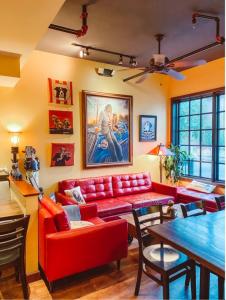 7. Small plates & dessert at The Hound's Tale
From the moment you enter The Hound's Tale, the atmosphere is cozy and inviting. This is the ideal date spot for dog lovers. The decor is whimsical and fun, with dog figurines, artwork, and signs filling the space. Seating options include the bar, individual tables, booths along the sidewall, and comfy couches and armchairs at the front. They have a selection of regional wine and beer, cocktails, small plates, entrees, and the most incredible desserts. Share a few of their delicious starters (crab dip, flatbread, and fried brussels to name a few) and finish off with their S'mores Indoors, the ultimate dessert for two. Be sure to check out Corner BARKery, their pet-friendly shop with gifts and treats, located a few doors down. They have a bar there as well, with both indoor and outdoor seating.
Follow Leah via her website blonde & bubbly and Instagram @blondeandbubbly