We just had the coziest weekend in Williamsburg, VA! After celebrating our 10-year anniversary, we thought, "What a wonderful time to get away, just the two of us."
Joey and I first visited Williamsburg about 12 years ago and completely fell in love. We were thrilled to be going again to enjoy all the charm this historic town has to offer. Williamsburg is only about 6.5 hours from Pittsburgh, so it was the perfect weekend getaway. I'm so grateful to Visit Williamsburg for helping us plan our trip! We wanted to take a walk down memory lane but also make some new memories. Visit Williamsburg helped us develop an enchanting itinerary. I'm sharing 8 of the coziest things to do in Williamsburg with you today!
---
1. Stay at a Bed and Breakfast
Have you ever stayed at a bed and breakfast? It doesn't get much cozier than a quaint mom-and-pop operated establishment. Williamsburg boasts many adorable B&Bs around town, but we opted to stay in the same one from our first visit! We couldn't stop thinking about Cedars of Williamsburg, and we looked forward to being guests once again. The ownership has changed since our last visit, but the B&B experience was just as comforting and charming as we remembered.
We stayed in the Thomas Jefferson room, which comes with a queen-size bed, a small seating area, and an en-suite bathroom. The room, located on the top floor of the building, was comfy and eclectic, with plenty of room for our belongings.
Alex, the owner, was as cheerful as they come and graciously welcomed us. I'm not exactly a light packer, so bless him for offering to carry my extra heavy suitcase up the stairs.
One of the best things about staying at a bed and breakfast is– wait for it–breakfast. Everything is made from scratch with the freshest ingredients. Leroy, who works in the kitchen, makes the best eggs I've ever tasted. One afternoon, we were walking out of the house, and Alex was prepping the banana bread for the next morning. I couldn't wait to try it! It smelled so good, and it certainly didn't disappoint the next morning! Alex's sense of humor and banter with the guests made breakfast lively and very enjoyable. We cannot wait to come back!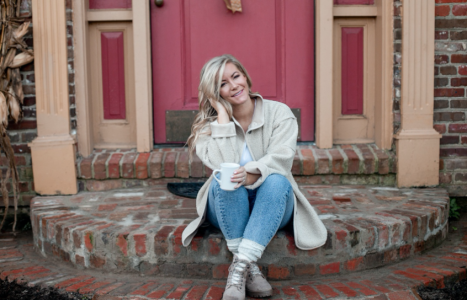 2. Splurge on Some Comfort Food
Blue Talon Bistro: Our first dinner of the trip was at Blue Talon Bistro. It was the comfort food I had been craving, elevated with French flair. Sitting outside under bistro lights made it the perfect date night.
We started out with a delicious bowl of French Onion Gratinée. We overheard a table beside us talking about how good it was, so we had to try it. They were right. Joey and I ended up splitting the Field Green Salad, which was light and fresh, topped with a parmesan sherry vinaigrette made in-house.
We had an extremely difficult time choosing a main course as there were so many great options. Joey and I like to get two different dishes so we can switch plates halfway through. OK, so maybe it's more me ;). We went with the Chicken & Mushroom Crepes and the Braised Short Rib special. I was so full, but I couldn't stop eating!
Yorktown Pub: We took an excursion to Yorktown, and after walking around a bit, we decided we wanted to grab something small to eat since our dinner reservations weren't until 7:30 p.m. We stopped by the Yorktown Pub for what we thought would be just a little appetizer to hold us over. There were so many comfort items on the menu, but then one caught our eyes. We absolutely love lobster rolls, so we were sold as soon as we came across it on the daily specials! It's our tradition to eat a lobster roll in any seaside town we visit. We reminisced about all our favorite lobster rolls we've tried on our travels, and this one made the Top 5 list. The bun was perfectly toasted, and there was no skimping on the lobster – an absolute must! It was light and full of flavor. Exactly what we were looking for.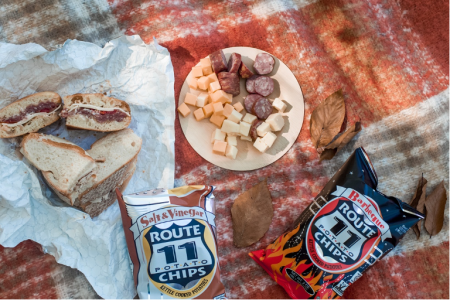 3. Soak in the Views with an Outdoor Picnic
Life can get so busy that sometimes we forget to take time out and enjoy the beauty around us. The weather was so nice that we decided to take a moment and enjoy the colorful trees and crisp air with a picnic.
We stopped at The Cheese Shop located in Merchants Square to pick up all the fixings for a picnic. We met the owner, Cathy, who offered up some of her favorite sandwich options and gave us a brief tour so that we could find everything we needed.
We ended up getting a turkey sandwich, a prosciutto sandwich, two bags of chips, and a mini cheese plate. You have the option to customize your own cheese plate with dozens of cheese options at the counter. There are also prepared salads, delicious sweets, and breads to choose from.
Don't forget to visit The Wine Seller below for a bottle of wine to go along with your picnic. Cathy and her family own it as well, and if you ask me, that's a perfect combination!
4. Take the Scenic Route
I mentioned heading to Yorktown for a little excursion one day (I highly recommend visiting this town on your trip). We decided to give ourselves a little extra time and took the scenic route along the Colonial Parkway. The trees were just starting to change colors and it was nice to just look around and enjoy the views of nature. There are even pull-off areas you can stop at to take a walk around and enjoy the scenery!
5. Stroll a Farmer's Market
We started our busy Saturday with a visit to Illy Café at Merchants Square (more on that below) and walked over to the Williamsburg Farmers' Market. The weather was sunny, and the air was crisp, so we decided to take a leisurely walk through, coffee in hand.
There were so many fresh, seasonal vegetables to choose from. One of the things I love most about local farmers' markets is the homemade items like pickled vegetables, homemade pastas, honey, handmade soaps, flowers, and other unique local goods!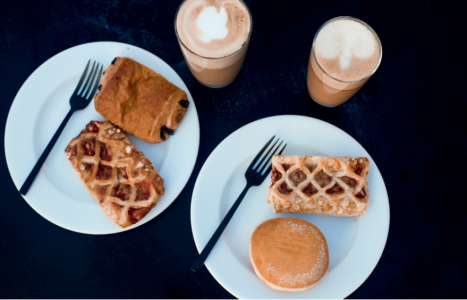 6. Cozy up with a Giant Cup of Coffee
Coffee, to me, is like a giant hug in a mug. It should be no surprise to you that when I travel, I always seek out the best coffee spots in town. I would go so far as to say that snuggling up with a cup of coffee is the ultimate cozy activity. If you aren't a coffee drinker, hot chocolate or tea is a good option, but some of the coffee shops we visited even have wine or beer, too.
I had no idea that Williamsburg has so many good coffee options. I honestly could have written a whole post on Williamsburg coffee shops alone! We ended up bringing home a few bags of beans from several of the shops we visited. I don't think I can choose a favorite because each shop had something unique to offer, but I'm sharing each one below and what we ordered.
Illy Caffe: Illy Caffe took me right to a European café. Everything from the music playing in the background to the pastry offerings reminded me of our past travels across the Atlantic.
We couldn't decide between savory or sweet, so we ended up with one of each pastry for breakfast. We each tried the Margherita pastry, which was exactly what I wanted as a savory option. This is also a typical option at cafés in Europe, so it added an extra sense of nostalgia for us. The Bombalone with vanilla custard is this little doughy pastry that I will never forget. Yes, it was that good! I loved that it wasn't overly sweet, but the perfect follow-up to the Margherita.
Mobjack Bay Coffee and Petite Café: Mobjack Bay Coffee completely stole my heart! This darling café is located in Yorktown in the historic Cole Digges House – one of the cutest coffee shops I have ever stumbled upon. It was the perfect afternoon pick-me-up after a long day of touring the area. It was about 4 p.m., so we each grabbed a cup of coffee and decided it was time for happy hour. Of course, I had a glass of rosé, and Joey had a local beer on tap.
We sat outside on the picnic table and enjoyed the scenic views and history surrounding us. A wonderful establishment in a wonderful town! You have to go!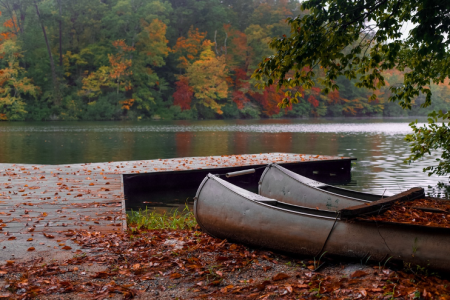 7. Immerse Yourself in Nature with a Hike
It was our last morning in Williamsburg and, needless to say, I wasn't quite ready to leave. I woke Joey up extra early to take a little hike on William & Mary's Matoaka Trails.
It was a misty morning, so we bundled up in our flannel shirts and headed out. With over 10 miles of trails, it's an easy place to get caught up in the beautiful surroundings. The crisp air and foliage was the perfect way to end our cozy trip to Williamsburg, Virginia.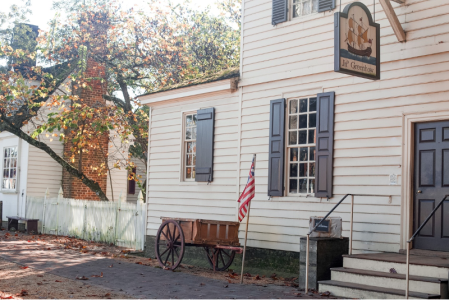 8. Take Yourself Back in Time
We certainly couldn't go to Williamsburg and not visit Colonial Williamsburg. Joey loves history and reads every single historic sign wherever we go. We were immediately taken back in time wandering around the streets of this historic area. Honestly, we could have stayed in Colonial Williamsburg the entire day if we had more time.
Colonial Williamsburg makes it very easy to navigate and has suggestions for an itinerary online if you want to make the most of your day. It's also the perfect place to just wander around and see where the day takes you!
We toured the Governor's Palace and walked through the gardens and maze. We really enjoyed the horses and carriages and listening to the knowledgeable guides.
We checked off quite a few items on my cozy list of things to do! We had an incredible weekend, that went by way too fast. Joey and I cannot wait to visit again! See you soon, Williamsburg.