Williamsburg, VA, is known for its colonial significance, but it's definitely not just a destination for history lovers. If you're seeking a connection with nature, there are a variety of activities for outdoor enthusiasts, too. It's a destination where nature intertwines with history, making it a unique place to get outdoors but also inspired by the past.
Here are nine must-try activities to help you enjoy the outdoors when you visit Williamsburg.
1. Stay in a yurt at the Williamsburg Campground
For a stay that matches your outdoorsy spirit, check out Williamsburg Campground. Whether you're rolling in with an RV, packing a tent, or embracing the coziness of a yurt, they've got you covered.
The Williamsburg Campground has tiny cabins, campgrounds for RVs and tents, and yurts to appeal to your taste buds. We stayed in a yurt, and it was very spacious for my husband and I. The facilities are cleaned daily and are within short walking distance from the campsites. Just remember to pack your own towels and shower shoes!
Not to mention, there's a variety of things to do on the property. They have a pool, activity room, playground, basketball court, and more to keep you entertained during your stay.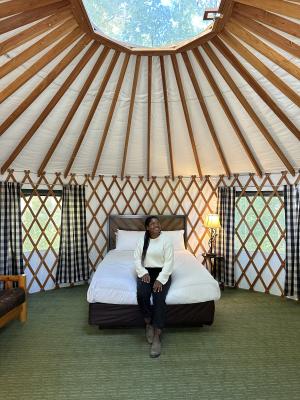 2. Go ziplining at Ape! Zipline Treetop Adventure
Get ready to zip through the trees and put your agility to the test with Go Ape! As part of The Treetop Adventure, you'll navigate obstacles, soar through the canopies, and zip from tree to tree.
If you're craving an extra dose of excitement, they have a Tarzan swing for those who are more adventurous. It's like the mini version of bungee jumping, except you swing into a net instead of bouncing up and down (less whip lash this way!)
It may sound scary (and it is at first), but once you jump and you're flying through the air, you immediately feel the adrenaline rush, and it is amazing. It's a high-flying adventure that guarantees both thrills and great forest views.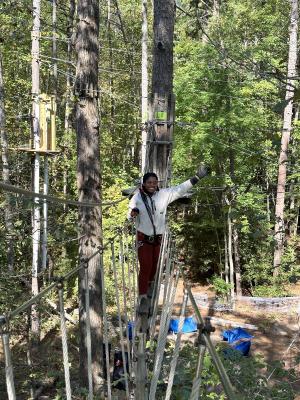 3. Explore the beauty of the Powhatan Creek Trail on an E-bike Tour
Discover the charm of Williamsburg's Powhatan Creek Park on an e-bike tour with Williamsburg on Wheels. You get to cruise through historic sites, picturesque landscapes, and old-fashioned neighborhoods all while kicking back and enjoying the ride.
Riding e-bikes has become one of my favorite activities on a trip because it requires very little work with a big reward.
The helmets we wore had built-in speakers so we could talk to each other and our guide while riding. As we pedaled, our guide told us stories that transported us back to the 1700s, painting vivid pictures of the area's history. It's the perfect way to explore the city with ease while you journey through time.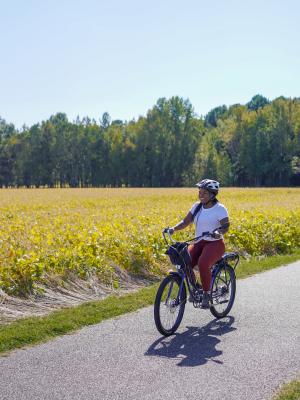 4. Grab a drink along the waterfront at Billsburg Brewery
After an action-packed day, unwind at Billsburg Brewery. This local hotspot offers a variety of craft brews in a laid-back atmosphere. Whether you're a beer lover or just looking for a good time, Billsburg Brewery has the perfect blend of flavors and vibes to satisfy every palate.
I personally loved their Raddler, and it is great for those who love a lighter-tasting beer. Their flagship beer is called "Fly Away," and it's the perfect choice if you enjoy IPAs.
The brewery offers ample outdoor seating overlooking the water so you can enjoy the breeze while you sip on your drink.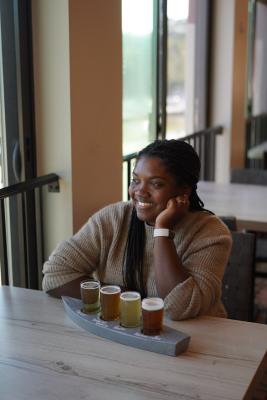 5. Check out the sunset at Jamestown Beach
For a peaceful evening, head to Jamestown Beach to see a breathtaking sunset. There's plenty of space for you to set up chairs or blankets to relax on the sand. The event park even has picnic areas and charcoal grills.
Dip your feet in the water on warm summer days, and be sure to bring your camera because it's a moment you don't want to forget. It's the perfect way to end your day!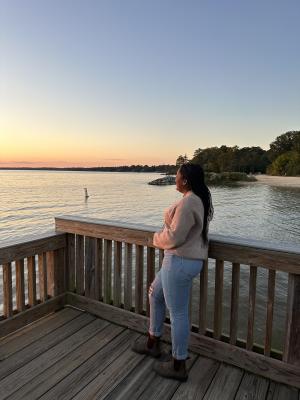 6. Play mini golf (at night!) at Pirate's Cove Adventure Golf
Play a competitive or casual game of mini-golf at Pirate's Cove. They have two different courses for those who want an easygoing adventure and for those who want to brave more challenging waters.
You'll navigate through creatively designed courses, encountering pirate ships, waterfalls, and a few surprises along the way.
The cost is $12.50 per adult for each course. They are open until 10 p.m. on the weekdays and 11 p.m. on the weekends if you're in search of a fun evening activity.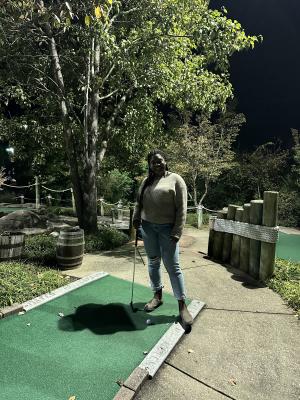 7. Canoe or kayak at Waller Mill Park
If you're drawn to the water, spend a day at Waller Mill Park. There's a beautiful lake in the middle that's surrounded by trees that make you want to jump in during the summer and take a ton of photos of beautiful foliage in the fall.
Whether you prefer the serenity of canoeing or the independence of kayaking, this park offers a water adventure for everyone. You're able to rent Jon boats, paddle boats, kayaks, and canoes ranging from $5 to $8 per hour, depending on which boat you choose.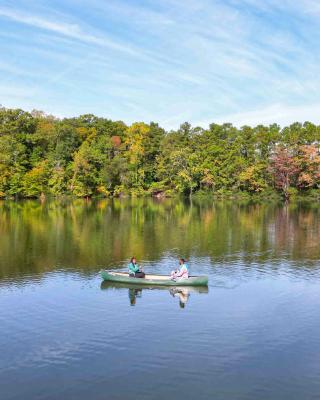 8. Set sail with a scenic sunset cruise in Yorktown
Enjoy a scenic sunset cruise on the York River as you listen to the history of the area while sailing along the water with Yorktown Sailing Charters. You will get to see Yorktown from a unique perspective while enjoying tales of the United States' beginnings.
This peaceful sail is a great way to unwind and appreciate the beauty of the surroundings. They offer a variety of drinks for purchase during your sail, such as soft drinks, water, wine, beer, and mixed drinks.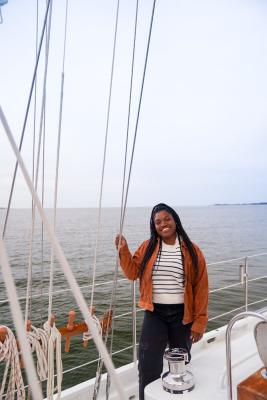 9. Catch the sunrise at Yorktown Beach
Don't forget to start at least one day with a breathtaking sunrise at Yorktown Beach. Experience the tranquility of the early morning as the sun rises, casting its warm glow over the calm waters. With the Coleman Memorial Bridge as a backdrop, gorgeous scenery surrounds you here.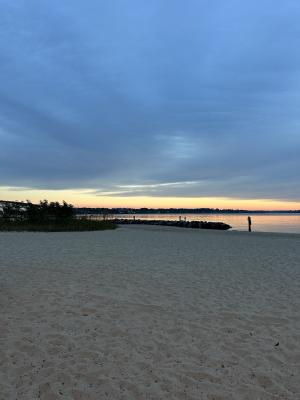 Places to Eat
Last but not least, Williamsburg boasts an array of culinary delights. I couldn't close out this post without recommending these favorites that you can't miss: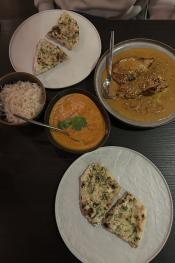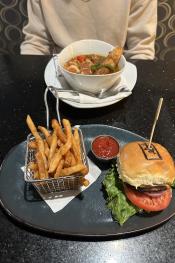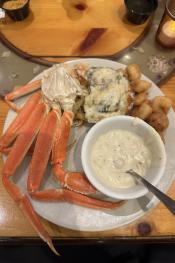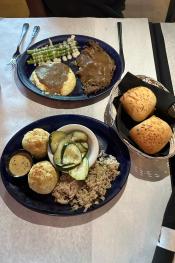 Insider tip: If you're looking to try multiple cuisines at once, I recommend taking the Taste of Williamsburg Food Tour. The guides are very knowledgeable about the local restaurants, and you can tell they love their job and the city of Williamsburg through their enthusiasm.