Going into my first trip to Williamsburg, I didn't quite know what was in store for me from a culinary perspective. I've been in the food industry as a writer and editor—and now full-time content creator on TikTok and Instagram—for over a decade, a job that has allowed me to eat and drink my way through some of the most popular tourist destinations around the world. 
While Williamsburg has always been on my radar and piqued my curiosity due to its one-of-a-kind living history museums, I never envisioned it as a dining destination until I was able to experience it myself. When I'm filming food for social media, I'm always thinking first about what's most interesting or unique about a place that has the most viral potential, so when I got to Williamsburg, I was intent on eating as they would in the colonial times—an urge that was satisfied with a trip to King's Arms Tavern for their famous peanut soup.
Once my trip was over, however, I realized there's so much more to the culinary scene here. Modern techniques make local ingredients shine at restaurants that feature a variety of cuisines, reflecting the diversity of the city and embracing history while dishing out forward-thinking flavors. Here are five of my favorite spots I went to on my visit and what you should order when you get there.
King's Arms Tavern
Right in the heart of Colonial Williamsburg, this historic tavern has a certain charm that really does transport you back to another era. This comes through not just in the decor, the staff in their colonial attire, and the occasional live violinist, but really in the food. I mentioned the peanut soup earlier, which is something I think everyone should try at least once (okay, don't try it if you have a peanut allergy, but that's the only excuse I'll allow). 
Beyond that, though, my real surprise came from the care that went into every dish served here both in flavor and presentation. The Welsh Rarebit—toast points covered in cheese sauce topped with shaved ham—is not normally a dish I would describe as beautiful, but this version truly was. I could not get enough of the stewed beef, which was my favorite dish of the meal. Served on a bed of creamy mashed potatoes with a rich sauce, the meat stays intact but still shreds effortlessly with a fork—a delicate balance that's hard to strike. The freshly grated horseradish combined with pickled onions on top was crucial here though, both doing their part to cut through the richness while giving a little zip that keeps you coming back for more.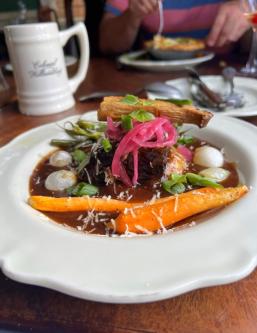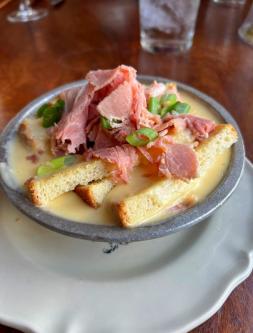 Amber Ox Public House
Just outside Colonial Williamsburg in Merchants Square, there are plenty of modern shops and restaurants that still manage to match the vibe of the area, and Amber Ox Public House is one of them you absolutely must visit. 
Here, both traditional and novel barbecue flavors take center stage using local ingredients from the restaurant's farming partners in the region. For that reason, the menu is often changing from month to month—and right now they have a new feature: Short Ribs with a Black Garlic Glaze. 
The black garlic is sweeter and less harsh than traditional garlic, and it's the perfect complement to the meat. If you're more into poultry than red meat, though, the barbecue chicken thighs come with a hot honey glaze, giving off a sweet heat that's tempered with tangy mustard greens and a bright cucumber salad. 
Despite the meat-heavy menu, though, vegetarians won't feel left out. Local produce shines on just about every menu item at Amber Ox, and the cauliflower "burnt ends" give a nod to a barbecue classic with caramelized edges and a strong smoky flavor.
.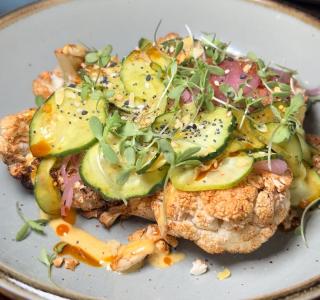 Blue Talon Bistro
If you're looking for a French feast also in Merchants Square, you're going to want to head to Blue Talon Bistro and immediately go for the French Onion Soup—which has a fortified broth that feels impossibly rich topped with that classic layer of beautifully browned Gruyere cheese. If that's not enough melted cheese for you, though, the cheese fondue served with gherkins and roasted potatoes is definitely worth a try.
And while you'll probably be tempted to fill up on steak frites, make sure you save room for dessert because the best thing on the menu is the Gateau Breton. This high and tight butter cake is topped with a generous scoop of vanilla ice cream, its perfection is in its simplicity and it's so tender that cuts like…well, butter.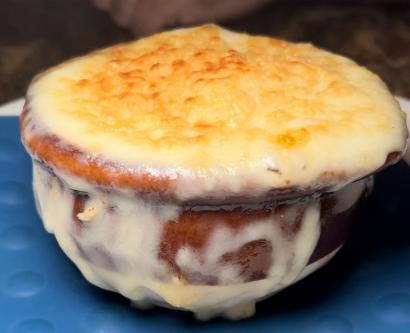 .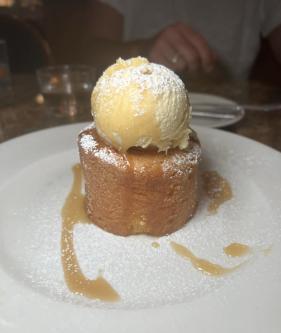 La Tienda
Just around the corner from the Williamsburg Salt Spa—which is a must-visit for a relaxing day outside the traditional tourist attractions—is this hidden gem of a Spanish tapas restaurant and gourmet market called La Tienda, serving traditional small plates executed perfectly. Particular standouts are the ham and cheese croquetas, the piquillo peppers stuffed with goat cheese, and the pan con tomate which has a heavy hit of garlic. 
Top it all off with one of their happy hour pitchers of sangria and you have all the ingredients for a really, really great evening.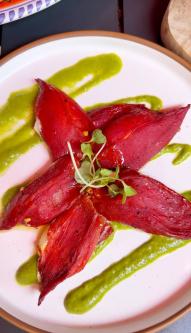 .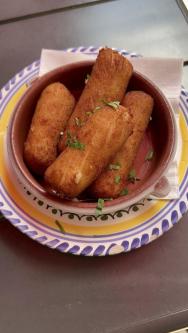 Casa Pearl
This unassuming spot was perhaps my favorite restaurant we ate at the whole trip. Not only do they serve the freshest oysters in a variety of preparations (I'm partial to the char-grilled ones drowning in lemon-garlic butter), but they've also got twists on southern classics that combine flavors I never knew needed to be combined. 
The perfect example of this is Casa Pearl's "chips and dip", which are seasoned pork rinds that come with a tub of pimento cheese. The crispy pork skins with the creamy cheese is a textural contrast that works so beautifully—but If you really want to be innovative, get an order of their hush puppies and spread the pimento cheese on those as well.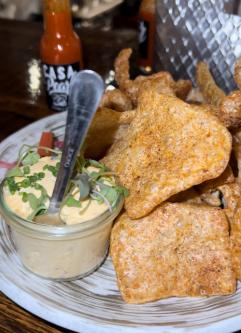 .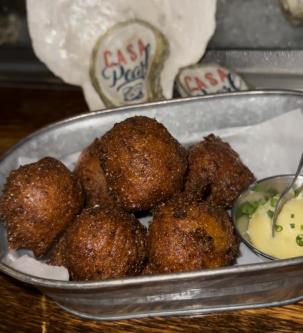 This is, of course, just a small taste of all that Williamsburg has to offer in terms of dining and local restaurants, so throw your preconceived notions out the door and go explore on your own.