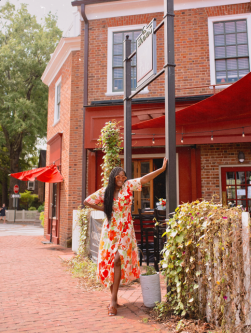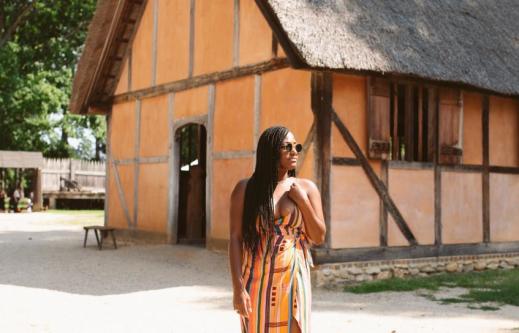 If you've taken an American history class, you already know that Virginia factors richly into this country's tapestry. But my first visit to Williamsburg resonated for many more reasons. As a solo traveler and blogger, I was thoroughly entertained, enlightened, and engaged in more ways than I could ever expect. Whether it's mouthwatering meals, thought-provoking art, or immersive experiences exploring the area's past, Williamsburg is the perfect getaway for independent travelers. 
I did, however, find myself not quite traveling solo in the traditional sense here – in a way, I was stepping into my ancestors' footsteps. I've always been fascinated by discovering the identities of new destinations, particularly as they tie so intrinsically into my own. 
Stepping back in time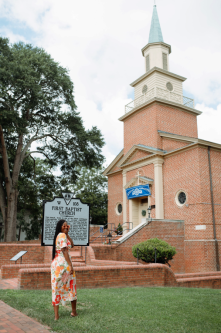 As someone who grew up attending services with my family every Sunday, I've always enjoyed visiting historic churches — especially when they represent a piece of history. It was exciting to learn more about the Historic First Baptist Church of Williamsburg. It's one of the country's earliest African American congregations and is a must-see since it was founded by the city's Black population. Dr. Martin Luther King Jr. spoke here in 1962, inspiring the congregation's participation in the civil rights movement.
Whether contemporary or colonial, history is a major component of any travel experience in Williamsburg. I traveled even further back in time on the Freedom's Paradox Tour at Colonial Williamsburg, which encapsulates the conflicting interests of slavery's evolution. Patriots like Peyton Randolph built a city and eventually a nation thanks to others' labor. But was he a hero? The complexities of enslaving some so that others could gain independence is not lost on this walking tour, which delves into the experiences of both the free and enslaved members of the Randolph household. I was impressed with Colonial Williamsburg's ability to tell a full, honest, and inclusive story of Virginia's complicated past. 
The region's Black history resonates at Freedom Park, which was particularly memorable since it's a physical representation of the resilience and strength of my ancestors. This park is the site of one of America's first free Black settlements, dating back to 1803. But its history spans further back to the Revolutionary War Battle of Spencer's Ordinary (1781); archaeological research has also uncovered one of the first settlements of the early colonial period (1680-1730). Historically accurate re-created cabins provide a glimpse into the hardships and triumphs of the time.
While Freedom Park is rich in history, an unexpected find nestled within the park is Go Ape Treetop Adventure, which is nestled within the park's 600 acres of forest. Ziplining was one of the highlights of the trip, and a good metaphor for the solo travel experience. You hook everything up by yourself and just go for it! (For the less adventurous, there are also about 2 miles of multi-use trails, 20 miles of mountain biking trails, and the gorgeous Williamsburg Botanical Garden.)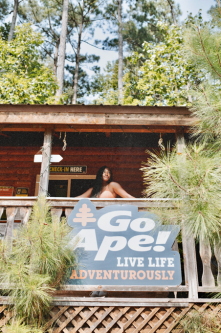 Enrich the senses with art and music
Since traveling solo is all about marching to the beat of your own drum, I couldn't resist a visit to the Virginia Musical Museum. Most of what glitters is indeed from gold records here, and treasures from the state's most famous songbirds and instrumentalists (Patsy Cline's handmade scarf, Ralph Stanley's golden banjo, Ella Fitzgerald's performance dress) are tucked into every corner. 
Before there was the musical artist Drake, there was potter David Drake, whose stoneware made when he was a slave was considered an act of defiance. (Anti-literacy laws in the 1830s were designed to prevent the enslaved from writing.) David Drake's pottery was my favorite part of visiting the Art Museums of Colonial Williamsburg — although there were certainly many other highlights from a diverse group of artists. It was especially inspiring and powerful to see how such beauty blossomed despite the struggles that people endured. 
Discovering hands-on heritage
Just a few hours exploring Williamsburg offers up enticing food for thought. I found that — and more — at Sankofa Heritage Gardens. There's almost nothing as immersive as hands-on history, and here, it's a pleasure getting one's digits dirty when using 18th-century tools to plant and harvest crops. 
At one point in time, African Americans farmed and grew food in gardens just like these, which were created in collaboration with noted culinary historian and James Beard Award winner Michael Twitty. With his blog and books, Twitty aims to preserve his ancestors' heritage through growing and cooking food that preserves the flavors and culture of the South. I identified with him not only as a writer, but as an experiential learner. 
That's why I was so enthused to continue my solo journey in Williamsburg to discover more food, and fun.
To read more about Ciara's solo travels in Williamsburg, read part two of her blog here.