Think bigger. Historic cities with old houses and unpaved streets don't usually make it on your bucket list as a wheelchair traveler, but it's time that changed. This charming city, known for its rich history, offers a surprising array of wheelchair-accessible family activities, making it a plain-sight hidden gem for travelers with disabilities. The wonders of Williamsburg extend far beyond its well-known historic sites. Discover a diverse destination with accessible options for all types of travelers!
What to Do
Visit the Beach
Let's start with the unexpected! Did you know you can spend a day at the beach in nearby Yorktown? Not only does it have sandy beaches along the river, but Yorktown also has a free beach wheelchair available on loan to help you navigate it. For convenience, the chair can be reserved in advance by calling (757) 890-3370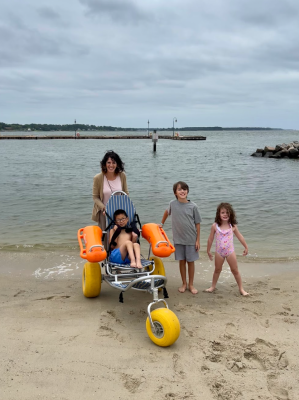 Ride the Trolley
The beach isn't the only unexpectedly accessible attraction calling you to Yorktown. The free hop-on/off trolley tour is also wheelchair friendly, with stairs that transform into a lift. The tour is only about 40 minutes long, making the trolley great for a historic overview and transportation.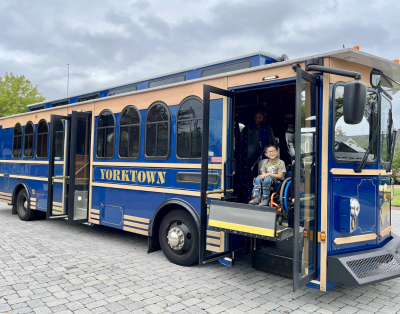 Go for a Stroll
Colonial Williamsburg is the world's largest living history museum. The roads are closed to traffic, making it an excellent place to roam and discover. Despite being historic, the main roads are paved and the walkways are made of tightly packed gravel.
While it's true that many of the historic buildings can only be entered via stairs, we found an excellent workaround: take a tour! Our guide, Trish Thomas, from Williamsburg Walking Tours, is a master storyteller, great with kids, and has spent most of her life studying Virginia history. She brought the stories of each building to life and shared photos that went beyond the interior of the buildings to include portraits, letters, and copies of artifacts that told the full story. This was an incredible way to experience history in a way that was accessible to all.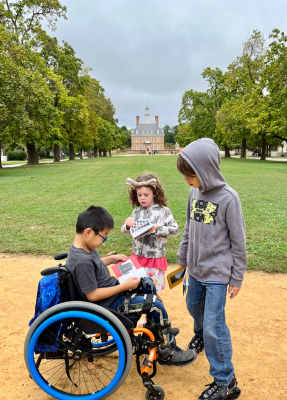 Play Hard
Williamsburg is home to the Great Wolf Lodge and the most inclusive water park experience we've ever had. The lodge has a waterproof wheelchair available on loan, and you can roll right into the wave pool and splash areas on ramped entrances. The pool, lazy river, and hot tubs have chair lifts for easier access. Because it is so wheelchair-friendly, and everyone can play together, it deserves its own day. I guarantee your kids will thank you.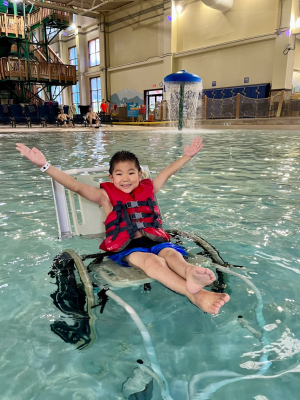 If you're looking for some more active fun to add to your accessible family itinerary, Pirate's Cove Adventure Golf offers one of the few wheelchair-accessible mini golf experiences we've found. The course is on two levels, so they've created an accessible route that allows you to mix and match pieces of both courses to play a full 18 holes on one level. There is a fun pirate theme throughout, and the kids will enjoy locking each other in the stocks when they're done.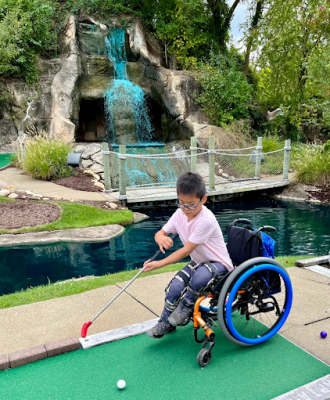 Wonder Again
Forget everything you think you know about magic. The Wagster's Magic Theatre is escapism at its best. For just a short time, you can forget about the everyday stresses of life as you become completely entranced by the wonder of experiencing the impossible. We laughed hard and stared harder. It's the kind of show that leaves you walking on sunshine and ready to take on the world. The theatre is designed with wheelchair space at the end of each row, so you don't have to worry about being stuck in the back, or up front.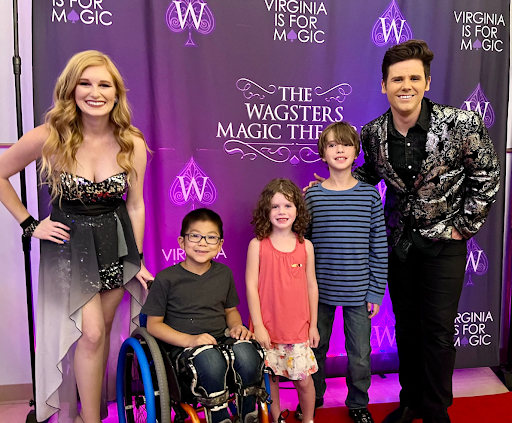 Escape to the Woods
Williamsburg probably didn't come to mind because of its hiking trail options, but you'd be missing out if you didn't meander off the beaten path and into nature. Don't worry, even the woods hold history here. Freedom Park was home to one of the nation's earliest Free Black Settlements, and you can find historically accurate cabin recreations during your journey. It was also a Revolutionary War battleground and an archaeological gift for Colonial history. Beyond all that, it's also a place to breathe in the fresh air of thick trees and blooming flowers. There are a few accessible trails. Multiuse Trail 3 is a great one for kids because it goes by an open field with a Virginia fence that makes a great outdoor play space. It also passes the botanical garden.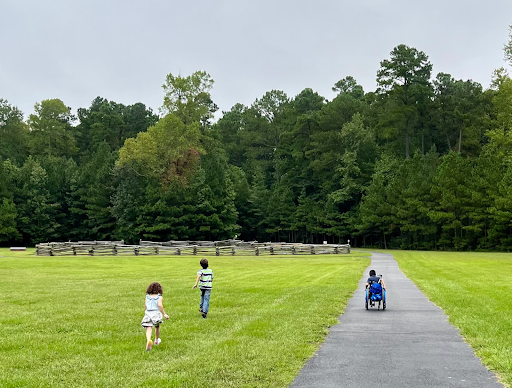 Take in the History
Jamestown Settlement is central to both the area and the nation's history. In addition to a fully wheelchair-accessible museum, it's an immersive experience where you can talk with both natives and settlers (historical reenactors) and learn from history. Carve a kayak, watch a feather weaving, hold a musket, and try on armor. Most of the structures in the village and the fort had ramped entrances. The only thing we couldn't enter with the wheelchair was the ships. The ramps to the ships are steep and end at the top of the wall, requiring a large step down to enter the ship.
Live a Foodie Dream: Where to Eat
This may actually be Williamsburg's best-kept secret – so it earned its own section…
Williamsburg has quietly emerged as a culinary hotspot that delights the taste buds of visitors from near and far. You'll discover a vibrant dining scene that combines Southern hospitality with innovative cuisine. From farm-to-table delights to classic comfort food, Williamsburg offers a diverse culinary landscape that caters to every palate (and hospitality that offers scrambled eggs to your picky eater, even when they're not on the menu). All of the following had easy wheelchair accessibility with either ramped or zero-entry doorways, space to navigate, and accessible restrooms.
Pierce's Pitt Bar-B-Que
Low and slow is the key to the long-term success of Pierce's Pitt Bar-B-Que. The oven is reserved for the family recipe desserts made from scratch: the meat is all cooked on the open pit out back… for seven to eight hours. Try the chicken BBQ and banana pudding.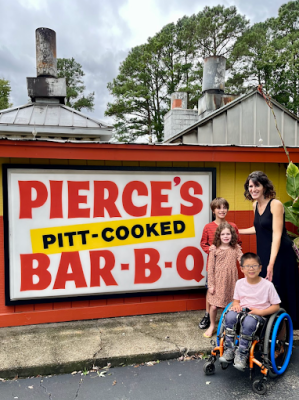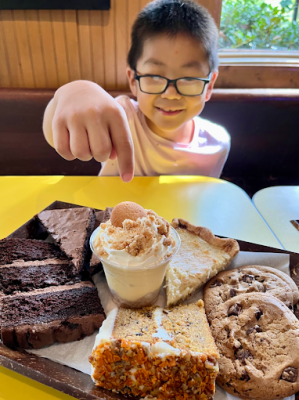 Food For Thought
Put away the cell phones and connect over a conversation-centered meal at Food for Thought. The restaurant is themed around thought-provoking quotes, with a menu designed like a novel. The tables come stocked with questions and conversation starters to spark meaningful connections with even the youngest guests. Listen and learn about the events and thoughts that are shaping your children. You'll go home with happy tummies and hearts! The menu selections are as thoughtfully curated as the discussion prompts with a variety of traditional favorites and unique creations. The children's menu is a chapter book version of the full novel, with similar diverse options served in smaller portions.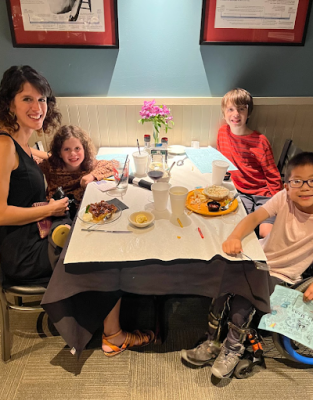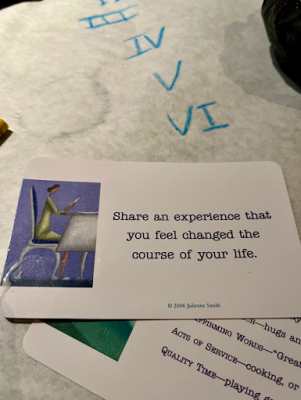 Aroma's Coffeehouse
The one exception to wide pathways comes when there are large crowds. Aromas Coffeehouse is a local favorite - as you can tell before you even enter. Arrive early and kickstart your day with a specialty espresso drink, and hearty omelet, or a freshly baked pastry. Because it's dog-friendly, you can get your pet therapy for the day, while enjoying the artistic vibes and nutritional food.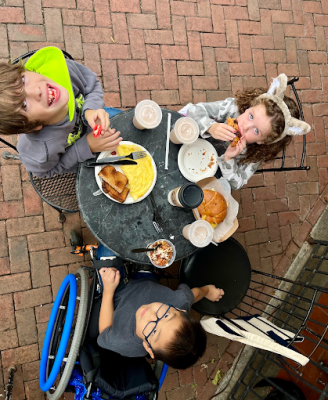 Precarious Beer Hall
Don't make your kids stay in their seats while you wait for your meal. Let them have fun! Precarious Beer Hall is celebrated for their local brews - both innovative and traditional. Equally impressive is the beer hall lined with arcade games. No one will ask how long until the food's ready when they're dominating air hockey or racking up points on ski-ball. Depending on the day and time you visit, you can have two different food vendor options. I can recommend the tuna taco at Electric Circus Taco!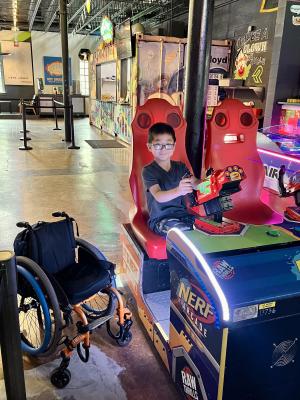 Craft 31
Craft 31 offers gourmet burgers, craft beer, and a raw bar, but I couldn't resist the Bottom's Up pizza and orange crush – both on-site specialties. The sourdough crust, which takes over 12 hours to prepare, has become known as "Richmond Style" pizza - creating its own Virginia brand of pizza.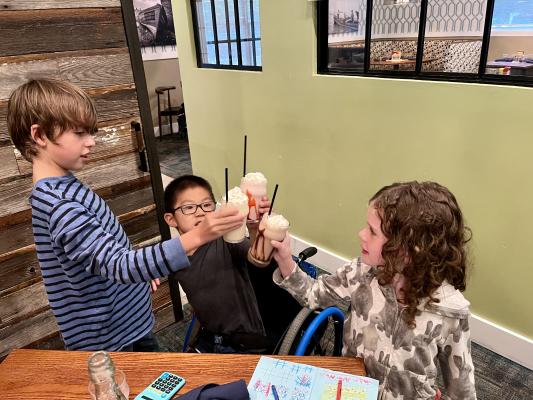 Capitol Pancake House
Williamsburg is pancake heaven, with several pancake house options. Offering all the traditional pancake house favorites, Capitol Pancake House is a great place for a hearty start to your day. Seasonal creations and hot coffee set your morning up for success. Nothing says fall like a pumpkin waffle covered in whipped cream and syrup!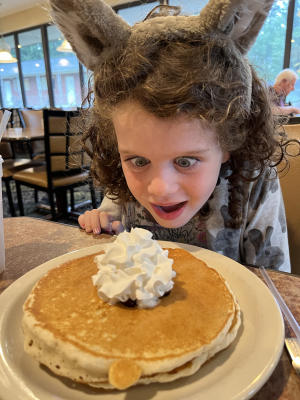 Culture Cafe
Two chefs with one glorious dream have made Culture Cafe into a food hub that celebrates diversity. In addition to fresh menu options and innovative comfort foods, the chef was also accommodating to my pickiest eaters. This is a place where all are meant to feel at home, and all will enjoy the time spent in that comfort enjoying good food. It's also a great place to try mushroom coffee!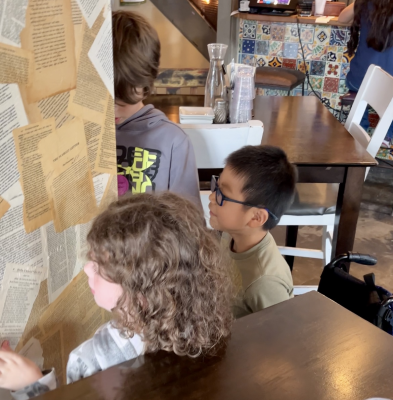 Water Street Grille
Add this to your beach day itinerary. Less than a block from where you'll return your beach wheelchair, you can continue to enjoy waterfront views with dinner at Water Street Grille. This is a great place to try some seafood, sample Italian tapas, or to enjoy a burger while watching the game. It's a low-key environment with a bit of something for everyone.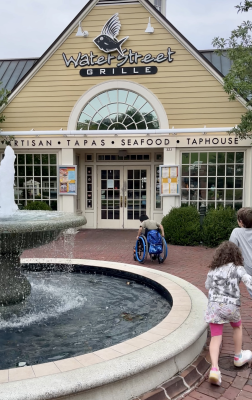 Baker's Crust
Locally sourced and freshly baked: you can't go wrong at Baker's Crust. This farm-to-table restaurant is as diverse as it is delicious. Try a sandwich so you can sample the crisp of perfectly baked bread.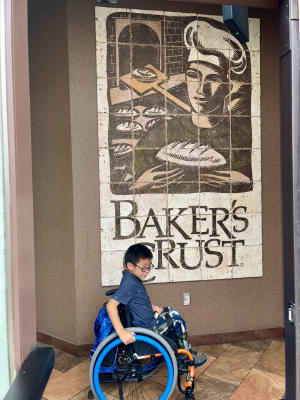 Anna's Brick Oven Pizza & Pasta
The most Italian pizza I've had on this continent, and the marinara tastes almost just like grandma's at Anna's Brick Oven Pizza & Pasta. Deliciously authentic pizza and pasta in a laid-back pizzeria environment. Save room for a cannoli or the most decadent chocolate fudge cake you've ever encountered.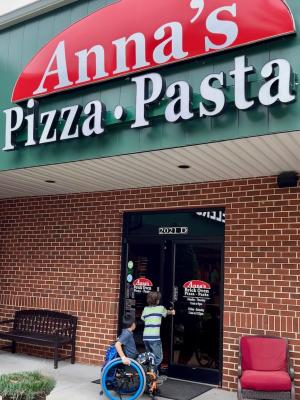 Hohl
Hohl is a vibe of warmth and community. They serve up seasonal, local, fresh, from scratch, wholesome goodness, with the goal of making a difference by bringing people together at the table. The avocado toast is on a whole new level and the fresh-baked brownies have perfected the fudge factor.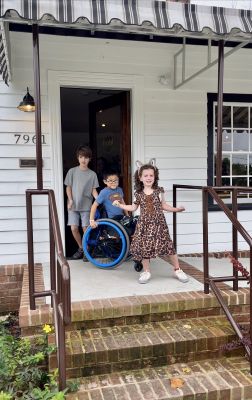 Where to Stay
While there are plentiful lodging options of every variety in Williamsburg, I cannot imagine a better launch pad for a family vacation than Great Wolf Lodge. Accessible family suites, with two bathrooms, offer the space for meeting individual needs. You can choose between a roll-in shower or an accessible tub. The lodge includes activities throughout the day. If it's an off-day and you're not able to get everyone out to explore, you can still enjoy yoga, crafts, bingo, story time, dance parties, and more right inside the lodge. The on-site buffet is delicious. If you're not that hungry, you can opt for Dunkin' for breakfast and pizza for dinner - without leaving the lodge. Extend your vacation with fun add-ons like Wizard's Quest, bowling, laser tag, and gem mining.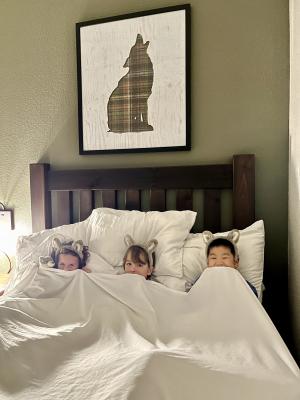 Williamsburg is so much more than beautiful history. Williamsburg offers a diverse range of inclusive activities for all types of travelers - from outdoor adventurers to history buffs, to family-fun centered, and those seeking a peaceful getaway. Stop on your way through for a weekend, or stay for a week - you'll find more wheelchair-friendly fun than you'll know what to do with.