ADA-friendly fun in Williamsburg
Limited mobility doesn't have to inhibit your thirst for adventure and discovery in Williamsburg. From theme park excitement to historical tours or a wheelchair-friendly beach day, there are plenty of accessible activities for various paces and physical abilities. 
Park and ride
Reserve a wheelchair or scooter (standing or sitting) in advance at Busch Gardens, and get ready to plan your thrills with some help courtesy of the ride accessibility program. Visitors with disabilities can receive a personalized list of rides and attractions based on their needs. Plus, there are special options to skip or avoid lines through the special access program, which either provides access to a virtual queue or alternate entrances to attractions for those who rely on mobility aids. Guests with hearing impairments can even request a park sign language interpreter, and get a copy of show scripts to follow along with musical and dance entertainment.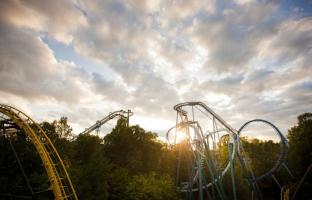 Free ride
Everyone loves to leave driving to someone else, which is why the Yorktown Trolley has been a hit with visitors and locals alike for more than 20 years. But for those who are unable to get to or from fixed-route stops, or ride handicapped-accessible cars due to the nature of their disability, Yorktown Trolley Service has partnered with the Williamsburg Area Transit Authority to provide complimentary paratransit service. The origin-to-destination transportation operates the same hours as fixed-route buses.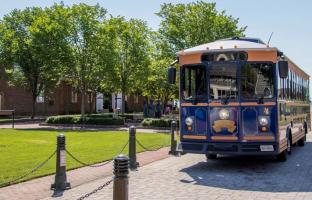 Make waves
Sand doesn't have to be a barrier for anyone with mobility issues or mobility equipment at Yorktown Beach, where a Mobi-Mat means people in walkers, wheelchairs, and with strollers can all easily enjoy a day of surf and sun. For disabled guests who want to enjoy the waves at the two-acre beachfront up close and personal, a complimentary Mobi-Chair can be checked out in two-hour increments from 10 a.m. to 6 p.m. daily at the dockmaster's office. (Call the Yorktown Dockmaster's office to arrange your rental at 757-890-3370, email dockmaster@yorkcounty.gov, or stop by the office.) 
Access the beach via Riverwalk Landing, a shopping and dining destination with an even mile-long pedestrian path that's enjoyable and accessible for all ability levels.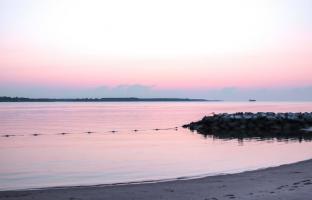 Presenting the past
History is approachable and accessible at Mobjack Petite Café, the only certified business offering professional historian guided tours through the Yorktown Battlefield and historic buildings in the region. Nestled in the 18th century Cole Digges House, Mobjack offers private backyard talks that are ADA compliant and can be tailored to the needs of private groups. It's easy to grab caffeinated beverages or a tipple and light fare after, as Mobjack has no stairs to navigate entering or exiting.