In need of a gift? Stocking stuffer? Or just looking to buy yourself a treat because you've already finished your holiday shopping? These four charming shops in Williamsburg offer unique, unforgettable gifts for your friends and family!
 
---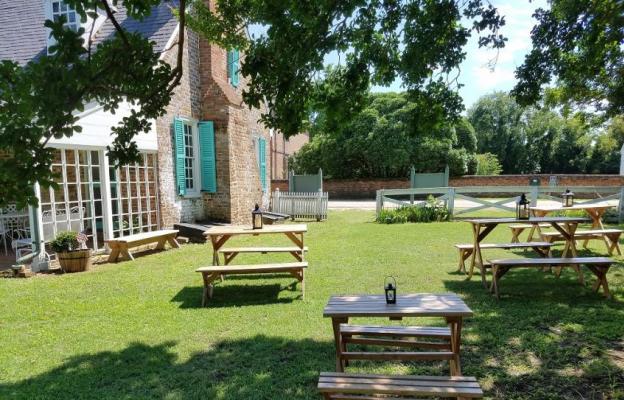 Mobjack Bay Coffee Roasters is more than just a coffee shop. It's a unique experience that offers not only exceptional coffee (like the Yorktown Colonial Blend), tea, and tasty treats, but also fine wine, draught beer, and delicious sandwiches. A staff favorite is the Caprese, made with a delicious from-scratch tapenade that goes perfectly with thick slices of tomato.
Mobjack is also a gathering place for locals and visitors from all over the world, with a professional historian taking you on a stroll through the battlefields and historic streets of Yorktown. And some days Mobjack is that wonderful early morning moment when you get your coffee and the table under the crepe myrtle overlooking the heart of Yorktown.
Customers can purchase Mobjack's coffee, products, and tickets to tours in person, by website, by calling the cafe and ordering ahead for pick up, or at one of their retail partners located throughout Virginia.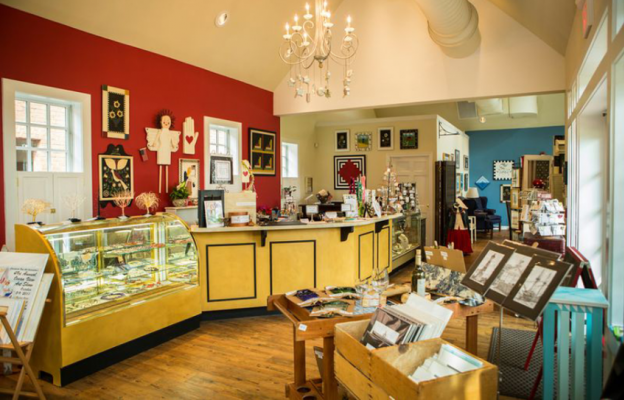 Opened in July 2013, Auntie M's American Cottage houses a rich array of handcrafted contemporary and traditional work from self-taught artist and owner Marilyn West and other handpicked American artists and craftspeople, many of whom are from Virginia. Auntie M's strives to provide many one-of-a-kind pieces along with a variety of unique, affordable items. There are many items for gift-giving that are under $20.
A few of the shop's most prized pieces are its handmade Christmas soaps from Suffolk's Virginia Soaps and Scents and bud vases made from silverware by Toano's Emily Dill. Yorktown's Sharon Dombrowski, otherwise known as Stillwater Studios, makes stunning colorful fishbowls with fused glass. West loves making folk art for the store, too!
For additional information, check out their website or just drop in and say hello. There are protocols in place for preventing COVID-19, which include air purifiers and frequent cleanings.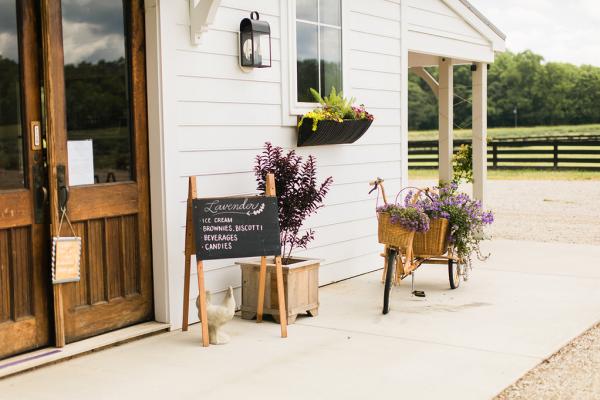 Sweethaven Lavender not only sells amazing products, but the lavender farm is one of the most picturesque photo backdrops. Their skincare products have a short list of ingredients chosen for their nourishing attributes and sustainable practices. From the edible (Lavender Blossom Chocolate Sauce, which has a 5-star review) to the "sounds edible" (Hand Frosting!), Sweethaven Lavender is a shop you most definitely won't leave empty-handed.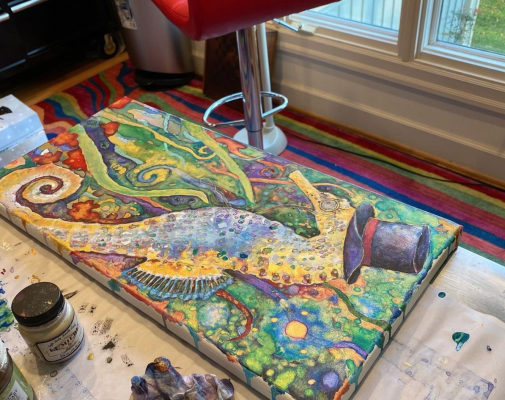 MOONSHADOW ART AND DESIGN
Artist Connie Desaulniers creates paintings, sculptures, and design accessories that are color-saturated and often fanciful. Her diverse repertoire includes landscapes, still lives, portraits, as well as 3-dimensional paintings that literally come off the canvas.
Browse more shops here for all your gifting needs.