There's no greater place to celebrate our nation's independence than Williamsburg, VA!
Celebrate the Fourth of July in Williamsburg, Jamestown, and Yorktown with events and activities that will allow you to go back in time to commemorate the birth of our nation. If you want to enjoy all things Americana, we have it and more at our area attractions.
Enjoy the great outdoors and dine alfresco at many Williamsburg restaurants, craft breweries, and wineries. Burn off a few calories with one of our many outdoor activities, or plan to walk, run, hike, or bike along one of our historic streets or trails. Whatever you choose, be sure to end the day with a dazzling fireworks display. Check out our events page for the latest happenings and celebrations in Williamsburg or see below.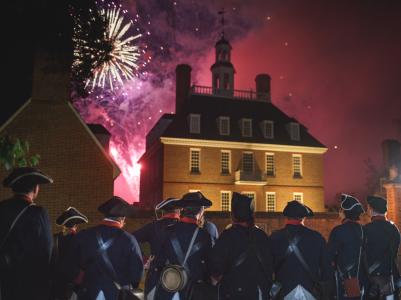 Colonial Williamsburg will celebrate the 4th of July with fireworks as well as music and special programs. Admission is free to the Historic Area and Art Museums. Visitors can pre-register to claim complimentary tickets on their website.
Programming includes:
9:30 a.m. - Thomas Jefferson reading the Declaration of Independence from the Capitol West balcony
10:30 a.m. - Salute to the States with the Colonial Williamsburg Fifes & Drums and a musket volley in Market Square
12:00 p.m. - Reading of the Declaration of Independence on the steps of the Colonial Courthouse
8:00 p.m. - Lights of Freedom, a celebration of the words and music of the American Revolution, beginning on Palace Green. Guests are invited to bring chairs, blankets, and food to enjoy the concert.
For more information; colonialwilliamsburg.org.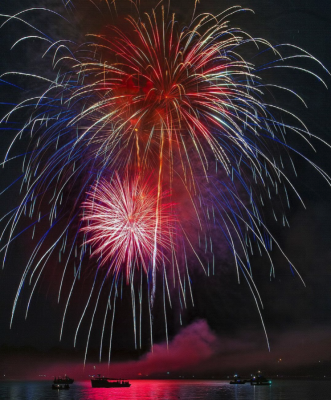 Credit: Sean Smith
Historic Yorktown is featuring its 44th Independence Day Celebration with several free family-friendly events including:
- Special programming at the American Revolution Museum at Yorktown
8:00 a.m  - Yorktown Independence Day 8K/5K Run/Walk
9:00 a.m. - Patriotic Parade along Water and Main streets
1:00 p.m. - Family activities including outdoor games, and a hot dog eating contest held at Yorktown Waterfront's Riverwalk Landing
2:00 p.m. - Phil Poteat, an acoustical guitarist with perform at Riverwalk Landing's Performance Stage
3:00 p.m. - Patriotic Food Pavilion open at Riverwalk Landing
4:00 p.m. - Evening event parking opens at the corner of Cook Road and Ballard Street at the Yorktown Battlefield
7:00 p.m. - Sounds of Liberty Bell Ringing Ceremony, followed by Fifes and Drums of Yorktown perform and reading of the Declaration of Independence at Riverwalk Landing's Performance Stage
8:00 p.m. - Super Jazz Band Concert featuring Conni Ironmonger
9:15 p.m. - Yorktown's fireworks display over the York River - gather at the Yorktown Waterfront and Victory Monument for prime fireworks visibility
The Yorktown Trolley will begin service after the parade,10 a.m. to 5 p.m., free of charge with stops at York County Courts and Office Complex, the intersection of Main and Ballard streets, Riverwalk Landing, Yorktown Battlefield Visitor Center, Watermen's Museum, and the American Revolution Museum at Yorktown.
For complete information, visityorktown.org
Colonial National Historical Park will celebrate Independence Day by offering a free entrance pass to visit the Yorktown Battlefield, Jamestown Island, and recreational stops along the Colonial Parkway from Jamestown to Yorktown.