Christmas in Williamsburg is a magical time of year. This historic, yet charming city is a great place for all families to enjoy special holiday activities together like meeting Santa Claus, ice skating at the Liberty Ice Pavilion, Christmas Decoration Walking Tours in Colonial Williamsburg, and so much more! My family has made it a tradition to visit Williamsburg each December to enjoy all of the holiday festivities that the area has to offer. To top it off, as a homeschool family with two children, I always find simple ways to incorporate fun lessons into all of our family trips thanks to so many educational activities right here in Williamsburg. This year, we chose some that were small and more intimate. Here are some family-friendly holiday activities we enjoyed together during the holiday season in Williamsburg.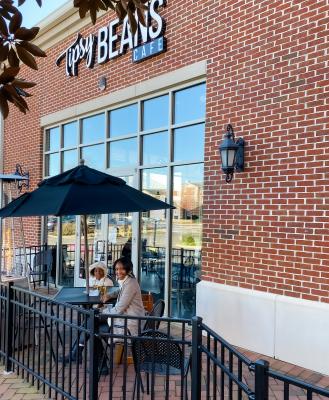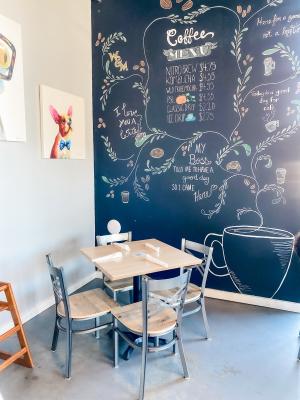 Breakfast at Tipsy Beans Cafe
We started our day with a filling breakfast at Tipsy Beans Cafe. I was so excited to try their new holiday lattes (like candy cane, eggnog, and gingerbread!). This local café has so many great choices for breakfast and lunch, so my husband and I decided on some strawberry and banana açai smoothie bowls. Thanks to the café's heating towers, we enjoyed breakfast outdoors. We sipped our holiday lattes while the kids enjoyed their delicious chicken and red velvet waffles.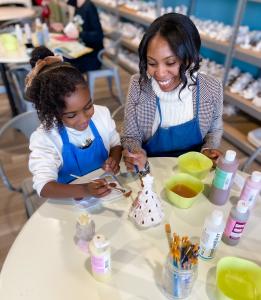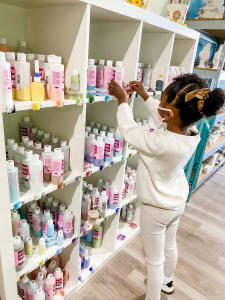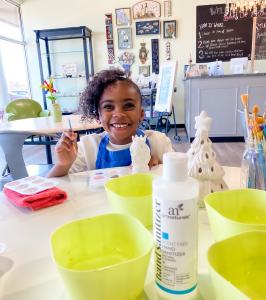 Paint on Pottery
Right next door to Tipsy Beans Café is Paint on Pottery, the only DIY pottery painting studio in Williamsburg. My daughter and I enjoyed spending some quality time together while we created our masterpieces. Upon arrival, we were able to choose from a wide selection of bisque pieces and figurines. From Christmas trees and star ornaments to festive houses and gingerbread characters, there were so many holiday-themed pottery options to choose from. My daughter opted for a Christmas tree, a holiday princess, and a star ornament.
We shared a lot of laughter and fun moments while we were painting together. My daughter decided that we would give the Christmas tree and the star ornament to her grandmother and grandfather as a Christmas gift.
Gift-giving is an act I've always discussed with and instilled in my daughter. Naturally, I loved how we were able to incorporate this great holiday gifting lesson into our trip to Paint on Pottery. My daughter loves painting, and I could tell her confidence was growing as she worked on finishing her pieces. It was truly a great activity for her to express herself. Art allows children to work on their fine motor skills, self-esteem, and self-expression.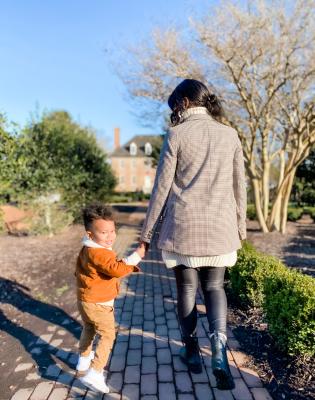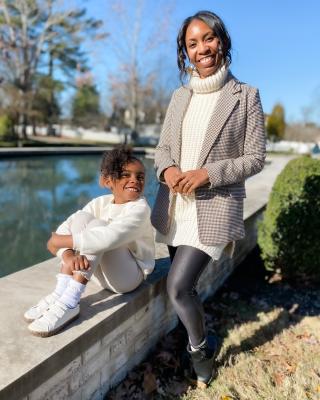 Exploring Colonial Williamsburg and Merchants Square
I can't say it enough – the holiday decorations in Colonial Williamsburg and Merchants Square are so magical. Colonial Williamsburg is a living history museum sitting on 301 acres of land. The historic area includes several hundred restored or re-created buildings from the 18th century when the city was the capital of Colonial Virginia. As we walked around, we saw people dressed in costumes from that particular era. It was the perfect time for a history lesson on the decorations throughout Colonial Williamsburg.
Christmas decorations in colonial Virginia were much different than we know today. Instead of elaborate and colorful displays, simple pine garlands, mountain laurel, magnolia, and mistletoe were popular. Also, colonists participated in a practice called "the illumination" by placing a single candle in every home or business window. Today, Colonial Williamsburg embraces these traditions by placing candles in the windows of buildings such as the Governor's Palace and the Capitol while also elaborating on tradition with beautiful displays of items colonists would have had on hand, such as flowers and fruit.
My daughter loved learning about the history of decorations in Williamsburg. As always, Williamsburg is a great place for hands-on learning. I love how there are so many signs throughout Colonial Williamsburg and Merchants Square that I can easily read as I'm teaching my daughter quick facts about the history of Williamsburg.
Colonial Williamsburg also offers a guided Christmas Decorations Walking Tour, giving you the chance to take in picturesque building exteriors and streets decked out in holiday splendor, all while discussing Christmastide in the 18th century.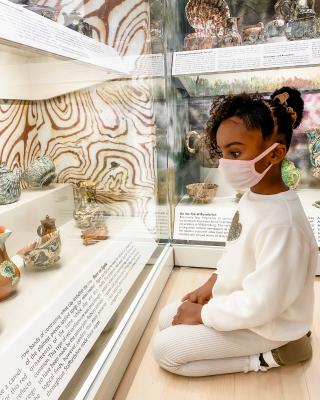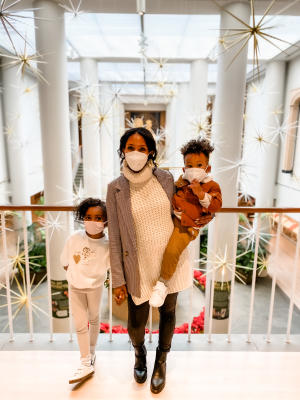 The Art Museums of Colonial Williamsburg
While we were exploring, we saw the beautiful Art Museums of Colonial Williamsburg and decided to take a tour inside. Once inside, an enormous, beautifully-lit Christmas tree in the middle of the museum welcomed us. Both my son and daughter were so excited to see the tree and its trimmings. The gallery was very spacious to allow for social distancing. There is also a kid-friendly section of the museum, complete with an interactive scavenger hunt. My daughter loved all the toy exhibits and learning how they were made.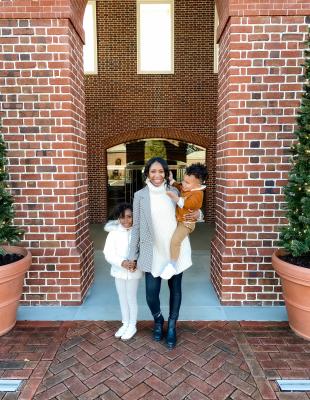 Williamsburg Christmas Market
Before you leave Williamsburg, it's so necessary to stop by the Christmas Market, which features more than 20 vendors -- from paintings, craft beer, hot chocolate, sweet treats, photo opportunities with Santa, and more. The village-style setting is similar to that of a traditional European Christmas Market. I appreciated that the vendors socially distanced along the street, which were decked out in holiday decorations. I felt like I was living in a holiday wonderland with my family.
Old City Barbecue
Before leaving Williamsburg, we had to stop by Old City Barbecue. They pride themselves on their barbecue process, using smokers fueled by hardwood coals. They focus on high quality, locally or sustainably sourced ingredients with a nose-to-tail inspired menu. I love that Old City Barbecue had a beautiful outdoor seating option with a firepit. I enjoyed the pulled chicken, and my husband loved the prime brisket.
My family and I love our educational yet festive traditions in Williamsburg during the holiday season. We can't wait to visit each year.
Follow Ashley via her website The Ashley Nicole Blog and on Instagram @beautifully_made