Creativity is the driving force behind the emerging culinary scene in Williamsburg, and cocktails are a perfect place to display this ingenuity. Local restaurants and bars are taking fresh, local ingredients and creating works of art in a glass. Below are just a few examples to inspire you to taste Williamsburg.
Bartender Diane Wade says she likes to keep her cocktails to four ingredients, but that doesn't mean it's a simple drink. Wade suggests experimenting with measured pours to find the right balance of ingredients for your taste. For The Velvet Revolver, Wade combines Bulleit bourbon, raspberry liquor, house-made sour mix, and egg white. The drink is shaken until frothy and served in a chilled glass.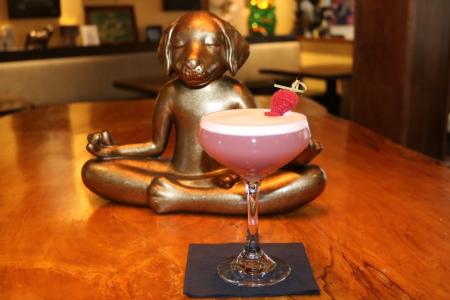 Amber Ox Public House continually produces new and creative cocktails, with fun references to pop culture and world events. Bar and Dining Room Manager, Zack Maher, says one of his recent favorites is called "Down the Rabbit Hole." It references the recent need to find a new internet "rabbit hole" to investigate during quarantine. The cocktail features local Bowman small-batch whisky, Henriques 3-year Madeira, fresh lemon juice, honey, and thyme syrup, and a carrot and ginger shrub, an acidic syrup that adds depth and complexity.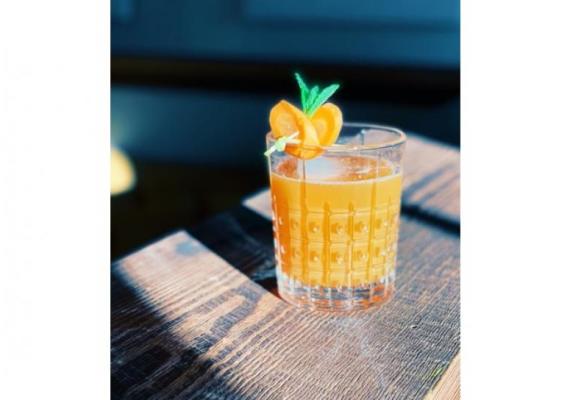 "Black Card Club" at Casa Pearl
This frothy, fresh cocktail begins by making the blackberry bitters – a nuanced flavoring agent composed of wormwood, gentian root, and blackberries. The bitters are combined with Plymouth gin, fresh blackberries, lemon juice, and aquafaba in a cocktail shaker. General Manager, Jayson Neault, says aquafaba is the liquid found in a can of chickpeas and can create the same smooth texture as egg whites. After shaking to combine, ice is added before one final shake and serving.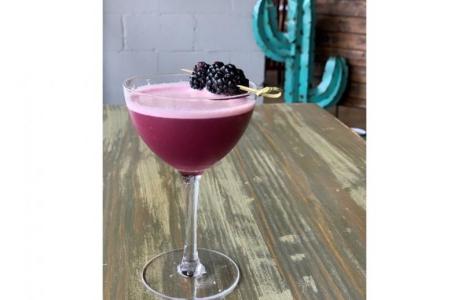 Copper Fox Distillery blends its own whiskey products with house-made mixers to create inspired seasonal cocktails. "The Pirates Tiki" is perfect for spring, with tropical notes bringing thoughts of warm weather. For this drink, bartender Jon Royal, starts with Copper Fox Distillery's Bourbon Mash, a clear spirit bottled at barrel strength before aging. This is mixed with lime juice, orange juice, passion fruit, and bitters. The cocktail is finished by floating Copper Fox Distillery's Original Rye on top of the drink. Royal describes this cocktail as an "easy whiskey drink" and says he is confident he can find a bourbon to fit any taste.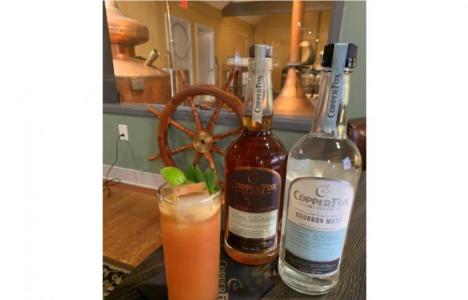 A favorite at the DoG Street Pub, this bourbon-based cocktail features St. Elizabeth Dram, a spicy liqueur from Jamaica, to create a unique and sophisticated flavor. Pub Manager, Kyle Moyer, starts by combining bourbon, St. Elizabethe Dram, lime juice, simple syrup, Angostura bitters, and ice in a cocktail shaker. After pouring into a coupe glass, the drink is finished with a squeeze of orange peel to release the essential oils.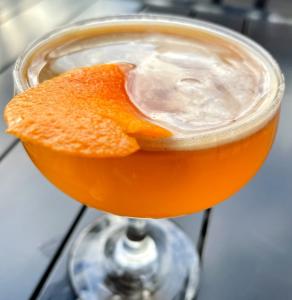 Which cocktail has you ready to stock up your bar? Let us know, and be sure to check out our trip planning tools to create your perfect Williamsburg getaway.