A trio of celebrities recently opted for getaways in Williamsburg, Virginia, where heart-pounding adventures, historical exploration, and tastebud-tickling temptations are easy for fans to recreate. 
Emmy Award-winning actress Tamera Mowry and "Dancing With the Stars" favorite Witney Carson McAllister brought along their families to enjoy opulent accommodations at Kingsmill Resort. And for "Real World" alum Jamie Chung? The actress and her fellow screen star Bryan Greenberg – parents of twins – opted for a romantic couple's getaway staying at the Williamsburg Lodge.
Good things come in twos for Tamera Mowry
Tamera Mowry originally found fame on the sitcom "Sister, Sister" opposite her twin Tia Mowry, and today she has two kids of her own. The Emmy Award-winning talk show host and husband – former pro baseball player and Fox news correspondent Adam Housley – were able to enjoy the best of both worlds on an itinerary that combined some couples time with lots of family love.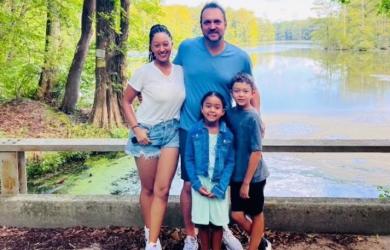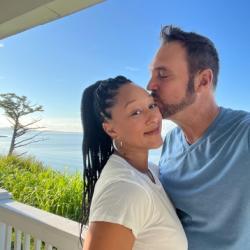 Where to stay:
Witney enjoyed her Cottage on the James at Kingsmill; she had a great time enjoying everything that Kingsmill Resort has to offer, such as the spa, tennis club, and marina activities
Things to Do:
Places to Eat:
Tamera and the family hit up Mobjack Bay Coffee Roasters for lunch with a side of history in Yorktown; the selection of sandwiches, salads, and pastries kept them fueled during their busy day

Housley and his celeb bride enjoyed a fun night out sans kids at Williamsburg Winery, which included a tasting and tour in addition to dinner at Gabriel Archer Tavern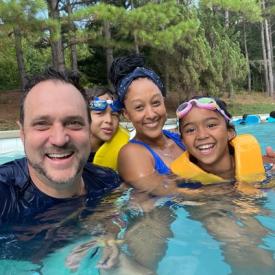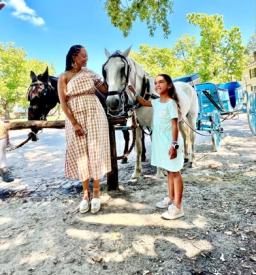 Toddler travels keep Witney Carson McAllister on her feet
Mowry's family wasn't alone in opting to sample the region's bounty. Professional dancer Witney Carson McAllister made the trip from landlocked Utah for a fun family vacation. There were plenty of things for Witney and her husband to do to keep their toddler entertained as well. 
Where to Stay:
Things to Do:
Witney and her husband, Carson McAllister, ventured out to make more than a few splashes; their toddler, Kevin, enjoyed the new Lil' Surfers Splash Pad — featuring fountains, spray cannons, and a kiddie water slide – at Water Country USA 

After a morning at Historic Yorktown Village and the American Revolution Museum at Yorktown, the threesome hit up the waterfront charms of Riverwalk Landing

Yorktown Beach, in particular, is great for families with young children thanks to the Mobi-Mat, which means those with strollers can easily enjoy a day of surf and sun
Places to Eat:
​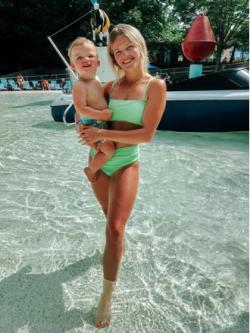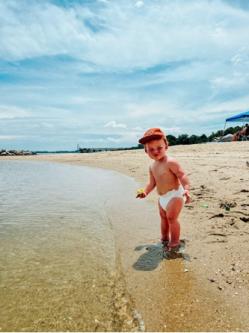 Jamie Chung keeps it real
After ten years together and two children, actress Jamie Chung and her husband Bryan Greenberg opted for a parents' weekend away. Their quick flight from New York City gave them three full days to explore the area. While many come to the region for family fun, Chung and her husband had plenty of things to enjoy as well.
Where to Stay:
The Williamsburg Lodge in the heart of Williamsburg, where 18th-century style meets all the needs of the modern traveler with high-speed Wi-Fi and flat-panel TVs 

This prime location allowed for easy access to everything that the couple enjoyed during their stay
Things to Do:
Perhaps no one needs more R&R – or a massage – than a new mom, and Chung got that in spades at the hotel's Spa of Colonial Williamsburg; it's worth planning extra time to enjoy the serene surroundings, and treatments include the use of luxurious relaxation lounges, spa showers, outdoor Tranquility Pool, or heated indoor pool 

Chung and Greenberg opted to get out and about, however, with some souvenir shopping for their one-year-old twins at Merchant's Square; the retail village's 40 shops and restaurants meant that it was easy to pick up t-shirts and toys for their twin boys at R. P. Wallace & Sons General Store

The couple had a great time exploring all that Yorktown had to offer. They were able to enjoy the American Revolution Museum and learn about how the nation was founded. Exciting indoor galleries feature period artifacts, immersive environments, and films, including "The Siege of Yorktown," with a 180-degree surround screen and dramatic special effects
​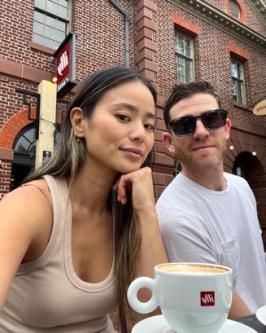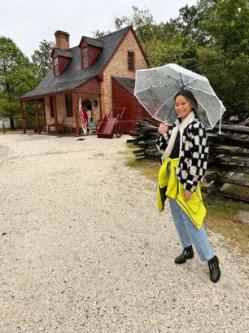 Places to Eat: