As a new parent, I experienced a moment of panic when I realized that it was time to plan my husband's first official Father's Day. Although he was technically a dad last year, we had only been home from the hospital for a short bit, so leaving the house was pretty much off-limits. This year, I knew I had to make it up to him with a memorable and exciting adventure to show just how much I appreciate and adore him in this new role. And, what better place to celebrate an epic Father's Day than in Williamsburg?
Although it may be fun to go ziplining through the forest or get extra cozy in a dimly lit romantic restaurant, we had to keep our baby's needs in mind while planning a great holiday. With that being said, finding family-friendly activities in Williamsburg is easy to do, and today I'm taking a deep dive into some that I personally love and recommend for celebrating a Father's Day to remember. Let's get the weekend started at the Riverwalk Landing in Historic Yorktown.

Once you get to our personal favorite spot in Williamsburg, Merchants Square, walk along the cobblestone lined streets to find DoG Street Pub on the corner. You would never guess by the humble outside appearance of an 80-year-old bank that the interior would be filled with gorgeous marble floors and a cupola skylight (the originals), alongside iron rod gates and chandeliers that will make you stop and stare.
Best described as "an American Gastropub with an English accent," DoG Street Pub is serving up craft and elevated British-inspired food in a family-friendly environment. Although everything we tasted was delicious; in particular, the flavor of the Brat Burger was out-of-this-world. I'm already looking forward to returning and getting another bite.
ORDER THIS: Fried Calamari, Beer Cheese, Warm Honey Ham & Cheddar Cheese, Brat Burger
After filling our bellies with mouth-watering comfort food, it was time to unwind for the day with a cocktail (or two) at a quiet, speakeasy lounge.

While our son napped in his stroller, we wandered into the magnificent lounge hidden behind a bookshelf which boasted tables made from whisky barrels, tasting flights, and hand-crafted seasonal cocktails. If you haven't had enough outdoor time, head to their comfortable and spacious area out back, complete with a fire pit and games, where you can stay and indulge in cocktails under the sun.
Since my husband is a whisky aficionado, I knew he would appreciate and love this elevated distillery. In order to taste a wide variety of their house-made whisky, we ordered the Premium Tasting Flight which showed off their iconic and unique smoky flavor due to their one-of-a-kind production process. Fun fact: Copper Fox Whisky was launched into the marketplace as the very first applewood-aged whisky in the world! How cool is that? All of their grains are grown locally by one farmer and instead of peat, they use local fruitwoods to gently smoke and dry the grain.
Since my tastebuds are a bit less mature than my husband's when it comes to whisky, I opted for an Old Fashioned enhanced by their homemade lavender syrup. Simply put, it was by far the best whisky cocktail I've ever tasted.
ORDER THIS: Premium Tasting Flight, Lavender Old Fashioned, Whisky Sour
After feeling equally inspired and relaxed by the day, we were ready to retire to our home for the evening so we could rest up to resume our adventure on Sunday.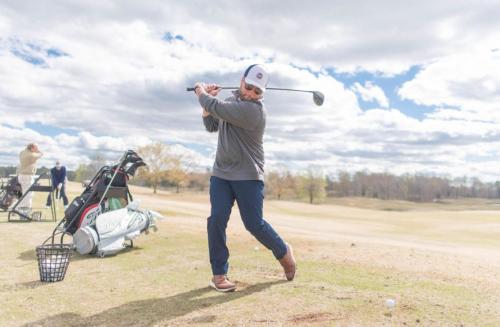 Imagine starting your Sunday morning overlooking an 18-hole golf course lined by green trees, rolling hills, and two lakes. With picturesque views, an 8,000-square-foot clubhouse, and a spectacular full-length driving range, the dad in your life is guaranteed to enjoy the Kiskiack Golf Club.
Beside our son, my husband and I spent a couple hours riding along the tree-lined path and exploring the course with the help of a golf cart and soaking in the morning sunlight while taking turns to see who had a better swing.
My husband enjoyed this activity so much that, before we left, he asked about scheduling another time to perfect his game and relax. After vowing that I would schedule a weekend each month into our family calendar for him to dedicate to his golf swing, we headed out in search of some good, old-fashioned bar-b-que.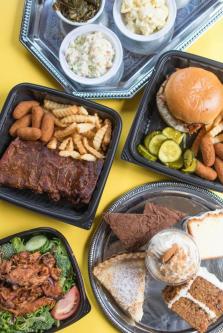 Since 1971, Pierce's Pitt Bar-B-Que has been serving up delicious hickory-smoked Tennessee-style classics without the additives and preservatives. It's no wonder why they were named the winner of Southern Living's Readers' Choice Award for the "Best Barbecue in Virginia" and are currently celebrating their 51st year in business.
Your mouth will be watering from the moment you pull into the parking lot from the sweet aroma of smoked meat. In addition to having the kindest and most welcoming staff, I also must note that they have a pulled pork sandwich that is leaps and bounds better than anything I've ever tasted. With six ounces of tender, slow-cooked pulled pork covered in "Doc" Pierce's Original Bar-B-Que Sauce, layered with homemade slaw, and topped with cheese and diced onions on a fresh-baked sub roll, you can bet I'll be back for more.
Skip the stuffy, suit-wearing restaurant this Father's Day and take the dad in your life to this casual Williamsburg staple that all the locals approve of.
ORDER THIS: Super Doc Sandwich, Combo Dinner, Baked Beans, Hushpuppies, Potato Salad, Banana Pudding
After licking your fingers clean, head over to a place where you can sit back and digest while your kid(s) get their energy out.

Williamsburg Indoor Sports Complex (WISC) is fun for the whole family and they undoubtedly have something for children and adults of all ages. This gathering place boasts a laser maze, indoor playground, clip and climb walls, a fitness center, indoor soccer field, and an arcade. What more could you ask for?
We spent most of our time at their 1,400-square-foot indoor playground featuring an overhead maze to crawl through for the older kids and soft playing blocks for younger children like ours. My husband and I had a ball helping our son practice taking steps on the cushioned area, adding building blocks around him to climb over, and just soaking in some much-needed family time unplugged from the rest of the world.
With the complex being open seven days a week, welcoming walk-ins, and offering birthday parties and group events, I have a feeling that as London gets older, we'll surely become WISC regulars.
Once we sufficiently wore out our son, we decided it was time to place our attention back on dad and grab a chilled beer to relax while enjoying live music at The Virginia Beer Company.

We were lucky enough to plan this visit during the celebration of their six-year anniversary. With a flight of eight four-ounce samples of their draft beer in front of us, we got to taste a variety of different flavors while soaking in the warm sunny day in their wonderful outdoor beer garden.
Thankfully for us, London will nap through nearly everything - including a live band performance with the lead singer belting out the latest and greatest hits directly in front of us. We sat at one of their wooden picnic tables in the sun and enjoyed a helping of classic Canadian poutine from their featured food truck on-site while rinsing it down with flavorful and refreshing beers.
The light beers were my favorite, with Strictly Business, their blonde ale, being a standout star in my eyes. They also have a delicious non-alcoholic Ninja kombucha for those who aren't beer drinkers or are gluten-free. Check out their website for their lineup of events and weekly specials featuring a variety of food trucks and live music performances.
ORDER THIS: Strictly Business, Saving Daylight, Free Verse
While this guide has come to an end, I cannot help but look forward to our next weekend out in Williamsburg. When you are booking your next getaway, hopefully this post can help you plan an epic Father's Day!