Tea might be the most famous beverage of our Colonial forebearers, but another drink played a notable role in America's history. Coffee became the choice of patriots as a form of protest surrounding British Parliament's steep tea taxes. Today, a cup of joe is still the drink of choice stateside as part of our cultural and culinary heritage. 
There are plenty of opportunities to kick back or grab and go in Williamsburg, where cozy coffee shops serve up well-balanced blends with savory snacks and sinful sweets.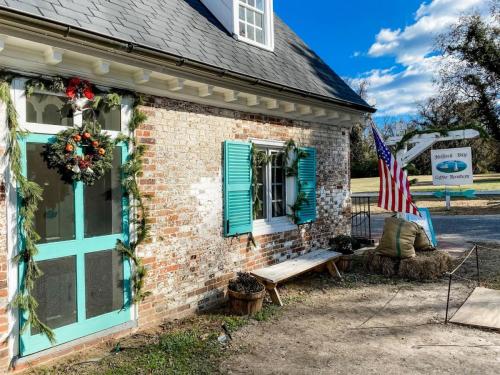 A taste of history
History is a multisensory experience at Mobjack Bay Coffee Roasters, where the Yorktown Colonial Historical Blend evokes the types of flavors that were enjoyed 250 years ago. Researched through historical texts, the blend of coffee beans is based on the coffee varietals that were available at the time of Colonial America. 
The building where Mobjack roasts its coffee traces its roots back even further, its location within the circa 1726 Historic Cole Digges House is one of the original seven structures in the village that has been standing since before colonists decided to rebel.
Today, the vibe is decidedly more relaxed, and some flavored blends even pay homage to the "Old Country", English toffee coffee imbues a medium roast with the sweetness of a confection and earthiness of macadamia nuts.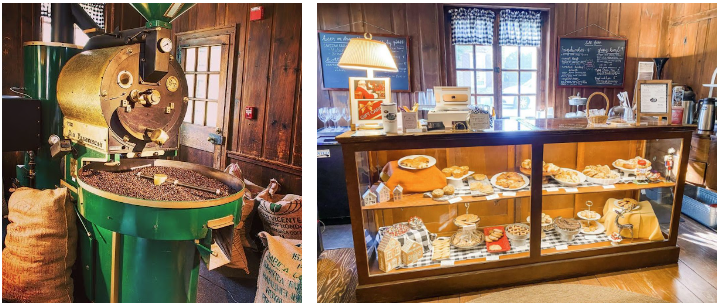 The beans – sourced by owners Celeste and Jo Gucanac from small farms – are roasted weekly, while nibbles for The Petite Café are whipped up daily. Those with a sweet tooth will want to nosh on a rotating selection of scones, muffins, cookies, or strudels, but beverages pair just as well with the satisfying sandwiches, soups, and paninis, too.
Diners can grab a seat in the upstairs dining room or at an outdoor table, or step back in time on one of several ticketed "Stroll with a Historian" tours that embark from Mobjack's prime location.
Also try: Artisanal brewed teas
The science of good coffee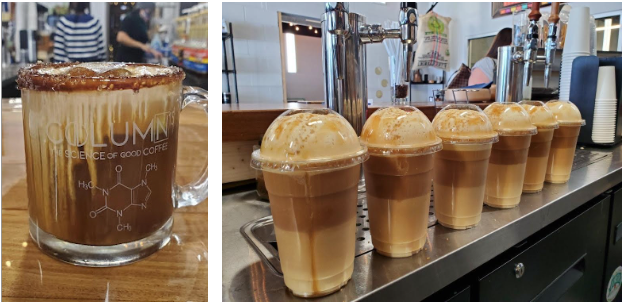 Part of Mobjack's mission is about honoring coffee's past, at Column 15, coffee is all about its future. As an homage to their signature product — nitro cold brew — co-founders James Kroll and Victoria Goldsby named Williamsburg's newest coffeehouse after the column in which nitrogen features on the periodic table. Nitro is one of the hottest innovations to hit the coffee market in years, and is made by slowly steeping grounds for several hours and then infusing blends with nitrogen as they pour from a tap. The yield is a milky, frothy layer that adds smoothness and sweetness without sugar. Watching the layers settle is a lot like admiring a Guinness pour. The Column 15 team is as dedicated to establishing Williamsburg as a coffee mecca on top of the region's well-deserved reputation as a craft beer hot spot.
The list of flavors at Column 15 – more than two dozen – reads more like a gelato shop than caffeine lovers are likely to expect (think strawberry, mint, lychee, and lavender). Can't decide? Order a coffee flight to sample five flavors then laze in one of the plush couches or chairs. You'll often see students from the College of William & Mary — the alma mater of Goldsby and Kroll – poring over their studies in the 3,000-square-foot space. Soon they'll be able to learn more about the science of good coffee on an educational tour exploring bean origins and the roasting process.
Also try: Italian sodas
Buon appetito
A taste of Italy comes to Williamsburg at Illy Caffe. The famed European roaster offers up Instagram-worthy latte art, pastries, and an aesthetic that's enough to make an interior designer's heart skip a beat. People watchers may want to opt for an outside seat to watch the goings-on in the heart of Merchants Square, where you can chase your coffee in true Roman fashion with an Aperol spritz or Negroni. Or, fight a case of the "3 p.m. slumps" with caffeine in a cocktail glass. Non-alcoholic cappuccino tempesta, an Illy signature beverage, features espresso, milk, simple syrup, and ice served in pretty barware, guaranteed to take your mind off of the two hours left in the workday.
Also try: Italian flatbread pizzas, gelato
Delight the senses
You can sip coffee with all three meals at Aromas Coffee Shop, Bakehouse & Cafe, where java junkies may even want to indulge with an in-between pick-me-up. The family-run business serves up Arabica brews made with beans that are freshly roasted on-site and pair expertly with breakfast scrambles, hearty homemade soups, and signature dinner items like shrimp and grits. Dessert lovers won't want to pass up the chewy chocolate chip cookies, either. There's something for everyone and aficionados will delight in funnel-brewed blends, drip, or a French-pressed cup. Kids can choose from non-caffeinated beverages like seasonal spiced apple pie cider or rich hot cocoa.
Celebrating more than two decades in business, owners Michelle and Steve Sieling pride themselves on being active members of the community who welcome local artists to exhibit their works, and local musicians to entertain guests.
Also try: Coffee smoothies