Williamsburg offers solo travelers food for the mind, body, and soul
As a solo travel blogger, my first venture to Williamsburg resonated more than I expected. The region offers up diverse experiences for Black travelers (and those interested in our country's complicated past), and I was able to learn more about what life was like for my ancestors. But no matter whether you call journeys like that history or heritage tours, there are also tons of opportunities for fun, relaxation, and indulging in Williamsburg!  
Main-dish attractions
The Williamsburg Lodge – just steps from Colonial Williamsburg – is perfect for someone exploring independently. Just a few minutes from my hotel room, I discovered Merchants Square, a charming shopping district with restaurants ranging from Brit-influenced gastropubs to award-winning bistros. But those who want to take it easy can relax at the spa, laze by one of the hotel pools, then grab a bite at one of two on-site restaurants. Southern-inspired fare here includes a pulled pork Dixie Stacker; and creamy, smoky shrimp and grits. 
One of my favorite ways to discover the soul of a destination is through its food, and I was delighted to learn that soul food options in Williamsburg are abound. 
Seafood is a mainstay on menus here, and I took advantage of every opportunity to savor the bounty of the Chesapeake Bay. Berret's Seafood Restaurant & Taphouse Grill is conveniently just a short walk from Colonial Williamsburg (although Berret's crab cakes would be worth a much more strenuous hike!). Flash-fried calamari and fresh salmon completed my seafood lover's feast. Also among my most memorable meals was an evening at Cochon on 2nd, where the crab bisque was the best I've ever tasted. The Water Street Grille in Yorktown offers as much a feast for the eyes as the stomach, with unforgettable views of the York River and a menu studded with the bounty of the Atlantic. Locally sourced oysters are good for lighter appetites, or those looking to indulge may want to try a fun twist on surf-and-turf: the crab cake BLT served with Old Bay-seasoned French fries. 
Grab and go
Looking for lighter bites? Or quick grab-and-go options to maximize exploration time?
I talked turkey — turkey sandwiches, that is — with ownership from The Cheese Shop, a long-standing family business smack-dab in the middle of Merchants Square. The lip-smacking options here include sandwiches and charcuterie, globally sourced cheeses (including some of Virginia's finest), and a cornucopia of chutneys, dried fruits, and freshly baked bread.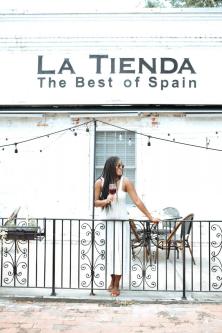 The hallmark of a tapas bar is its bite-sized fare and La Tienda packed a punch with small plates offering up big tastes. Soups, salads, and nibbles like ham and cheese croquettes or spicy shrimp swimming in oil and garlic all evoke a little bit of Spain on the East Coast. Besides the signature sangria, one of my favorite parts of dining here was the paella. Not only is it made to order and mouth-wateringly delicious, but you can also order single servings — that's much appreciated by solo travelers, as this saffron-tinged rice dish is commonly served for two to four. 
Activity and serenity
I worked up an appetite in a few ways, but no matter which, each activity offered opportunities for serenity and soul-searching. 
At Waller Mill Park, 3,000 lush acres are rife with spots to immerse yourself in nature. Independent travelers like me can fish, hike, or hop into a solo kayak — just a few of the many recreational options — and let a sense of peace surround you.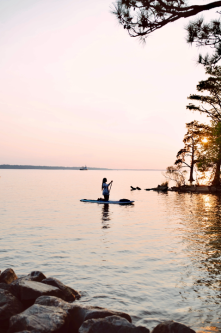 I love travels that allow me to find my emotional and spiritual strength – but in Williamsburg, I was also able to engage my core strength during a sunset paddle boarding session with Paddle On of Williamsburg. Although I've tried this activity before, it was particularly fulfilling here thanks to the gorgeous scenery and twilight hour. As the final rays of daylight dipped beneath the water, I was able to reflect in more ways than one about the ways that an adventure can enrich our soul, body, and spirit.