With historic inns, indulgent dining, and entertaining activities for two, romance is in the air in Williamsburg. Whether you're part of a couple that's been together for decades or just getting to know each other, there's plenty to do, sip, and savor this Valentine's Day – or year-round. 
A Williamsburg White House Inn, a historic estate that's a top-rated bed and breakfast, is offering a Valentine's Day getaway package for the romantic couple for the entire month of February. In addition to the charming accommodations, each morning, guests receive complimentary breakfast, and every afternoon, they enjoy homemade baked goods and wine. Every Valentine's Day stay includes a dozen roses, personalized glassware, and a bottle of champagne.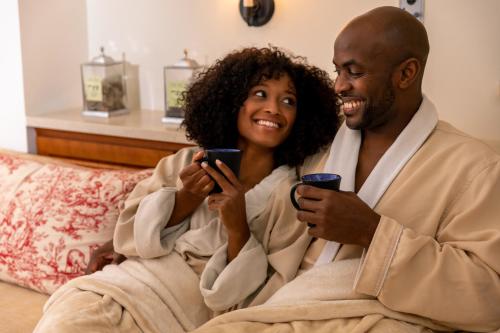 A perfect combination of romance and pampering, the classic couples massage at the Spa of Colonial Williamsburg is an excellent way to spend quality time with that special someone. Guests choose between 60 or 90 minutes of pure couple's bliss.
Revolution Golf and Grille
Your last relationship wasn't exactly a hole-in-one? Chase away the blues with '80s music at Revolution Golf and Grille's Anti-Valentine's Party on February 13. There will be tunes from U2, The Smiths, Morrissey, and – apropos for anyone happy about ditching the fighting – The Clash. Hit a few balls to blow off some steam, or hit on someone new.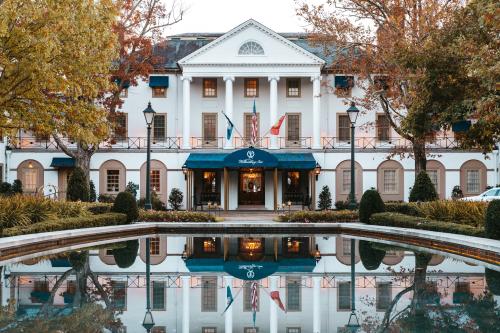 At Williamsburg Inn, couples can indulge in the company of their loved one and the fine tradition of Afternoon Tea with a Valentine's theme February 10-12. Relish a selection of handmade freshly baked scones, tea sandwiches, and pastries served with a signature blend from the chef's collaboration with the Spice & Tea Exchange of Williamsburg's Market Square. The sounds of live Irish harp music will be played throughout the visit. Visitors can also book a pre-fixe Hearts & Arrows Dinner February 10-14 in the newly redesigned Terrace Room.
Their date isn't the only reason guests are left breathless at Williamsburg's only professional magic show. The Wagsters – husband and wife team Brandon and Hannah Lynne Wagster – present spectacular illusions, breathtaking sleight of hand, mind-reading, heartfelt stories, and daring escapes to deliver a unique one-of-a-kind experience. Couples will be spellbound from the second the curtain opens to the final jaw-dropping moment.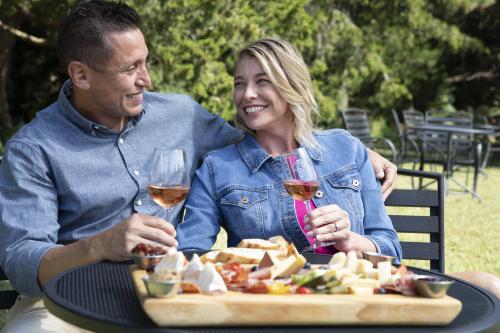 If varietals are the spice of life, then Williamsburg Winery has plenty in store for a special Valentine's Day feast. At Gabriel Archer Tavern, admire views of the vineyard while supping on a three-course meal with an optional wine pairing. Or, for those who would rather celebrate with their gal pals, check out a Galentine's girl's night featuring Williamsburg Winery's finest paired with Virginia's Finest Chocolates by Mary on February 16.
Buy something sweet for your sweetie at Yorktown's Valentine's Day Winter Market on February 11, 2023. Whether it's honey or chocolate, a locally produced piece of art, or fresh flowers from a regional green thumb, there's plenty to buy, try, sip, and savor from the 25-plus vendors on hand along Yorktown's charming Riverwalk.
About all that glitters, but not into the cleanup at home? Check out DIY Workshop with your littlest love on February 11. Kids ages 5 to 12 are invited to attend one of two crafting sessions to make a Valentine mailbox, along with a heart puzzle frame and pink glitter slime. 
If you love a good deal as much as your plus-one, head to Axe Republic on February 15 for 15 percent off a lane reservation if you're part of a couple. Cupid doesn't need to hit his target if you can!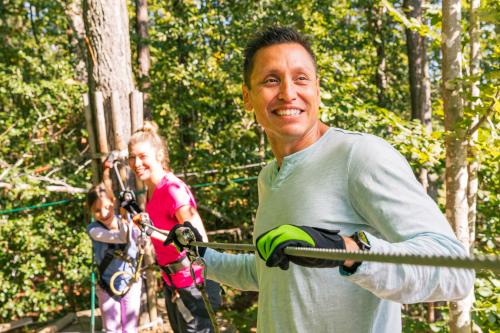 Adventuresome couples can look forward to getting their hearts racing and adrenaline pumping in springtime by giving each other a gift card now for use from March through December. Those into sharing experiences will go ape for exciting dates like ziplining, ax throwing, and the outdoor problem-solving team adventures offered as part of Forest EscAPE. 
Into experiences and not "things?" Make memories together on a WeJunket culinary adventure. Those who prefer to raise a toast can check out the Drink Williamsburg walking tour, with a guide on hand to present the best of historic colonial Williamsburg and handcrafted libations at four local purveyors. 
The Taste of Williamsburg Food Tour is perfect for couples with an appetite. Participants visit as many as ten establishments in three hours to taste, nibble, and sip their way through downtown Williamsburg with nuts, candy, gourmet mac and cheese, dessert, teas, spices, and much more!
Thirsty for more?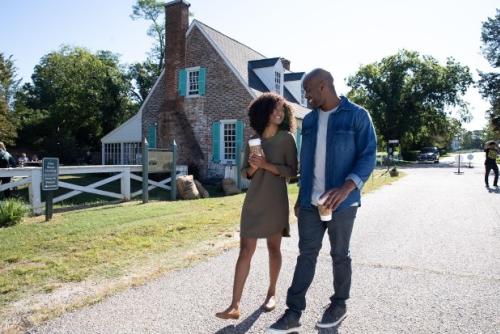 Toast a great relationship with a locally made beverage or two — Williamsburg has plenty of master crafters and brewers. Couples can tour Copper Fox Distillery and sample signature whiskey before sneaking away into the speakeasy lounge. Coffee lovers have their choice of stepping back in time at Mobjack Bay Coffee Roasters (where the pastries are worth sharing) or opting for a more contemporary cuppa with a nitro cold brew at Column 15 Coffee. For those tired of swiping left, Column 15 will host a speed dating event on February 16. 
Alewerks Brewing Company is serving up a popular beer called Bitter Valentine this February, but their craft market event on February 11 skews more warm and fuzzy. The artisan market will feature food trucks, specialty beers, and opportunities to mix and mingle (with proceeds benefiting charity). 
And those who can't decide whether to choose chocolate or roses can head to Silver Hand Meadery for the Valentine's Day quartet. Available via pre-order, the bundle of four flavors of mead – including white chocolate, berries, and roses – offers a taste of something more unique than wine or bubbly to share with a main squeeze. Those in the mood to share an experience can opt for a honey- and mead-tasting experience on-site.