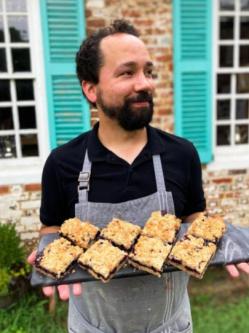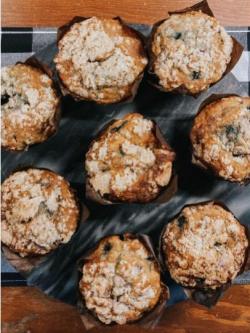 Finding great dessert in Williamsburg is a piece of cake!
Whether you're on vacation and looking to indulge or just need an afternoon pick-me-up, there are plenty of ways to satisfy your sweet tooth in Williamsburg. From flaky, buttery croissants, to towering cakes whole or by the slice, and cream-filled Italian doughnuts to oversized cookies, the crème-de-la-crème selection here suits every taste. And for those whose eyes are bigger than their stomach, there are many grab-and-go options perfect for gifting.
---
Step back in time at Mobjack Bay Coffee Roasters, a coffee shop, and cafe located in one of the few remaining pre-revolutionary buildings in Yorktown. Today, a whiff of the proprietary brews coming from the 18th century Cole Digges House may lure you inside but the pastry case – abounding with seasonal muffins, scones, breads, and pound cake – will keep you here. A rotating selection of cream pies, buttery baked bars, and coffee cakes are perfect for pairing with one of Mobjack's signature blends. Gluten-free items include (but aren't limited to) chocolate chip cookies, macaroons, pumpkin bread, and lemon poppyseed muffins.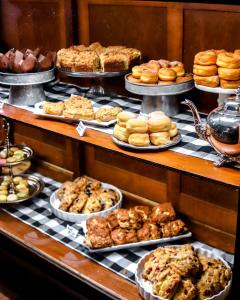 A taste of Europe comes to Williamsburg at Blackbird Bakery thanks to local star chef David Everett. Flaky, buttery palmiers, along with delicate meringues and macarons are reminiscent of France's finest feasts, while limoncello bars, lemon ricotta cake, and mini bomboloni (Italian doughnuts) give ordinary desserts the boot. Pair any — or all — with an Illy brew in the morning or for an afternoon pick-me-up, then walk off some calories with a stroll through the heart of Colonial Williamsburg's Merchants Square.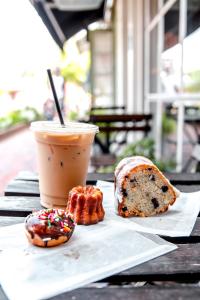 Those on the hunt for cookies "just like Mom used to make" need not look further than Celli's Chocolate Chips. Gina Celli, a mother of four, swapped the heat of a career on Wall Street for the kitchen to pursue her passion of whipping up artisanal baked goods. Each small batch of her cookies is crafted with premium organic ingredients, lovingly blended with a stand-up mixer. Flavors range from the classic chocolate chip to Italian wedding, cappuccino, and the ultimate trifecta: white, dark, and semisweet chips rolled into Gina's favorite base dough. Get there early for the biggest selection of grab-and-go choices, or treat yourself to a souvenir — one of Celli's signature light blue boxes filled with cakey goodness.
Carrot Tree Kitchens originated almost four decades ago with a dare to build an epic from-scratch carrot cake, complete with cream cheese frosting. Owner Debi Helseth toiled until 3 a.m. getting the finishing touches just right on her grandmother's recipe. Since her first commercial kitchen in her home, she's moved on to larger spaces that also serve up tasty breakfast and lunch plates. But it's always worth saving room for dessert here, where cake (whole or by the slice) is king. From German chocolate to red velvet or almond supreme, there's tons to tempt the taste buds – including the eponymous confection that started it all.
Whether your preference is dark chocolate ganache cake or dark horse dessert selections like rainbow sherbet cake with lime buttercream or s'mores scones, Aromas Coffeeshop, Bakehouse & Café has something to suit every sweet tooth. The colossal apple pie – served with ice cream or cheddar cheese — is a signature indulgence, and it's among 10 different cakes and pies always on hand. Or, opt to be surprised with one of Aromas' weekly rotating scone flavors. Gluten-free or vegan? No problem. Try the wheat-free turtle brownies or dairy- and egg-free vegan chocolate cake.