Whether you've just booked a trip to Williamsburg and are looking for great places to eat or drink or a foodie who already knows that Williamsburg is a culinary hotspot unto itself, there's something for everyone to sip and savor. From farm to table or fish to dish, there's an award-winning plate or drink to plan a whole vacation around. 
Don't be fooled by the name Cochon, which means pig in French – the delights extend far beyond the toothsome Berkshire pork chop. The carnivorous plates range from smoked and wood-grilled duck to lamb, beef tenderloin to fresh-caught seafood, depending on the day and season. And while autumn and winter might be some of the best seasons to visit here, thanks to the cozy dining room fireplace, summer offers up some of the freshest seasonal salads. With delicious menu staples like Fire Cracker Shrimp and Pan Seared Nantucket Sea Scallops, it's no surprise owner Neil Griggs was named the best local chef in Coastal Virginia Magazine's Best of Readers' Choice Awards in 2021. 
Tradition meets innovation at Copper Fox, where the distillery was the first in the U.S. to malt its barley. Master distiller Rick Wasmund trained at Scottish institution Bowmore to learn time-honored techniques while using locally sourced ingredients. The signature American single-malt whisky features barley from Virginia smoked onsite, which earned an "exceptional" gold medal ranking from the Beverage Tasting Institute. Copper Fox's rye whisky also earned the same designation.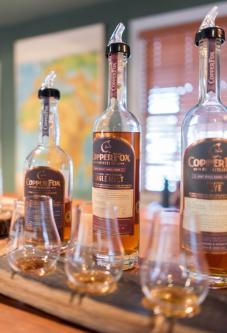 It would be tricky to visit Williamsburg and not come across Fat Canary in the heart of Merchants Square. But "heart" is a metaphor that extends throughout this family-owned business, whose origins go back to opening an artisanal charcuterie shop 50 years ago. Today, the Powers' family Cheese Shop features wine and edible delights sourced from local farms, and the world over. That ethos extends to the Fat Canary menu, where some of the top hits from executive chef Thomas Powers include a mouthwatering pork chop served with goat cheese bread pudding. An extensive wine list is a great way to toast the bistro's designation as a AAA Four Diamond award winner each year since it opened in 2003.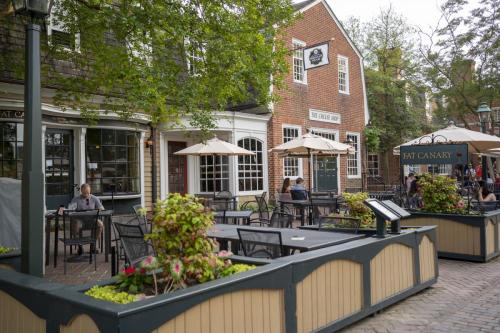 There's YOLO in English and Yaca in French – a meaning that owner/chef Daniel Abid describes as "Let's do it!" Le Yaca is the perfect opportunity to indulge in French and European dining fit for a special occasion or long-awaited vacation. Grab a cloth napkin and tuck into the signature French onion soup, crepes, or elevated presentations of locally sourced crab (making sure to save room for the epic Grand Marnier souffle, of course). Le Yaca has several honors under its apron strings, including an OpenTable Top 100 in the U.S. Diners' Choice Award and a Number 1 Platinum Plate Award from Hampton Roads Magazine (now Coastal Virginia Magazine).
Peter Chang is among just five toques who were nominated as the nation's outstanding chef in the 2022 James Beard Foundation Awards, an honor that he adds to a 2016 nod in the best chef Mid-Atlantic category. Chang prides himself on "bringing authentic Szechuan cooking to another level" (thanks to his liberal use of peppers and spices, that's often another heat level). The price point for Chang's myriad of dishes – including clay pot entrees and vegetarian-friendly plates – makes an experience here a great value for foodies looking to add another Beard experience to their list. 
While BBQ is among the more casual culinary traditions, it's all business for Southerners – which makes Pierce's designation as Best BBQ in Virginia a "must-visit" on any Williamsburg bucket list. Southern Living readers picked this 50-year institution as their favorite in the magazine's 2022 contest for liberal servings of pulled pork, smoked chicken, and ribs, all cooked over oak and hickory coals. Topping it all off is the sauce that started it all: a tomato-based masterpiece created by Julius "Doc" Pierce.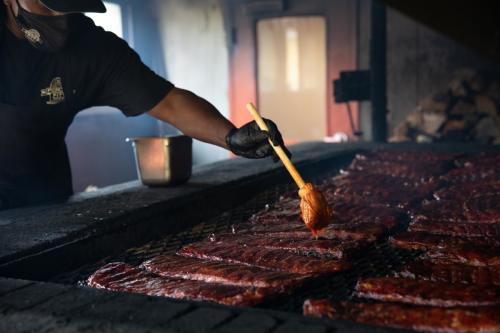 Second Street is second to none when it comes to "upscale casual." Beautiful digs, including an expansive patio – and an extensive menu – are just the right combo for digging in and staying a while. Chef Chris Long's signature burgers, such as the Carolina with homemade pimento cheese and bacon, are among favorites for Williamsburg locals and visitors alike. Toothsome large plates including steaks, pasta, and seafood mean there's a choice for everyone — along with something to pair with a glass of vino from an extensive wine list. The Bistro is a three-time winner of Wine Spectator Magazine's Award of Excellence and has won a Certificate of Excellence from TripAdvisor for consistently achieving outstanding guest reviews.
The craft beer movement was gaining popularity in 2006 when Alewerks first opened, and today, seasonal sippers like pineapple and coconut-tinged blonde ale or a year-round Munich-style lager keep garnering raves and accolades. Those include a 2022 World Beer Cup. You'll likely find Alewerks on tap at any number of local restaurants; craft aficionados can make a day of an Alewerks experience with a tour before pulling up a chair inside or at the expansive beer garden.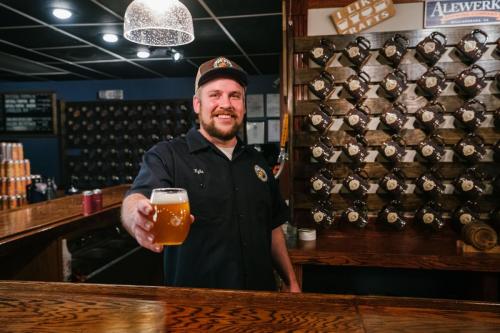 Vino fans needn't look further than Williamsburg Winery to satisfy their culinary, hospitality, and Dionysian needs  – the sprawling estate is a one-stop shop whether you're ready to sip, savor, or stay the night. Expect farm-to-table fare at Gabriel Archer Tavern, where the French-inspired menu pairs perfectly with local vintages that earned a Savor Virginia Readers' Choice Award and two gold medals at National Wine Competition, respectively. Those who test the limits of indulgence can enjoy an evening (or two) at Wedmore Place, a European-style country hotel with 28 uniquely designed rooms and suites.