Whether furry, feathered, or fluffy, the animals around us bring joy and enrich our lives. In Williamsburg, opportunities to pet, cuddle, and in some cases, ride creatures great and small provide big thrills for people of all ages. 
Take the reins
It's hands-on all the way at Carlton Farms, which offers a farm animal petting park on its historic grounds. The 100-acre horse farm was the location of the Battle of Green Spring and is located just down the road from Jamestown Settlement. Carlton Farms offers horseback riding lessons or the chance to saddle up for an introductory experience with a reservation-only pony ride.
There's horseback riding … and then there's horseback riding in the traditional English style, as was done in colonial Virginia. At Lakewood Trails, the facilities are modern, but the rides for ages 7 and older are like traveling back in time. While it may be easiest to spot the most notable differences between Western and English riding styles – namely, the types of saddles and reins used – there are other subtle differences that equine enthusiasts can learn about on intimate, small-group excursions. Reservations must be made in advance by calling 757-566-9633.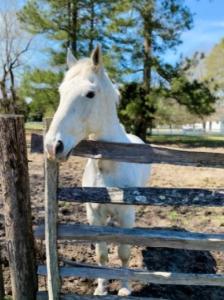 Rescue missions
From farming to transportation, animals were vital to survival in the earliest days of our country's settlement. But they also served as companions too. Colonial Williamsburg's Rare Breeds Program not only ensures the well-being of creatures like Cleveland Bay horses and America Milking Red Devons who are now endangered or threatened but also brings to life the experiences of our ancestors and how they cared for these animals. Get hands-on with a Bits and Bridles tour, which offers up a behind-the-scenes experience to see where these livestock and more are raised and grazed, along with a carriage history lesson. Then, opt to climb on board one of those carriages – or a wagon – for a ride around the historic district. All visitors are welcome to visit the rare breeds in the pastures. 
Who needs a separate trip to the zoo when you can Meet the Animals at Busch Gardens? Habitats of colorful tropical birds, majestic Clydesdale horses, slithery snakes, and more have all been recreated on-site – there's even a robust selection of critters from the Scottish Highlands, including fuzzy sheep and shaggy cattle. Since 2003, the SeaWorld & Busch Gardens Conservation Fund has provided over $15 million in grants to 1,200 organizations benefiting animal welfare. Visitors to Busch Gardens Williamsburg can meet with some of the furry and feathered friends who wouldn't have been able to survive in the wild.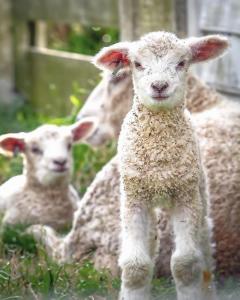 Bel Laurel Farm began as a nonprofit animal rescue and sanctuary, but over time the mission has expanded with educational community activities that fill its 15 acres. Families can meet, greet, and pet rescues that have ranged from sheep and goats to ponies, horses, pigs, and bunnies. Those visits are free, but there are additional reservation-only activities like pony and horseback rides and sip and paint nights for additional fees. A robust events calendar is enough to keep animal lovers coming back year-round for such fun as Easter egg hunts, events for Mother's and Father's days, fall festivals, trick-or-treat, and more. 
It's important to remember that the buzzing and beautiful creatures that bring us delight have a symbiotic relationship with environments that are often threatened – which is why the Williamsburg Botanical Garden and Freedom Park Arboretum's mission to educate and pollinate is all the more vital. Visitors can learn about plant biology and native species, sustainable gardening, and conservation efforts while exploring the grounds and the popular butterfly garden. 
Freshwater and saltwater meet at York River State Park, creating a unique ecological habitat that's just as beautiful as it is fascinating. The Chesapeake Bay National Estuarine Research Reserve is host to glorious marine and plant life, but you're just as likely to witness something magnificent if you look up – the park is also home to river raptors like bald eagles, hawks, owls, and vultures. Visitors can take guided planned tours with park rangers or explore more than 30 miles of hiking, mountain biking, and equestrian trails independently. There are also plenty of spots to cast a reel or explore independently through seasonal boat and recreational equipment rentals.
A tour of Fox Wire Farm begins at the end of the peninsula to discuss how the property's location within the Chesapeake Bay Resource Protection Area influences earth-friendly farming practices – along with extending the same KLR (kindness, love, respect) toward the myriad of animals that inhabit the grounds. Each adventure is different, but a three-hour general admission tour often includes up-close-and-personal meet-and-greets with horses, Nigerian dwarf goats, miniature pigs, llamas, and baby alpacas. Fox Wire is also rolling out new hands-on classes that include basket weaving with alpaca rovings (yarn), animal sketching classes, and husbandry photography. 
Fans of "Peppa Pig" can learn more about what real life is like for porcine pals at Life with Pigs Farm Animal Sanctuary. The non-profit provides educational experiences to the public about compassionate living with what are often considered "food animals." Life With Pigs features hands-on experiences with many of those, including cows, chickens, sheep, geese, rabbits, and even a parrot!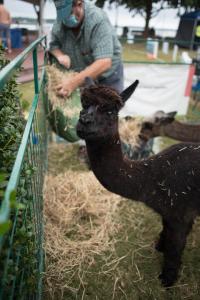 Pick and pet
Yorktown Market Days Food and Artisans Market is always dog-friendly, so it's no surprise that creatures of all shapes and sizes are welcome. The market, held from April through late fall, often hosts animals from the farms that contribute plants and produce. The market is held weekly on Saturdays.
It's all about the birds and the bees at Sweethaven Lavender Farm, where pollinators, butterflies, and chickens flutter and cluck about with Romney sheep and sheepdogs. Visitors can reserve a timed entrance seasonally to visit the animals and stroll through the flower fields, pick their own bouquets, and enjoy fresh lavender treats.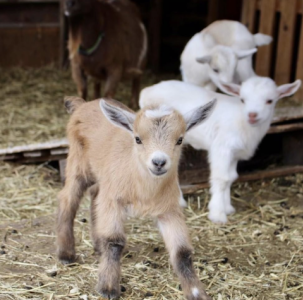 Two friendly Nigerian dwarf goats started it all at Wildwood Farm, which now hosts an entire herd of the dairy-producing critters. Tinier than many other varieties, those on James and Paige Ewell's farm may feel a bit more approachable for younger children (who also delight in meeting turtles onsite). Parents may prefer the handmade soaps or walking through the sunflower fields that are open to the public in summer and fall.