There's no time like the present to gift yourself and your loved ones unforgettable experiences. Whether you've already planned to spend time in Williamsburg this winter – or just getting started thinking about your getaway – there are unlimited ways to spend the holidays in Williamsburg.
Let there be light
Yorktown festivities kick off with the annual Christmas Tree Lighting Ceremony on December 1st at Victory Walk and Riverfront Landing. The eight-decade-old tradition starts when revelers gather at York Hall for a 6:30 p.m. musical performance from the Fifes and Drums of York Town. From there, the procession winds its way to Riverwalk Landing for the tree-lighting ceremony at 7:30 p.m. Be sure to visit Santa and Mrs. Claus while you're there.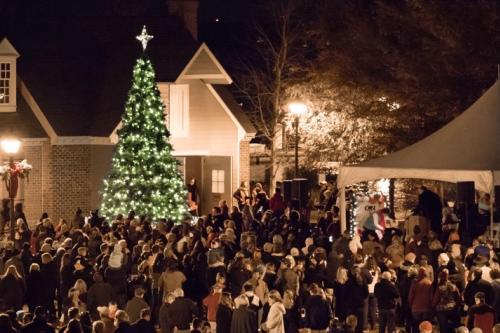 Float your boat
Everybody loves a parade, and Yorktown is no different. The 27th annual Lighted Boat Parade kicks off on December 2nd at 6 p.m. with caroling around a beach bonfire at the Yorktown Waterfront. Keep your hands warm with complimentary cider or by clapping to a musical performance by the Fifes & Drums of York Town before boats make their way down the river at 7 p.m. with their lights aglow in a dazzling show.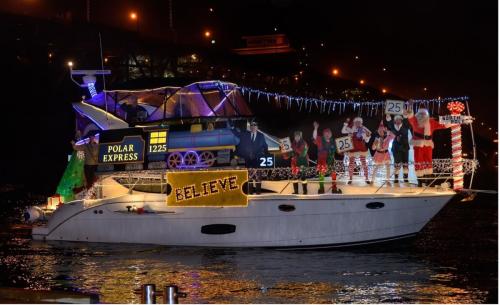 Shop talk
Why visit one big-box store when 100 artisans are selling their homemade crafts at the Christmas Market on Main Street? The weekend-long daytime event begins on December 2nd, and wraps on December 3rd, bringing nautical paintings, handmade soaps, ornaments, and greenery to Yorktown's most historic thoroughfare. The festival will kick off not with jingle bells, but with the town crier ringing in two days of fun on Saturday at 10 a.m. Strolling musical entertainment from the Fife and Drums of York Town will round out visits with Santa Claus on Saturday. On Sunday, enjoy the frosty artistic magic of an ice carver outside of York Hall. 
Main Street will be aglow for its second annual Enchanted Evening on Main Street nighttime market on Friday, December 8th, featuring twinkling lights, festive tunes, hot cider, and roasted chestnuts – and shopping aplenty, of course.
At the Williamsburg Christmas Market, dozens of vendors sell holiday gifts and décor, while shoppers enjoy photo ops with Santa, live entertainment, gluhwein (warm spiced wine), craft beers, Christmas music, fire pits, and delicious market food from local restaurants.
Kiss and tell
The Yorktown farmers market is fun year-round, but perhaps none is sweeter than Christmastime when it's a one-stop shop for butchers, bakers, and candlestick makers. The Mistletoe Market, taking place on December 9th, is one to plan a weekend around, with goodies including pastries, cakes, bread, brownies, fudge, and cookies on resplendent display. Locally made jams, jellies, and honey are ideal for stocking stuffers, while fresh meats, candles, and soaps make great housewarming presents. Don't miss the Riverwalk Landing Polar Express train ride or the Toyland Parade, where strollers, wagons, pets, and kids will form a festive march set to seasonal music.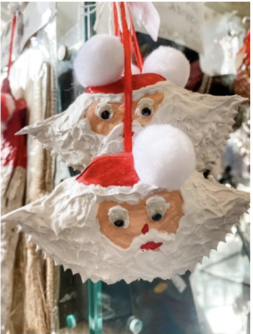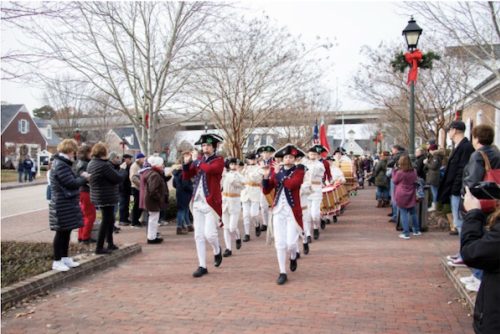 Santa Claus is coming to town
Meet Jolly Old St. Nick at Busch Gardens® Christmas Town™, which returns on most dates from November 10th - January 8th, 2024. The theme park will be transformed into a winter wonderland with more than 10 million twinkling lights — one of the largest light displays in North America — with extra spotlights this year in the form of three new seasonal shows. Whether it's Sesame Street, Old World Christmas, Scrooge, or the Christmas Town Express holiday train ride, there are treats, shopping, and entertainment for all ages.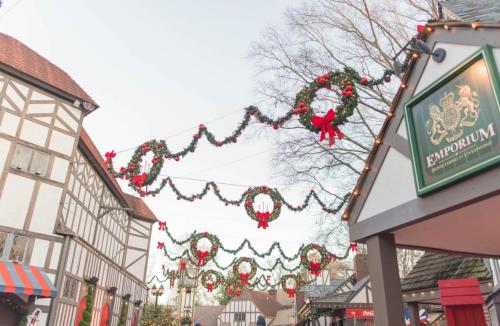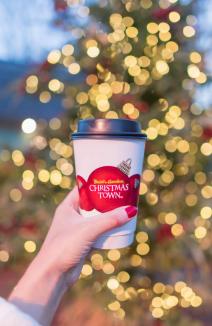 Happy olden days
On December 2nd, 9th, and 16th, Colonial Williamsburg's Grand Illumination will light up the night with pyrotechnics Saturdays at Governor's Palace and the Capitol building. Visitors can begin the special day by checking out the unique decorations throughout the Historic Area. Traditionally festivities include a Yule Log procession on Friday nights along Duke of Gloucester Street to kick off the weekend's festivities. The cresset-lined streets come alive with cheer and music, performances, an appearance by Father Christmas, and special seasonal greenery adorning the historic area.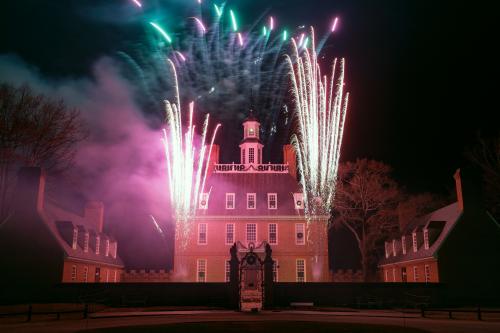 Historic hotels, estates, and inns throughout the region sparkle with traditional lights and décor throughout the Christmas season. A Williamsburg White House Inn, themed after the White House, is draped in holiday decorations. Colonial Williamsburg Resorts is celebrating the holiday season with a festive array of events and experiences, including the Annual Lighting Ceremony at the iconic Williamsburg Inn and the highly-anticipated Annual Gingerbread Open House at the Williamsburg Lodge.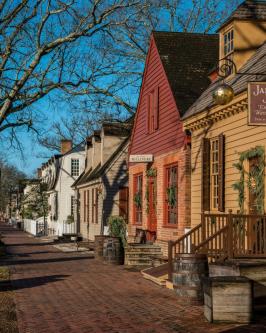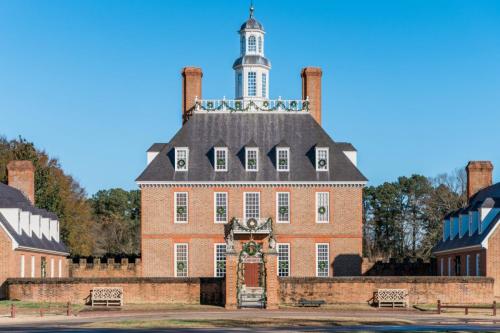 Historical holiday happenings 
There's a special holiday gift this year with regular admission to Jamestown Settlement and the American Revolution Museum at Yorktown: Christmas Tide. Held December 16th - 31st, the festivities offer a glimpse of 17th and 18th-century holiday traditions with period musical entertainment at both sites. At Jamestown Settlement, performances are daily at 11:30 a.m. and 3 p.m., and costumed interpreters will present the story of how English Christmas customs – including those that differed from America's earliest settlers. 
At the American Revolution Museum at Yorktown, get a whiff of figgy pudding in the Revolution-era farm kitchen and learn about winter camp life in the Continental Army encampment – with the pop not of Christmas crackers, but of flintlock musket demonstrations throughout the day. Besides the open-hearth cooking of festive treats, period music will be served up at 11:30 a.m. and 2:30 p.m.
On December 9th, visitors can enjoy "At Christmas be Mery": A Special Evening at Historic Jamestowne. Guests join an early Virginia Christmas celebration complete with costumed interpreters, madrigal singers, a seasonal bonfire, and caroling, along with a musical performance by William and Mary's Christopher Wren Singers.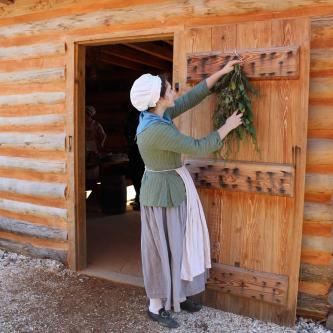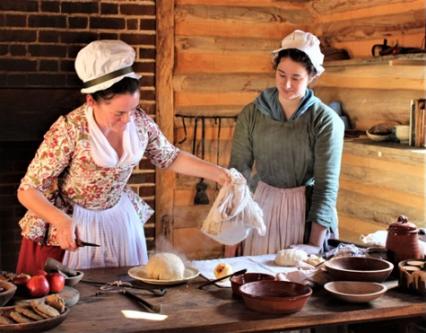 Abracadabra
The holidays in and of themselves are magical, but Brandon and Hannah Wagster of Wagsters Magic Theatre take it to another level for the holidays. The husband and wife duo will present their illusions and sleight of hand with a seasonal spin most days starting November 10th and running through the new year.