A trendy, new boutique hotel at the beach. A glamorous, five-star inn with a luscious spa. And a set of quiet cottages that are perfect for an extended family stay.
Williamsburg is lucky to have a wide variety of places to stay, with everything from historic B&Bs to hip, design-forward hotels. There's even a five-star property that twice counted the Queen of England as an overnight guest. Here's a look at seven great places in Williamsburg to lay your head.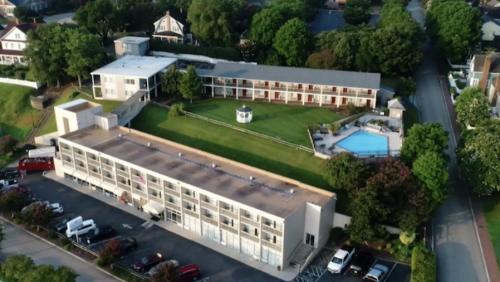 A new owner has taken over what used to be the Duke of York, and he's turning it into a splashy, beachfront boutique hotel with a cool, youthful vibe. The 56-room property has a lower building with rooms that look directly out at Yorktown Beach and an upper building that offers great views of the York River and passing boats. "Some people love the lower building, but others swear by the upper one," owner Matt Bowry explained on my visit. Bowry, who jokingly called himself "a recovering investment banker," is gutting the old rooms over the next few years and bringing in all new beds, furniture, lighting, bathroom fixtures, and more. The rooms will feature bold blue designs to reflect the sea, as well as crisp, bright whites. There's a large lawn in front of the upper building and a saltwater swimming pool. He's hoping to build a sun deck on the roof of the lower wing.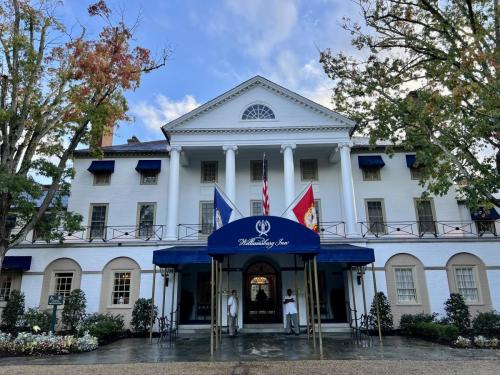 There are a lot of adjectives you could use to describe this hotel, rated five stars by Forbes Travel. Gorgeous would be one. Historic would be another. But I'll go with regal. Just inside the entrance is a large table with a display of fresh flowers, with fresh blooms filling the air with a sweet scent. In front of you are large glass doors that open onto a stone patio overlooking the lush Golden Horseshoe Golf Club. The Inn is said to be the only hotel in the United States where Queen Elizabeth stayed the night twice, the first being in 1957 for the 350th anniversary of the founding of Jamestown and then again in 2007 for the 400th anniversary. There are several room types, including luxurious suites. A few rooms have romantic poster beds, and all the rooms exude a quiet elegance. The Rockefeller Room offers fine dining, including a five-course, fixed-price menu with available pairings from the Inn's extensive wine cellar.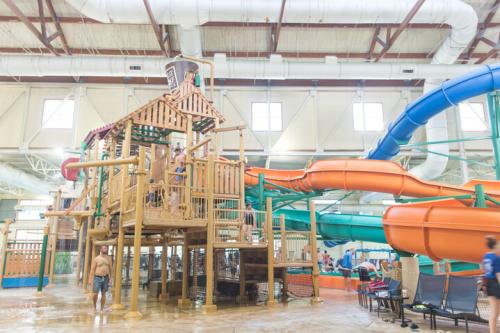 If you're looking for a place to take the kids, look no further. It feels like you're entering a giant cabin in the woods when you walk into the lobby,  with massive wood beams and a sky-high ceiling. Among the kid-friendly features are a full arcade, a laser tag facility, and a wizarding adventure called MagiQuest. The indoor waterpark is an astounding 62,000 square feet of fun, with four pools, a ropes course, slides, a kiddie pool, a lazy river, and a Wave Rider that lets you try boogie boarding on a perfect wave. There's also a seasonal outdoor pool and slide with cabanas and a café. There are on-site lifeguards and special TV monitors for safety. Some of the suites are done up to look like rustic log cabins. The largest suite can sleep a dozen guests.

This is an ideal spot for an extended family stay in a quiet, natural setting. You're also connected to two Kingsmill golf courses, among the top layouts in the state. The resort also offers top-of-the-line tennis courts, pickleball, and a couple of nice playgrounds for the kids. There's a pool with a lazy river (seasonal), and there's a marina on the James River that offers up kayaks, canoes, and other watercraft. There are some traditional hotel rooms, but most are condo setups in a series of low-rise clusters surrounded by sweet-smelling pines. When I stayed recently, I had a terrific one-bedroom unit with a full kitchen, a big dining table, a large, comfortable living room, a big-screen TV, and a balcony that overlooked a deep, green lawn and the James River. Some units have three bedrooms, so there's enough space for the grandparents, too. Excellent packages are available, including golf deals.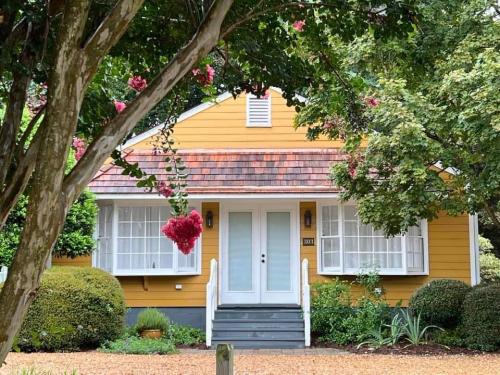 There are two separate, side-by-side homes under the Yorktown Cottages umbrella, both good-sized houses with full kitchens and two bathrooms. The Gallery unit was the former home of local artist Nancy Thomas, and you'll find some of her whimsical artworks on the walls. The house has a wide-open living area with a large dining room table that's ideal as a workspace, a dining spot, or a place to work on that tricky jigsaw puzzle you got for your birthday. The room looks like something out of a house and home magazine, with pretty pillows and a bright, airy feel. The Gallery unit has two twin beds and a bedroom with a queen bed. There's also a lovely, sunny garden with patio stones and furniture. The Garden building is separated into smaller rooms, but the unit itself is larger than The Gallery. There's an upstairs room with a queen bed, which makes it ideal for a family that wants a little separation. The high-ceiling living room has a beautiful stone fireplace and a bookshelf with board games. There's also a downstairs room with two twin beds and, again, two bathrooms. There's a nice garden off the living room and a small courtyard. The Yorktown trolley has a stop right across the street from the cottages, and you're just two blocks from the beach.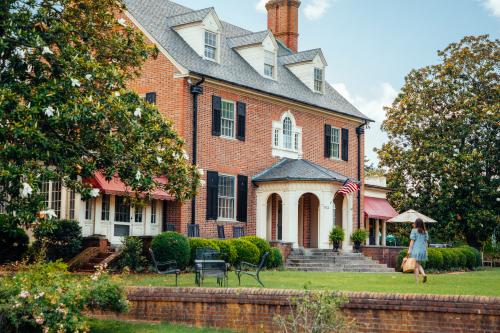 This is a spectacular, rock solid 1933 home on a hill that's just a block from the beach. I stayed in the second-floor Chesapeake Room, which had a four-poster king bed and then a small room alongside it with a single bed. All guests can use the common areas of the main floor, which has a two-sided fireplace, a sunroom, a living room, and a posh dining room, where a candlelight breakfast is served, and another fireplace might be roaring. The house is filled with historic artifacts, including old British muskets, model ships, and more. There's also a piano with a photo of Grammy Award-winning Bruce Hornsby on it, Bruce being a member of the family. If he's in town, owner David Bowditch is likely to join you for breakfast and regale you with stories about the house, his family, and the history of Yorktown. He might tell you (with the wink of an eye) that British General Charles Cornwallis surrendered to American and French troops on what is now the front lawn of the house in 1781.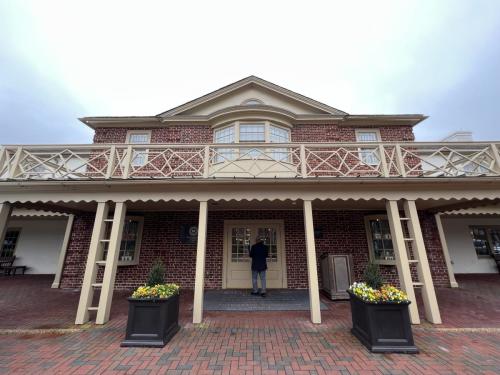 This is a stylish property that's part of the Marriott Autograph Collection and is recommended by the prestigious Forbes Travel Guide. There are 323 rooms spread around several buildings, and you'll find a variety of styles. Some are woodsy, and others bright and modern, with pretty, Delft-Blue walls and white accents. The Lodge one-bedroom suite is a spacious 600-square-foot affair with a king bed and a sleeper sofa. They also have dog-friendly rooms. Sweet Tea and Barley is an engaging dining spot with a mix of southern food and classics such as braised short rib. There's a nice patio, and they offer live music on Friday and Saturday from 6 to 9 p.m. The Cupboard, billed as a gourmet grab-and-go shop, serves an excellent coffee latte. The lovely Spa of Colonial Williamsburg is across the street and offers a series of relaxing or invigorating treatments in a beautiful setting.