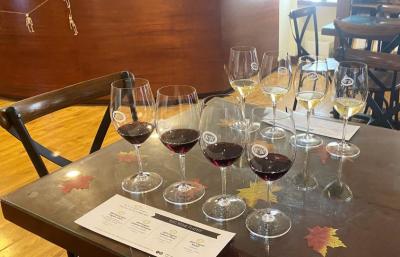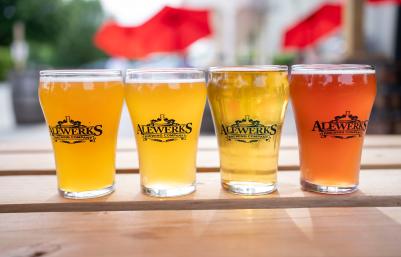 Outstanding craft beer. Lovely local wines. And a great whisky distiller. A spirited trip through Williamsburg is a great way to enjoy the depth and diversity of offerings in this beautiful Virginia town. Over the course of two days, I managed to sample several great local beers, spirits, and wines, as well as top-flight restaurants that offer up outstanding cocktail menus.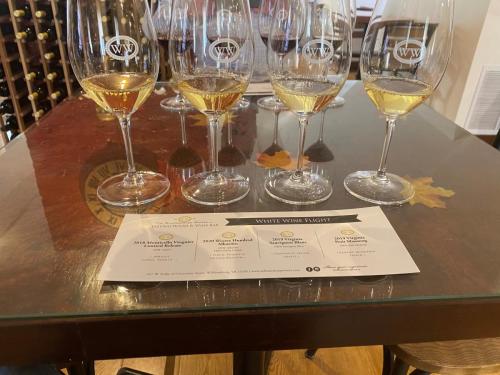 Virginia has been growing wine since the days of Thomas Jefferson, and today's winemakers are sparking headlines around the world with both local grape varieties, as well as with classics like Cabernet, Merlot and Sauvignon Blanc. Williamsburg Winery is a few miles from downtown, but luckily for visitors there's a tasting room and wine bar smack in the middle of Merchant's Square. It's a second-floor facility with slanted roofs, lots of atmosphere, and a wide variety of wines to try, as well as wine paraphernalia for sale. When I visited, the whites included a Sauvignon Blanc, a Viognier, an Albarino (sometimes called Albarinho in Portugal), and a Virginia Petit Manseng. They were all quite good, but I especially enjoyed the Albarino and the Viognier, which had lovely fruit notes and complex flavor profiles.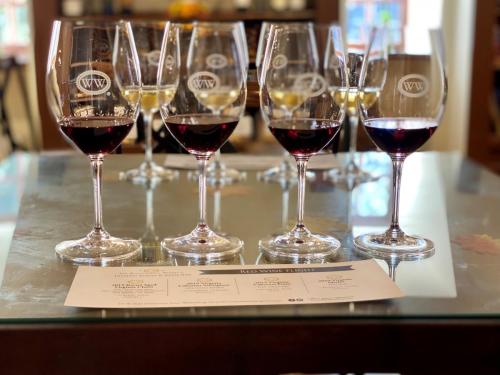 I found the reds quite complex and tasty. The Claret was good, but I especially enjoyed the Cabernet, the rich Cabernet Franc, and the Merlot, which was well-balanced and not overly jammy like some California reds can be. I was told the winery uses grapes grown near Williamsburg mixed with fruit from other parts of the state. You also can try flights of their reserve wines or a special selection of Virginia ciders. Additionally, the winery offers wine seminars.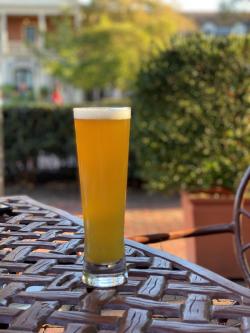 At La Piazza, I relax on the patio and order a Virginia Beer Company brew called Saving Daylight. It's a Citrus Wheat Ale brewed with orange peel and grapefruit, like a Blue Moon with added kick and flavor. It would be perfectly delicious any time of year, but it goes down especially well on a warm evening in Merchants Square. Saving Daylight is made with whole-cone centennial hops and keeps the International Bitterness Units to a scaled-down 25, which results in a refreshing, citrus-packed brew.
La Piazza has an amazing Saturday morning kick-off special that almost certainly attracts a few students from nearby (it's literally a block away) William & Mary, where the fellows who founded the Virginia Beer Company went to college. From 11 a.m. to 3 p.m., they offer peach, mango, or cranberry bellinis for $3, which is remarkable. A Bloody Mary is just $5 during happy hour. The inside bar is bright and modern and features a number of cool cocktails, including a special Negroni that takes the standard Gin, Sweet Vermouth, and Campari and adds a splash of tart cherry juice for extra flavor.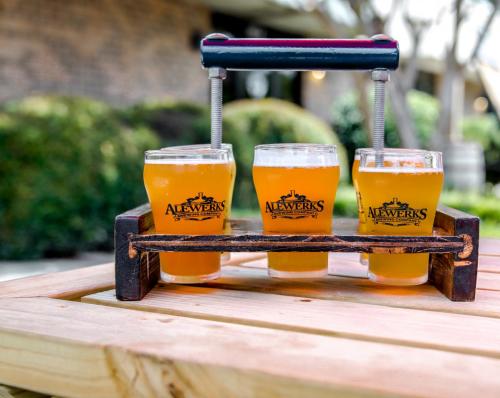 Over a fine lunch at Murdoch's, located at the beautiful Ford's Colony Country Club golf course, I sample a glass of Alewerks Brewing Company's Weekend Lager; not too sharp but with clean finish. It took the Williamsburg-based brewery ten years before they opted to try a lager, and it's well worth the wait. It's an unfiltered beer done in a Munich Helles style, with just a hint of spice, and would be perfect with a bratwurst or salty pretzel with mustard.
One of the top restaurants in town, Blue Talon Bistro, serves a classic Manhattan with rye whiskey, the best French sweet vermouth, and barrel-aged bitters. It's topped with a brandied cherry for extra depth and a hint of sweetness that pulls everything together. More adventurous sorts can opt for the Corpse Reviver #2, a pre-Prohibition treat that includes gin, fresh lemon, orange liqueur, Lillet Blanc, and a whisper of Absinthe. Take your time with one of these babies or you might get foolish and try to take home one of the restaurant's many chicken or rooster figurines.