I'm in a comfortable reclining chair in a cave encased in salt from Nepal and Poland. Most of the lights are out, and there's gentle spa music playing. I feel my chest gently rise and fall as I practice my deep breathing, and it's all I can do to stay awake. The Williamsburg Salt Spa is a terrific spot just a few minutes north of downtown, but definitely a world away. The on-site salt cave features more than 15 tons of therapeutic salt in order to create a unique microclimate rich in minerals, including sodium, potassium, calcium, magnesium, iron, bromine, and iodine.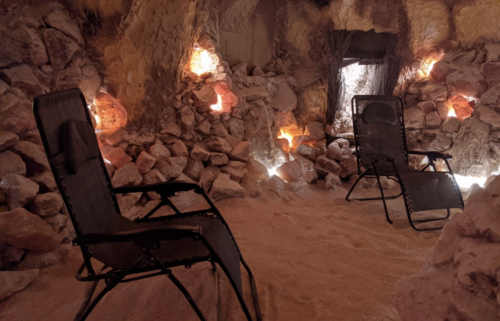 The air temperature inside the Salt Cave is a perfect 75 degrees Fahrenheit and the humidity is a just right 40 to 50 percent. In the audio introduction to the treatment, I'm told the salt in the cave is good for those who suffer from bronchitis and other respiratory problems. It's also supposed to improve one's immune system. I can't swear to that. All I know is that for 45 minutes I'm able to tune out pretty much every sound in the world except the breathing of my fellow spa goers and the soft spa music playing in the room, which has eight recliners. The staff offers ear plugs and aromatherapy nose clips for folks who want total quiet or need better breathing. 
I doze on and off for all three quarters of an hour in the cave, and emerge refreshed; as if I'd taken a guilty nap at my desk on a busy work day. Given the daily pressures of the world, a few minutes away from the "get it done" mentality and pinging cellphones is a blissful experience. The Williamsburg Salt Spa also has an infrared sauna and a float tank where you can immerse yourself in a pool filled with nearly 900 pounds of Epsom salts. Visitors can relax with a Swedish or deep tissue massage, as well as their signature hot salt rock massage, which is offered for either 60 or 90 glorious minutes.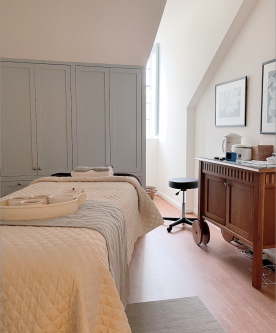 For those who prefer a more traditional spa, treat yourself to a super-relaxing treatment at The Spa of Colonial Williamsburg. Soak up the serene décor, enjoy a visit to their scenic garden, or chill by the pool out back. The Spa features steam rooms, signature showers and whirlpools, as well as relaxation lounges. Treatments include facials for women and men, anti-aging manicures and pedicures, arnica deep tissue massage and aromatherapy massage. 
Yoga enthusiasts, or even curious newcomers, should definitely check out Studio South, offering "yoga, barre, and Southern hospitality." It's a brilliant, bright spot with contemporary design that rivals a luxury hotel. Owner Katy Henderson describes herself as someone who always thought yoga was for "other people." But, she walked into a hot yoga spot in Virginia Beach in the summer of 2010 and fell in love. Determined to offer something similar in her hometown, she went to work. Henderson calls Studio South "a non-judgmental, welcoming space where everyone could feel comfortable to experience their yoga. Making time for wellness will not only serve your body well, it's good for the mind too. At Studio South, our hot yoga studio offers fun classes, special themed events, enlightening workshops, and expert yoga teacher training, as well."