Pickleball is really taking off in Williamsburg, with the sport proving popular thanks to its easy-to-learn rules, welcoming atmosphere, and accessible gameplay. With such a variety of great facilities across the area, pickleball is the perfect activity to include in your next vacation in Williamsburg.
 
What Is Pickleball?
Pickleball is a paddle sport that blends together elements of badminton, tennis, and ping pong. Players hit a small, plastic ball over a low net and into their opponent's side of the court, scoring points each time it's not returned successfully.
But there's more to pickleball than meets the eye. It's not just a game – it's a fun, social, and accessible path to fitness. Like other forms of physical activity, pickleball can contribute to improved coordination, balance, and mental agility – but it's a lot less strenuous than the likes of badminton or tennis.
Pickleball's player retention rates are impressive, thanks to the fact that it offers a low-impact, high-enjoyment way to both exercise and connect with others, yet remains strategic and competitive at the same time.
What's more, most beginners find out that learning how to play pickleball isn't too difficult at all, and it doesn't take long to get to grips with the basics. Once you get the hang of it, you'll be hooked, just like the 36.5 million players across the US who played pickleball last year.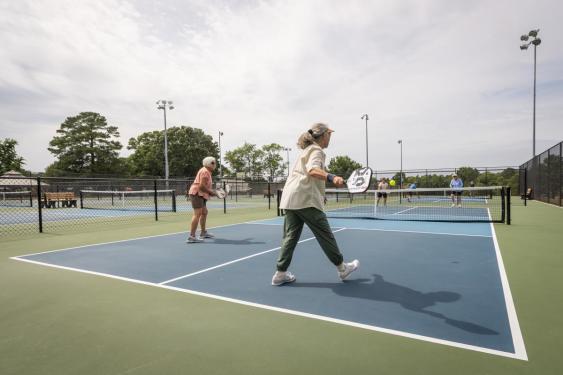 (Image supplied by James City County)
Where to Play Pickleball in Williamsburg
Luckily, the region offers a wealth of venues for pickleball players to choose from. If you're currently on the hunt for pickleball courts, read on for a lowdown on the best spots. In addition, several area hotels offer their guests access to converted tennis courts for pickleball players, including Williamsburg Lodge, Kingsmill, and DoubleTree by Hilton.
Jamestown High School
Nestled within the grounds of Jamestown High School, six outdoor concrete courts await pickleball enthusiasts looking for a place to play in Williamsburg when school isn't in session.
The lines for pickleball are overlaid on a tennis court, so the net is a little taller than the ones usually used in standard pickleball games. If you think you're up to the challenge, this could be the court for you.
Veterans Park is another good spot. It boasts eight outdoor acrylic courts with permanent lines and nets.
While the courts can't be reserved, they are free to use and often buzzing with activity. The park's additional amenities, including restrooms, water, and lights, ensure a comfortable playing experience from dawn to dusk.
What's more, this fall, Veterans Park is set to host beginner and intermediate-level pickleball classes, making it an ideal place for players old and new to brush up on their skills.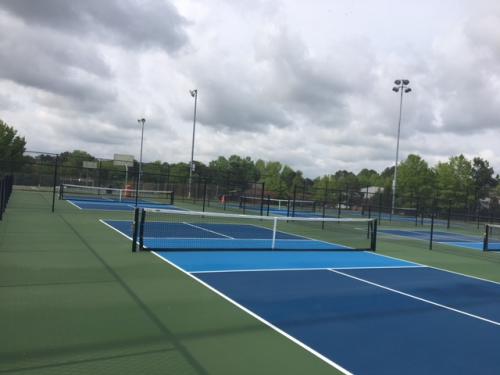 (Image supplied by James City County)
The Williamsburg Indoor Sports Complex is a premier destination for pickleball in Williamsburg. Inside are three dedicated indoor wood courts, each with permanent lines and nets.
A one-time fee is required for access to these courts, which players can reserve prior to arrival. However, the wheelchair-accessible complex does offer a range of amenities, including restrooms and water facilities.
James City County Recreation Center offers a welcoming indoor space for pickleball players. Just like the Williamsburg Indoor Sports Complex, three wood courts with permanent lines and nets are available for games. A one-time fee will grant you access.
Beyond the courts, the venue offers a range of amenities such as restrooms, picnic areas, a playground, a pool, and walking trails. Whether you're looking to engage in a competitive game or enjoy a leisurely day out with your family, the James City County Recreation Center has something for everyone.
The Quarterpath Recreation Center has two indoor wood courts with permanent lines and portable nets available. A one-time fee is required to play, and amenities include restrooms and water.
This venue, with its friendly, community-oriented atmosphere, is perfect for those looking for a relaxed and sociable place to play.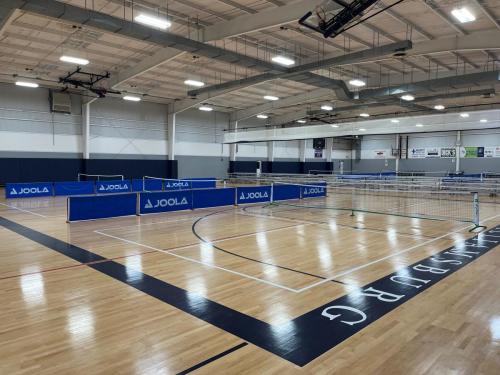 (Image supplied by Williamsburg Parks & Rec)
The six dedicated outdoor courts at Back Creek Park are open daily from sunrise until 10 p.m. The park is perfect for players of all ages, featuring pickleball lessons for adults and youth, equipment rentals, picnic tables, and concessions.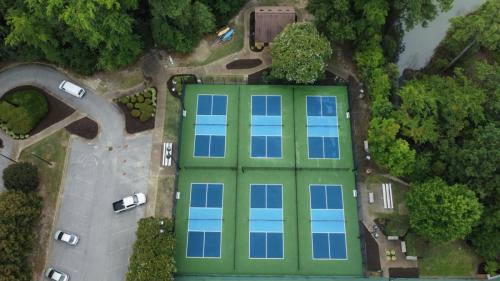 (Image supplied by Back Creek Park)
Final Thoughts
With a range of great venues now scattered across Williamsburg, there's never been a better time to start playing pickleball.
So why wait? Grab your nearest paddle, step onto the court, and experience firsthand why pickleball is now the fastest-growing sport in America.