How lucky am I to say that I live in one of my favorite places in the world? I'm not sure if that is a common occurrence in other cities, but I wouldn't be surprised if most (if not, all) who are local to Williamsburg feel the same way.
Not a single day has passed since my husband and I moved from Baltimore to Williamsburg that we haven't felt overwhelmed with gratitude for our new hometown.
To put it simply, Williamsburg, as a whole, feels like a hidden gem. There is certainly rich history to be experienced here, but even more than that there is an abundance of activities to enjoy. From dining at some of the most delicious restaurants to shopping at beautifully unique boutiques, experiencing luscious Fall foliage, and more, this quaint town has a way of keeping us on our toes each weekend.
One of the most notable differences between Williamsburg and other cities I have visited is that Williamsburg is overwhelmingly family-oriented, hospitable, and charming.
When you shop or dine in Williamsburg, you get the chance to directly support someone's dream. It's a different feeling when you're shopping at a local boutique or dining at a "Mom and Pop" restaurant, knowing that every dollar spent genuinely brings joy to them and supports their family.
The business owners and locals here have time to stop and speak with you one-on-one, and they are happy to do so. Whenever I visit one of my favorite restaurants or boutiques, I wind up chatting with the owner(s), and somehow that becomes one of my favorite parts of the day.
In some ways, strangers you've never met feel like long lost friends after a 15-minute conversation. It is truly an art that I have yet to experience anywhere else.
Now that you know why I have fallen so in love with this picturesque city, I want to walk you through a day in my life as a Williamsburg local.
While I work from home during the week, Saturdays and Sundays are reserved solely for enjoying all that Williamsburg has to offer.
With social distancing and mask procedures in place, I always feel safe and comfortable inside of the establishments we wander into each day, in addition to walking around outside.
As the luscious tunnel of trees transforms from bright green to a beautiful hue of yellow, orange, and red, it should be considered a crime not to experience the iconic 23-mile Colonial Parkway in the Fall. Stretching from the York River to the James River, it connects Virginia's historic triangle: Jamestown, Williamsburg, and Yorktown.
At the very top of my Fall checklist, trust me when I say that you won't want to skip this memorable drive on your way into Yorktown.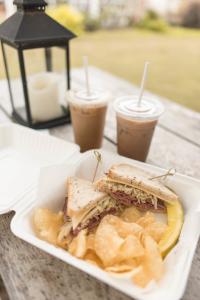 Once in Yorktown, you'll definitely want to make a pitstop at the cutest coffee shop, Mobjack Bay Coffee Roasters. It is the perfect spot for an Instagrammable moment with their teal shutters and garden seating out back.
With an assortment of baked goods, fresh sandwiches, and specialty coffee, there's something for everyone to start their day on the right foot.
Our go-to order: Iced oat milk chai latte, Iced almond milk latte, and a Reuben sandwich on rye.
After placing your order, head out to the back and grab a picnic table underneath blooming trees to enjoy the fresh morning air.
Yorktown Market Days Fall Market
Take a moment with me to close your eyes and imagine the smell of warm apple cider, listen to the laughter of children playing in a hay maze, and see the sight of brightly colored Fall flower arrangements.
While supporting your local farmers and artists, make sure to take a walk through the Historic Yorktown Waterfront. You can spend the whole afternoon shopping at more than 60 different vendors selling seasonal favorites like kettle corn, sweet potato pies, caramel apples, colorful pumpkins of all sizes, and autumn-inspired art.
My personal favorite was petting a pair of cute alpacas and chatting with the vendor who makes sustainable and one-of-a-kind gifts like colorful blankets, stunning Winter hats, children's toys, and more from their fur.
Between the live animals, an expert pumpkin carver, and the Fifes and Drums of York Town performance, this special extended farmers market provides more than enough entertainment for the whole family.

Vintage Shopping at The Velvet Shoestring
From intricate tea sets to full-size Persian rugs and brass chandeliers, The Velvet Shoestring is your one-stop-shop for beautiful home decor.
If you're a "Fixer Upper" fan like myself, you might consider this consignment shop as Joanna Gaines' dream spot for sourcing unique pieces for her clients.
Since we recently bought our first house, I am still in the process of designing each room to make it feel like "ours." With the inventory constantly changing, I find myself searching through The Velvet Shoestring often for those perfect conversation pieces to add character to our home.
This cafe is on the top of our list for recommendations because of the unmatched eclectic and cozy ambiance paired with a wide variety of unique menu items for every diet.
Whether you are looking for a gooey, flavor-packed vegan burger, a twist on the traditional fried chicken and waffle dish, a Moroccan classic, or a seasonal cocktail, I can guarantee that you will happily discover it here.
You may even get to taste the chef's latest creation (a delicious vegetarian chili) as he strolls through the restaurant chatting with patrons and getting a feel for what they want to see next on the menu.
Our go-to order: Culture cheeseburger, bowl of culture with shredded Korean beef, homemade chips and pickles, Falling for you cocktail, and Fizzy pom pom (non-alcoholic). 
After indulging in an unforgettable meal, don't forget to wander upstairs to their open loft featuring a library to cozy up on the vintage couch with a book (or even a nap, if you're really feeling stuffed).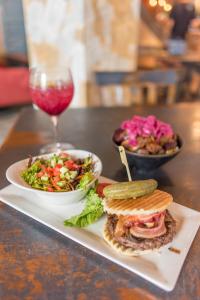 Not only is Merchants Square my favorite place to visit on the weekends because of the sheer gorgeousness of the cobblestone streets, but as a fashion blogger, it's really no surprise that the boutique shopping has a way of drawing me in.
When it comes to women's clothing, my favorite boutiques to discover fashionable treasures are Three Sisters Boutique, Blink, The Shoe Attic, French Twist Boutique, and Three Cabanas.
Each of these boutiques offers something uniquely special; from trendy LA-made sweaters to unique gifts for any occasion, boots that will surely become your new Fall staple, linen dresses and shirts straight from Europe, and colorful, preppy designs that will bring joy to your wardrobe.
While you are shopping at the above mentioned, be sure to send your boyfriend or husband into R. Bryant, Ltd and Scotland House Ltd. These two boutiques are my husband, Sam's, personal favorites because of the incredibly well-made leather and suede vests, wool sweaters, and hats to accessorize any outfit. 

If you want a luxurious experience like no other, The Spa of Colonial Williamsburg is your place. The cobblestone pedicure is the perfect way to relieve your feet after a day of walking. After a refreshing soak, you are treated like royalty with four noteworthy treatments, including a rosemary scrub, grapefruit butter, matcha mask, and nourishing oil to top it off.
My personal favorite part is the hot stone massage once the oil has set in. The stones glide against your feet so smoothly, applying the perfect amount of heat to rejuvenate your weary legs. There is also a variety of couture nail polish to choose from so that you can leave the spa in style.
You can certainly schedule an entire day to be pampered at the spa and enjoy the amenities like their spotless gym, yoga studio, and indoor/outdoor pools in between treatments.
Trust me when I say that, as a soon-to-be Mom, I have already told Sam that a spa day here is exactly what I want for my first Mother's Day.
Since we moved to Williamsburg, La Tienda has been our go-to restaurant for romantic date nights and celebrating special milestones like our wedding anniversary.
This authentic Spanish tapas restaurant never fails to amaze us with the incredibly rich flavors, transporting us straight to Spain with every bite.
Our go-to order: Berenjenas con Miel, Gambas al Ajilo, Paella de Pollo y Chorizo, and the Nougat ice cream.
Enjoying a glass or two of wine in their private cellar room is the perfect way to wind down from an exciting day visiting some of my favorite spots and exploring Williamsburg.
Whether you are a Virginia local or are ready to book your next getaway, hopefully this post can serve as an excellent source of inspiration for how to spend your time in Williamsburg.