1. What is your favorite Williamsburg activity?
There's so much, and it changes by season. You have the excitement of Busch Gardens, the history of Colonial Williamsburg, the river access along the Colonial Parkway, to name a few. For me, though, one of my favorite things about this area is that it is big enough to keep you busy but small enough to still feel like a quaint town. You can spend a day out in a park, meeting new people, and then see some of those same people out at night at restaurants and bars.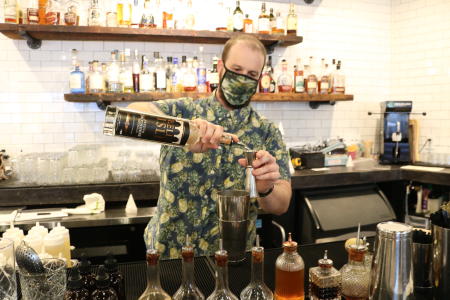 2. What makes Williamsburg unique?
Although Williamsburg has some huge, world-class attractions, you will find that the community still really embraces the small business. You won't find many of the typical chains you see around amusement parks. Instead, you'll find a lot of small, family-owned, generational businesses. That support from the community ultimately informs how we create our menus here at Amber Ox Public House, creating new experiences each time you come back.
3. What's your favorite local ingredient to work into a cocktail?
Working with local, seasonal ingredients is at the core of Amber Ox's concept, both in food and drinks. For example, The Spice & Tea Exchange of Williamsburg will bring us goodies once or twice a week that often find their way into the menu, whether in sweet tea brined pork chops or in a cocktail. We also feature many locally made liquors, including those from Copper Fox Distillery.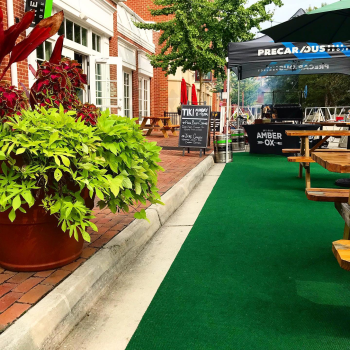 4. What's your favorite "night out" story from working at Amber Ox?
My favorite nights are those with live music. Although right now we can't gather for big concerts, our outdoor seating has allowed us to keep that going. Tiki Nights, for example, are great with acoustic music and our chef interacting with guests.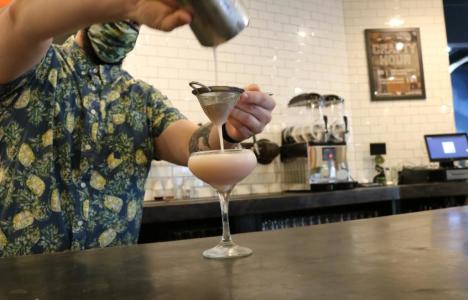 5. If Williamsburg were a cocktail, what would it be?
Wow, that's a tough one! I think most people would automatically go to an Old Fashioned, because of our history, but I'm thinking more of a Rum Punch. Punch bases are classic and have history to them, but over time modern thinkers add new ingredients, try a new perspective, and really create something fresh. We'll always have a love and respect for our past, our punch base, but we are using that to build a new, bright, social environment in Williamsburg.