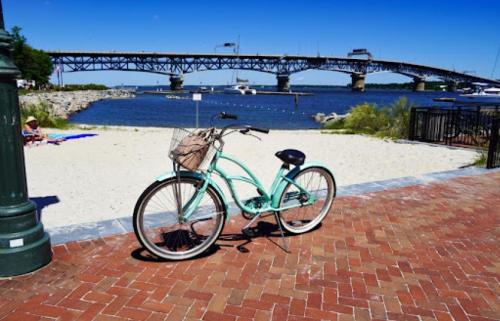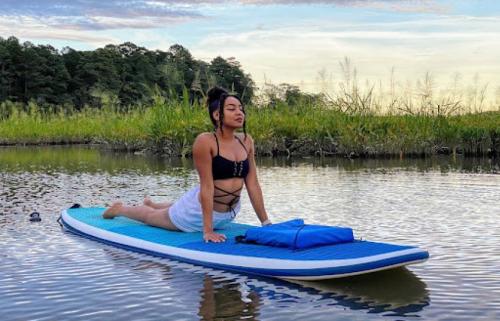 Looking to escape the hustle and bustle of everyday life? I'm not talking about a short-lived moment of meditation or sleeping in a few extra hours, but real relaxation! Now more than ever, it's important to find time to recenter and reset to clear your mind, rejuvenate your body, and feel refreshed. While Williamsburg may be known for its history and culture, amusement parks, and outdoor activities, did you know there are also just as many ways to kick back? From basking in the beauty of the York River to indulging in a world-class spa treatment, you're bound to find moments of pure bliss on your getaway. Here's your guide to spending a relaxing weekend in Williamsburg.
Discover your home base for a restful escape at The Williamsburg Lodge, an Autograph Collection hotel that blends historic charm with modern touches in the heart of Colonial Williamsburg. The property features an on-site pool, spa, golf course, two Southern-style restaurants, and an abundance of green space perfect for a stroll. Be sure to ask about special daily events that may be taking place during your visit!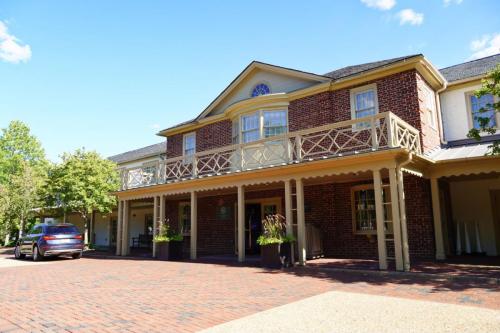 Start your trip off by stopping to smell the whisky at Copper Fox Distillery, a former hotel turned whisky haven. With a speakeasy lounge hidden behind a bookcase, an expansive outdoor patio, and a beautiful original tasting room, there's plenty of space to walk around and enjoy handcrafted drinks. Aside from the beauty of the property, perhaps the most impressive part is taking the Distillery Tour to understand how the whisky is made. And boy, does A LOT go into the process! The tour shows everything from scratch-floor malting their local barley, to flavoring the grain, to aging with hand-toasted wood chips. Before you leave, be sure to try the Chestnut Old Fashioned for a sweet twist on a classic cocktail!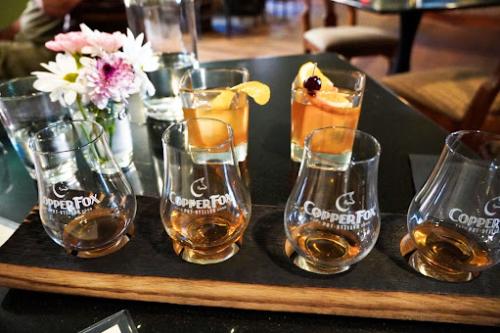 Have Dinner with a Vineyard View at Gabriel Archer Tavern
Dinner with a side of views is never a bad way to end the day. Built on the footprints of a 1987 farm shed, the Gabriel Archer Tavern is a farm-to-table eatery serving French-inspired cuisine on the property of The Williamsburg Winery. Aside from the delicious food, you can also snag a seat in the back room to overlook the tranquil vineyard. There's nothing like watching the sun dip behind rows of vines while enjoying an expertly-prepared bowl of pasta.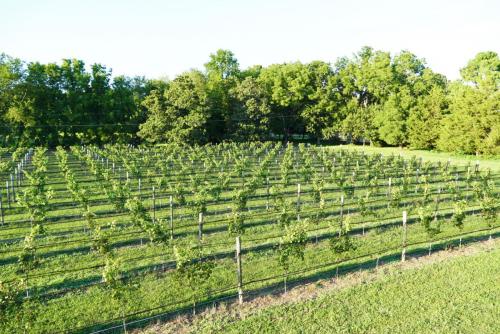 Day 2: Start Fresh at Free Range Juice Bar
Kick off the day with a dose of fruit and veggies in liquid form at Free Range Juice Bar. With cold-pressed juices, cleanses, smoothies, bowls, and toasts, it's a perfect pick-me-up before a full day of adventure. The ingredients in their delicious dishes are consciously-sourced from local farms and vendors - and it certainly shows. The smoothie bowl and avocado toast were heavenly! Not to mention, the adorable decor and inviting couches are a cozy setting to start to your day.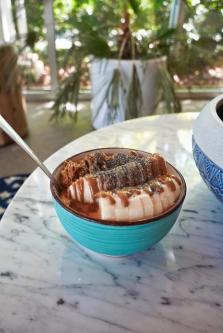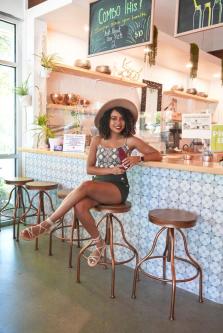 Explore Yorktown by Bike With Patriot Tours & Provisions
After a healthy breakfast, head down to the Yorktown Riverwalk Landing to rent a bicycle from Patriot Tours & Provisions (bonus points for snagging the super cute Tiffany Blue bikes!). The mile-long stretch along the York River treats you to scenic views of the George P. Coleman Memorial Bridge, sandy beaches, bobbing boats, and of course, charming shops. Be sure to stop by the iconic Virginia Loveworks sign for a unique photo opportunity. Take it easy while you leisurely explore at your own pace and enjoy beautiful views of the river.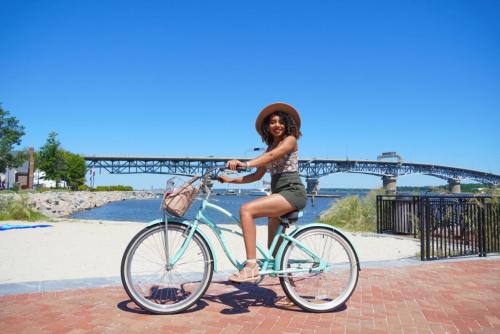 Have Lunch in the Courtyard at Mobjack Bay Coffee Roasters
Too much morning, not enough coffee? Get your java fix at Mobjack Bay Coffee Roasters & Petite Café, a delightful family-owned shop proudly perched in the Historic Cole Digges House. Aside from the masterfully roasted coffees and teas, the café also serves up fresh sandwiches, salads, and sweet pastries. The Reuben Panini is a must-try! Be sure to snap some photos here before you leave - the brick house is adorned with bright blue shutters that are picture-perfect.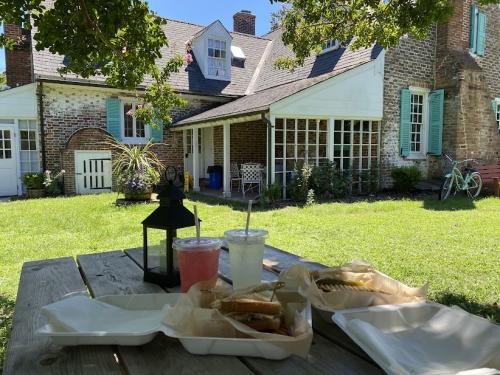 Shop and Wander the Shops and Boutiques in Yorktown
After a delicious lunch, head back down towards Patriot Tours & Provisions to return the bikes - it's time to peruse the shops! Yorktown's Riverwalk Landing boasts several specialty shops along the waterfront to find unique gifts, souvenirs, and more. Stop by Auntie M's American Cottage for one-of-a-kind creations from local, regional, and other artists across America. From pins to jewelry, to recycled wool sweaters, there are a variety of artful items to choose from. If you're a proud parent to a four-legged friend, you'll also want to stop by Gangsta Dog for freshly baked, all-natural, gourmet dog biscuits (even dog macarons!). Other options include the Yorktown Bookshop and Viccellio Goldsmith.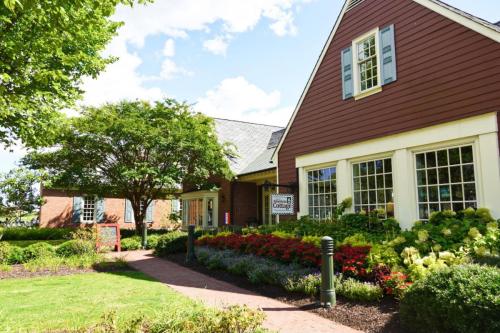 Savor Southern Delights at Pierce's Pitt Bar-B-Que
If "authentic Tennessee-style barbecue" makes your ears perk up, you won't want to miss this stop! For over 50 years, Pierce's Pitt Bar-B-Que has been slinging up saucy, hickory-smoked meats to locals and visitors alike. The family-owned and operated eatery started as just a single takeout window, but exploded into a successful sit-down restaurant that's drawn accolades nationwide from outlets such as Southern Living, the Travel Channel, and National Geographic. From the iconic pulled pork cooked low and slow, to the Southern-style collard greens, I dare you to eat at Pierce's without saying "Mmmmm!" Don't miss the homemade banana pudding for dessert! Now THAT is comfort food.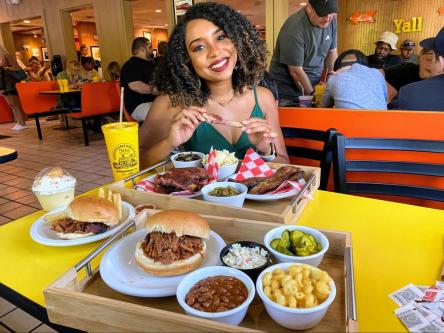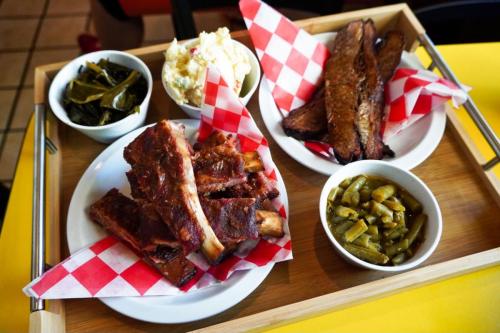 Day 3: French-Inspired Brunch at Blue Talon Bistro
Enjoy casual, neighborhood charm with the quality of an upscale Brasserie with brunch at the French-inspired Blue Talon Bistro. Bursting with blue and tangerine colors, the sunny space is a gorgeous backdrop for overflowing plates of eggs, french toast, smoked bacon, and more.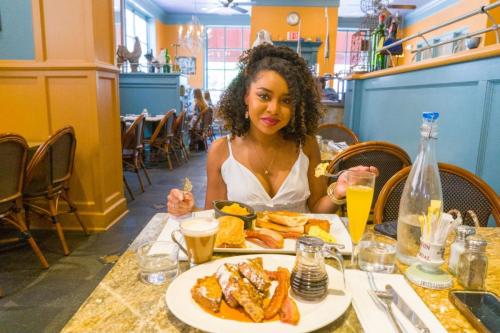 Shop and Stroll Through Merchants Square
A shop dedicated to cheeses, a year-round Christmas store, and a market with a vast selection of candies are just a few of the delights you'll find in Merchants Square. The 18th-century style retail village hosts over 40 shops and restaurants to find something new. On the second Sunday of each month from March through December, they also host a Street Fair with over 115+ artisans, musicians, street performers, and food vendors.
Float Away the Stress at the Williamsburg Salt Spa
Remember what I was saying earlier about rejuvenating your body? The ultimate renewal experience is just a button away at the Williamsburg Salt Spa, where you can melt away your stress in their Float Tanks. What's a float tank, you ask? It's a unique pod-like tank filled with silky, skin-temperature water saturated with the purest quality salt. The experience allows you to float weightlessly and enter a deep state of meditation, expending no physical energy while resting. This form of therapy is known to improve blood circulation, reduce anxiety, and ease joint aches and tension. As I slipped into a relaxed state, the stress went away while I expelled tension from my fingers and toes. As an alternative (or add-on), you can also enjoy the Salt Caves at The Williamsburg Salt Spa - they've imported over 15 tons of therapeutic salt from Poland and the Himalayas to create a unique microclimate where you can recline and breathe in the mineral-rich air.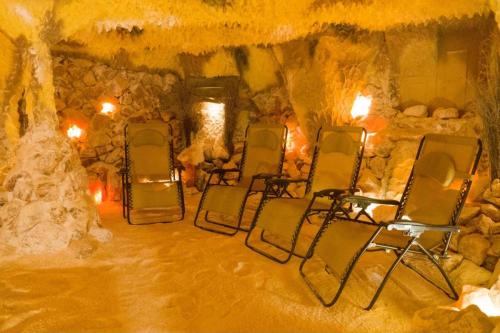 Have a Historic Dinner at Chowning's Tavern
Can you truly stay in the heart of Colonial Williamsburg without a slice of history? Gather 'round at Chowning's Tavern for hearty, Colonial-inspired pub fare, all served up in an authentic alehouse atmosphere. The eatery serves a variety of tavern foods and drinks inspired by historic flavors. You may even be lucky enough to have an encounter with a historical interpreter playing old-timey bar songs on a guitar!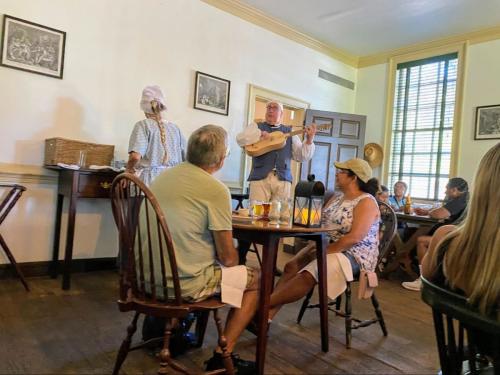 Sunsets and Solace at Paddle On of Williamsburg
If there's one place where I always find solace, it's by the water. Factor in the beautiful sunset and a meditative yoga session? I'm sold! Paddle On of Williamsburg offers just that: a stand-up paddleboard yoga class that takes place during nature's greatest show. You'll start by paddling through a calm part of the Chickahominy River to a "floating yoga studio." After getting anchored down, you'll start a peaceful yoga session. Sitting on the water and being fully present at that moment, feeling the breeze on your skin, staring at the clouds overhead, and listening to the sound of the water is truly an escape and the perfect way to end the trip. Truly tapping into the state of your mind, your body, and your spirit is unforgettable while the sun dips below the horizon.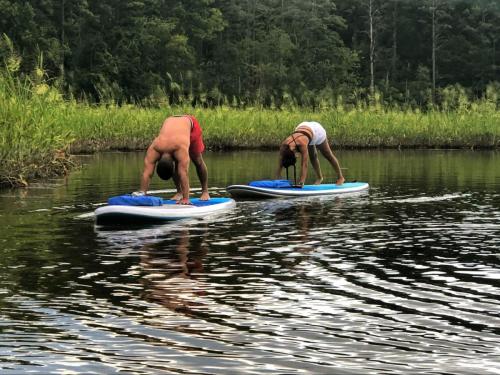 Great food, shopping, waterfront views, and sunsets make for a relaxing getaway in Williamsburg, Virginia. How will you live life at your own pace on your visit? Set that out-of-office email and start planning your escape.