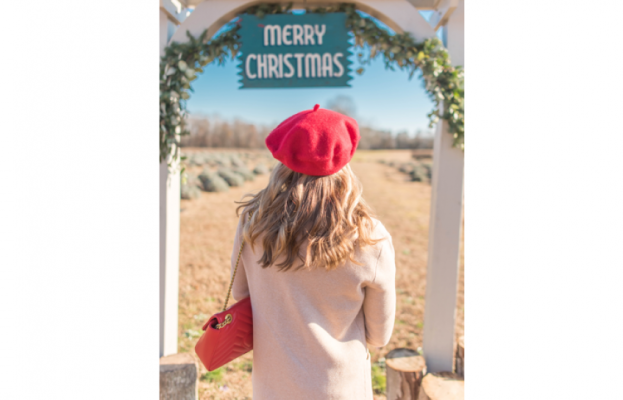 The most wonderful time of the year, indeed! That is if you're spending it in Williamsburg, of course. Now, this historic city is a "must" for places to visit year-round. However, I'll let you in on a local secret: experiencing the holiday season here is particularly special.
Between the brightly lit Christmas trees, cheerful holiday markets, unforgettable dining experiences, and so much more, there is certainly no shortage of festive, family-friendly excitement to be had in this charming town.
Check out the 'Events' page for what's going on in Williamsburg, Jamestown, and Yorktown. If ever you are searching for an adventure to fill your day, that is undoubtedly the best place to look.
As a local myself, I can confidently say that there is nowhere I would rather be than joyfully strolling along the cobblestone streets during the holiday season. This Christmas will be my husband, Sam, and my last as a family of two, so we are soaking up every moment before our baby boy joins us.
We have been trying to plan as many day dates as possible before his arrival so that we can soak in this quality time with a little extra romance. Just last weekend, we spent the day exploring Williamsburg and making memories that we can someday recount to our son.
Today, I am going to share my top 6 recommendations for places to check out while planning your trip to Williamsburg this holiday season! Without further ado, let's get the morning started at an old-fashioned southern-style breakfast joint serving up comfort food that will transport you back to Grandma's kitchen.
---
Breakfast at Honey Butter's Kitchen at Candle Factory
It doesn't get any better than a warm mug of coffee, a perfectly gooey breakfast sandwich, and crispy garlic potatoes shared with someone you love. One bite at Honey Butter's Kitchen at the Candle Factory instantly takes me back to my southern roots and gives me that oh-so-familiar cozy feeling in my belly.
This family-friendly restaurant surprises its customers with new specials every week to keep things fresh and exciting. We got to try their Strawberry Shortbread French Toast during our visit, and it was every bit as delicious as it sounds.
Our favorites to order: Breakfast Sandwich, Shrimp and grits, Strawberry Shortbread French Toast, Cornbread with Honey Butter, and Garlic Fried Potatoes.
After driving into town (only about 20 minutes from our home), we satisfied our breakfast cravings in one of their corner booths while taking our time organizing the rest of our day date.
Once we had our fill of fresh, warm cornbread and settled on a plan, we waved goodbye to the gracious staff and headed west for a scenic drive through the countryside to Sweethaven Lavender Farm.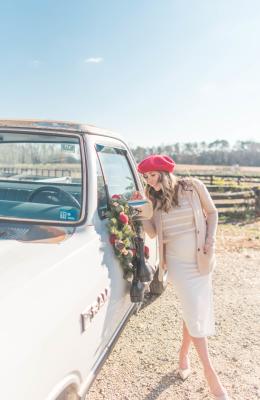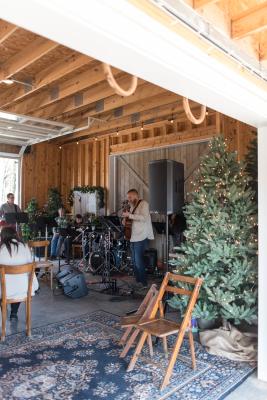 Sweethaven Country Christmas
Combine local Christmas shopping with live music, lavender hot cocoa, festive photo ops, and a petting zoo, and you can bet you've made it to Sweethaven Lavender's annual Country Christmas event.
Not only can you guarantee your next Instagram-worthy shot (my favorite spot was the pick-up truck), but you will have just as much fun in real life experiencing all that this gorgeous property has to offer.
Their picturesque white barn had some of the sweetest handmade toys, soaps, earrings, and of course, anything and everything lavender-scented. These thoughtful, small-batch products make the best Christmas gifts for loved ones; I even picked up a few lavender spray bottles to give to my mother-in-law and sisters.
Sam and I spent the afternoon listening to holiday music, petting the mini horses, goats, and bunnies, and enjoyed charcuterie while taking in the views of this expansive farm.
Watching all of the kids run around and play excitedly gave us a glimpse into what our next few years will look like. We already decided that we will be making the Sweethaven Lavender's County Christmas event a yearly tradition for our household.
Needless to say, it was an ideal way to start the Christmas season and heighten our holiday spirit. After spending the better part of the morning at the farm, we drove back to the city for lunch at Le Yaca, a beautiful French restaurant in Williamsburg.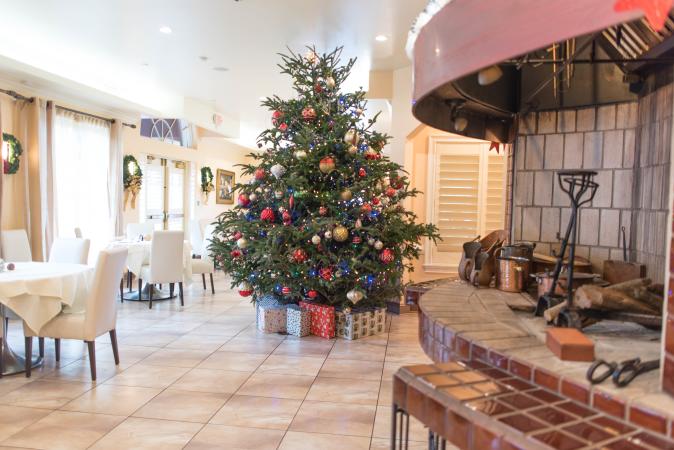 Lunch at Le Yaca French Restaurant
Boasting a rich history dating back to 1964 in the French Alps, Le Yaca is a true fine dining experience. With French dishes that will leave a lasting impression, you'll be embracing the iconic beret by the end of your meal.
As you walk into the restaurant, you're greeted by a cozy open fireplace, a classic Christmas tree, and an exquisite rounded bar extending all the way to the back room.
Indulging in Le Yaca's Prix Fixe lunch menu, complete with three unforgettable courses, is my idea of a perfect afternoon date. Sam and I love to order different appetizers, entrees, and desserts so that we can both try a bit of each since their menu is packed with delicious options.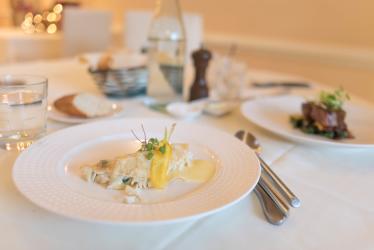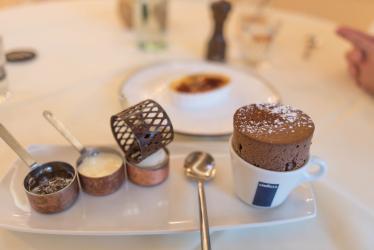 Our favorites to order: Crepe au Crabe, Petit filet Mignon, Creme Brulee Vanilla, and Marquise au Chocolat.
After we devoured every last bite of Chef Abid's warm chocolate truffle cake with ice cream and various gourmet dipping sauces, we continued over to the Williamsburg Christmas Market to check off some more of our holiday shopping list.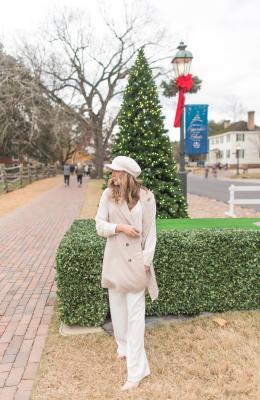 Williamsburg Christmas Market
Judging by the village-style setup, inspired by the traditional Christmas markets in Europe, you would never guess that we had wandered into a free event held in the parking lot downtown. Made up of more than 20 unique vendors, craft beer, hot chocolate, and visits with Santa, there was plenty of Christmas spirit to go around.
As we stopped and browsed through the gifts crafted by local artisans at each stand, the smell of the burning fire pit carried with it a wave of nostalgia. After wandering around and listening to the live band play, we decided that we were ready to end our evening with one last holiday adventure.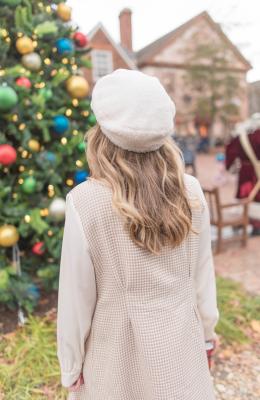 Ice Skating at Liberty Ice Pavilion in Colonial Williamsburg
On my Christmas checklist every year is ice skating. This simple activity never ceases to make my heart flutter.
If, like me, you'd love to jump into your very own Hallmark Christmas movie, this enchanting ice skating rink in the middle of Merchants Square is the opportunity you've been dreaming of.
It is perfectly romantic for an evening winter date night because it gives you an excuse to hold onto your partner tightly as you glide across the ice. Sam and I always get a little extra giggly while trying out new tricks and daring ourselves to go faster and faster until we fall down in a fit of laughter.
While you're in the area, don't forget to check out the enormous Christmas tree complete with lights and ornaments in Merchants Square! It is an iconic photo op for couples and families alike (or if you just want to grab a hot cocoa, like me).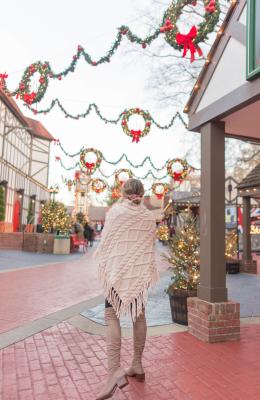 Busch Gardens Christmas Village
We wrapped up our romantic weekend with an evening to remember at Busch Gardens, touring the expansive outdoor Christmas Villages.
In my opinion, the most captivating area to inspire holiday spirit is England (you'll see it immediately once you walk through the entrance to the park). The dangling wreaths with vibrant red bows and string lights lining the cobblestone streets could not be more enchanting.
Before dashing to the rollercoasters, make sure to grab a photo with the replica of Big Ben lit up beautifully in the background.
With limited capacity and safety procedures in place, we felt extremely comfortable with the crowd at Busch Gardens and, at times, even felt as if we had the place privately booked for ourselves. If you are looking for short ride lines and open space to explore as a couple or family, I highly recommend grabbing tickets during this festive season.
Our favorites to order: Turkey leg, peppermint hot cocoa, warm chips, and funnel cake.
While this trip has come to an end, I cannot help but look forward to our next adventure in Williamsburg already. Whether you are a Virginia local or booking your next getaway, hopefully this post can serve as a first-hand guide to celebrating the holiday season in Williamsburg.
Follow Anna via her website Lifestyle by Anna Elizabeth and Instagram @lifestylebyannaelizabeth