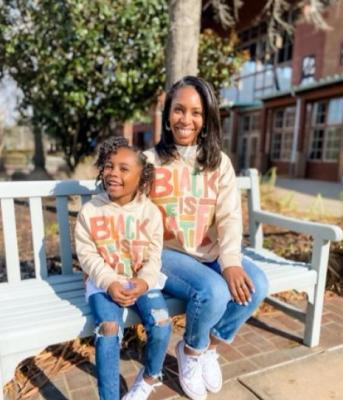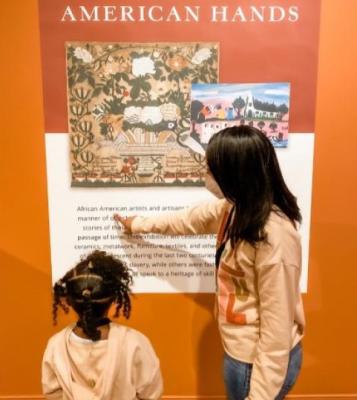 Black History Month is an annual observance of all the achievements and the impact of African American people in U.S. history. Other countries around the world, such as Canada and the United Kingdom, have also joined in on devoting the month of February to celebrate black history. Black History Month gives everyone an opportunity to dig deeper and discover more about African American culture.
One of the main reasons why I decided to homeschool my children was because I wanted the opportunity to teach them about black history. As an African American mother, it's so important that I show my children black leaders, heroes, and historians in a positive light. I love finding hands-on activities that give them a deeper look into our black history. With some of the largest living history museums in the country, Williamsburg, Virginia has been a great place for exploring history in the United States. We recently took a trip to Williamsburg to learn more about black history. Here are a few highlights from our day.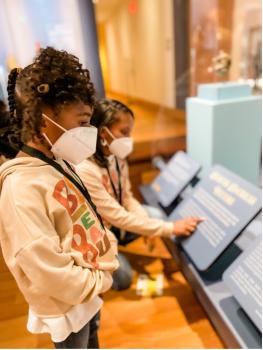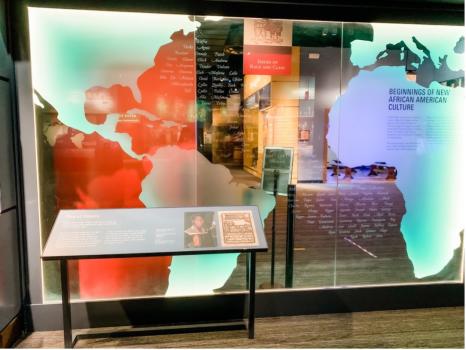 Jamestown Settlement Gallery
In response to COVID-19, Jamestown Settlement has made adjustments to operations and access to outdoor living-history areas and gallery exhibits so that everyone can enjoy the museum experience while following safety protocols and social-distancing procedures.
Jamestown Settlement is a historic site that tells the story of the arrival of English colonists to Jamestown in 1607 and the events and encounters that led to the forming of a new nation. This historic site offers so much learning for children of all ages through film, exhibits, and outdoor living history. The "From Africa to Virginia" theater highlights some of the experiences of Africans in Virginia.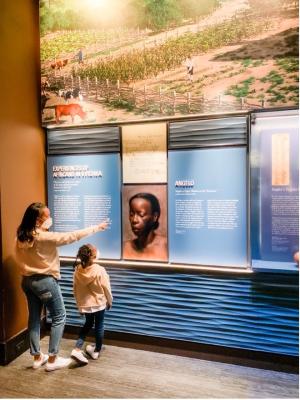 In 1619, the first documented Africans arrived in Virginia. The gallery exhibit offers a visual timeline that explores the first documented Africans in 1619 through 1699. My daughter is 6, so I was able to summarize the events on the timeline in an age-appropriate manner. Near the timeline was a photo of a woman named "Angelo." My daughter gravitated towards the photo and said "Mommy! She looks like me!" Angelo is said to be the first African American woman to arrive in Virginia on the slave trade. It's documented that she was from West Central Africa, which was of interest to the Europeans due to its natural and human resources. Angelo was among several other enslaved Africans who were traded to the colony by one of the English colonists.
Activity: Jamestown Settlement will be offering a variety of events throughout the month of February to celebrate Black History Month. They will also host a one-day program on February 27th, 2021 from 11am-5pm called "After Angelo," honoring the legacy of the first African woman mentioned by name in the historical record at Jamestown. This event will be a family-friendly celebration of African American culture and heritage filled with art, music, and storytelling.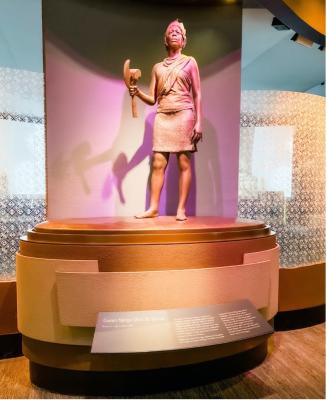 Jamestown Settlement Theater
Within the Jamestown Settlement gallery there are several theaters, including an introductory film, "1607: A Nation Takes Root." The theater was a very spacious area for my family and me to relax, watch, and learn more about the first documented Africans in Virginia. Within the theater was a beautiful statue with detailed information on Queen Njinga. She was born into a royal family in West Central Africa and was a resilient leader who fought against the expanding slave trade taking place in Central Africa. As an African American mother, it's very important for me to teach my daughter about some of the very first black leaders in our history. As we watched the introductory film and explored the rest of the gallery, I spoke with my daughter about some of the great qualities of the African leaders in our history.
Activity: While exploring the Jamestown Settlement theater, ask your child to describe some of the great qualities of the African Americans during this time. The purpose of this activity is to help your children understand qualities of leadership while also understanding events that happened during the slave trade. Example: Queen Njinga was resilient, strong, and brave because she fought against the slave trade in her county.
Southern Pancake and Waffle House
Southern Pancake and Waffle House is a black family-owned restaurant that has been named one of the top five pancake houses in Williamsburg. I have always loved supporting black-owned businesses, so my family and I decided to have lunch there. The chicken and waffles were delicious, and my husband and kids loved their pancakes and eggs. While I was there, I had the opportunity to speak with the owner. I enjoyed learning about how he started his first business in the 1990s and now owns several businesses. The conversation was very inspiring.
Activity: Find a black-owned restaurant to dine-in or take out. While at the restaurant, ask if there is information on the owner. Have a discussion with your children on the black-owned restaurant. Also, ask your children if they would ever want to own their own business (big or small). The purpose of this activity is to support black-owned businesses and discuss entrepreneurship.
The Art Museums of Colonial Williamsburg
'By African American Hands" is a self-guided tour at the Art Museums of Colonial Williamsburg. My family and I love art, so we were very excited to explore. We found so many beautiful pieces made by African American artists. The exhibition celebrated paintings, sculptures, furniture, and textiles made by people of African descent. An enslaved man named David Drake created large 5-gallon syrup jugs. They were very intricate; some included poetry on the handmade jars. The Art Museum of Colonial Williamsburg offers lots of details on the history of African American art.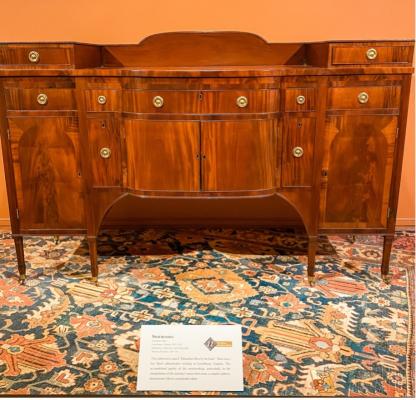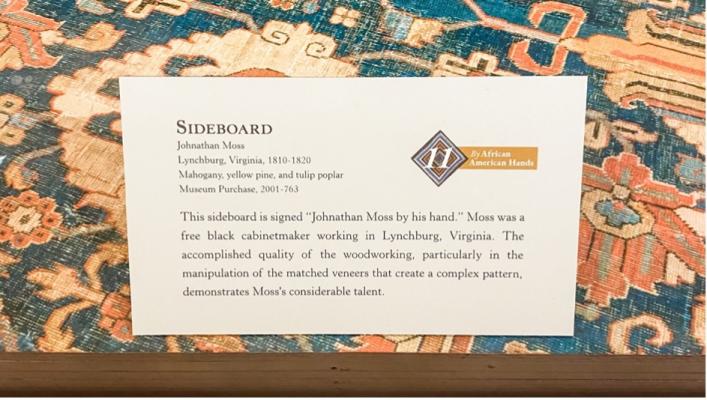 Activity: While exploring the Art Museum of Colonial Williamsburg, pick out 1-2 African American artists to discuss. Gather some of the information provided by the museum and have your children create their own paintings inspired by African American artists at home.
Williamsburg Library
The library has always been one of my favorite places to bring my children during our homeschool days. The Williamsburg Library is closed right now; however, curbside pickup is available. My family and I were able to pick up a fun activity to do with the children at home. Twice a month, Williamsburg Library offers fun family crafts for both younger and older kids. These crafts will be available curbside.
Activity: Each week in February, stop by the library to pick out books celebrating black history. For younger kids, you can read short stories every night. For older kids, you can give them the option to pick out a couple books to read and review what they learned at the end of the week.
Activity: Pick a "Black History Person of the Day" for each day of February. These can be athletes, historical figures, heroes, leaders, actors, politicians, musicians, etc. Share a couple facts about the Person of the Day. You can always stop by the library to find books for additional resources.
Freedom's Paradox Walking Tour in Colonial Williamsburg
More than half of 18th-century Williamsburg residents were African American. The Freedom's Paradox walking tour at Colonial Williamsburg was a great opportunity for us to explore the complex issue of America building toward independence in this time while owning slaves. I used this as an opportunity to speak with my family about all the hardship that our ancestors went through living on the plantations and working from sun up to sun down while also taking a look at the resilience of our African American people and how they overcame so much.
Activity: While on the walking tour, discuss some of the laws that were put into place to abolish slavery. Discuss steps that led up to these laws being passed. For younger kids, after visiting the walking tours, you can have them create a picture and/or letter about the importance of equality.
Black History Month is an opportunity for people to educate themselves and their children on African Americans in U.S history. Williamsburg, Virginia offers so many hands-on activities throughout the month of February and throughout the whole year. I encourage you to take a trip to Williamsburg, Virginia with your family to learn about our history.
Follow Ashley via her website The Ashley Nicole Blog and on Instagram @beautifully_made