It's a still, quiet morning at Waller Mill Park in Williamsburg, with nothing but the sounds of the birds and a few squirrels skittering through the pine straw. The lake is placid and still, reflecting the deep green leaves of deciduous trees that line the bank. 
Williamsburg may be known for its colonial history, but it's also a fabulous spot for nature lovers. There are quiet waterways to explore, large parks to wander about in, and pastoral beauty all around. If you're interested in getting outside to experience the wildlife, Waller Mill Park is where birders can find everything from warblers to woodpeckers and osprey. It's only $2 to park, and there are several wonderful trails that take you through stands of pine and hardwood, including one that takes you to a fine lookout spot. The park also features two closed-in dog runs, a disc golf course, a children's playground, a playing field, and several types of boat to rent, including pedal boats, canoes, kayaks and row boats. Fishing fans can toss a line for largemouth bass, blue gill, white perch, catfish, and other species.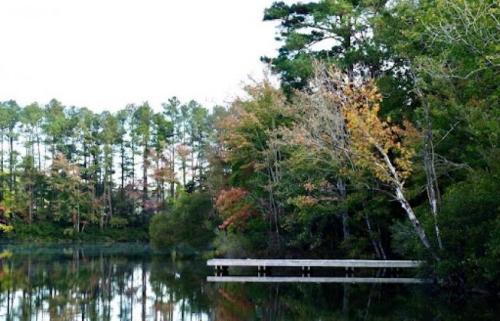 At the Williamsburg Botanical Garden the Bluebird Trail features a series of small bird houses (with special gear to keep out predators) scattered around the area to encourage bluebirds to come for a visit. I didn't spot any on my trip, but I did spot some butterflies and buzzing bees in a garden that's built for animals more than humans. Oh, it's a treat for two-legged folks, for sure. But one of the volunteers on-site when I visited explained that it's really there for pollinators; birds, bees and butterflies. 
The botanical garden also features a therapy garden, familiar herbs, colorful arbors, shaded benches and dozens and dozens of plant and tree specimens; everything from loblolly pines to beauty berries. You'll find QR codes on many of the trees, to learn about nature while you stroll. There are plenty of walking trails in the area, with great opportunities for taking in all of its scenic beauty.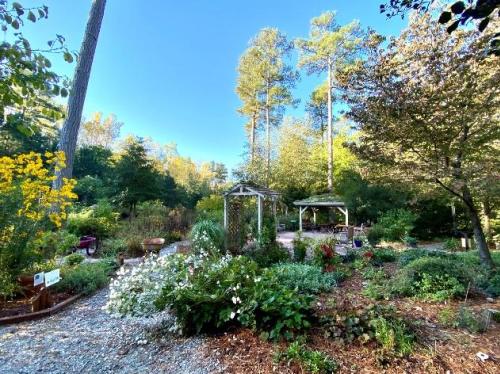 A trip along Island Loop Drive on Jamestown Island will provide plenty of opportunities to get up close and personal with nature. It's a short drive (there are two loops; the longest about 20 minutes) that take you over pretty marshes and lovely, curving, wooden bridges. The Colonial Parkway is a 23-mile scenic roadway that connects Jamestown, Williamsburg, and Yorktown. You'll pass plenty of quiet ponds and skirt along both the James and York Rivers, giving you a great chance to spot hawks, herons, and other big birds.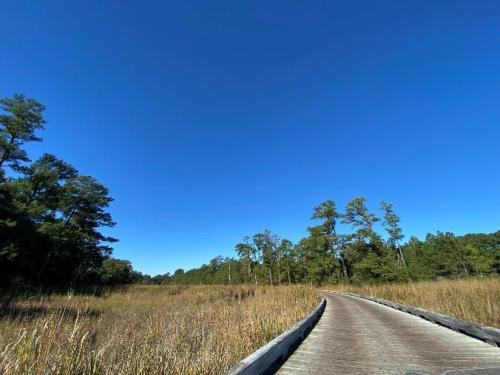 On my last night in town, I finish an early dinner and calculate I can just make it to Jamestown to watch the sunset. I just missed the sun dropping below the horizon, but I'm still treated to a fine display of brilliant orange and pink light over the James River. I turn around to check the light behind me, as an expert photographer once suggested, and see a full, yellow-white moon rising over the trees across Sandy Bay, which rests on the east side of the isthmus that takes you from the mainland to Jamestown Island. The air is still, and the moon begins to slowly climb in the sky, scattering brilliant yellow-white reflections on the calm water.
A local who's out for a walk sees my camera pointing at the bay and glances to his right.
"Oh, my," he said. "I hadn't even noticed that moon. Wow."
As he heads back toward town, he turns and says, "It's so beautiful. Enjoy!"
Oh, yeah. There's a pretty good chance of that.